Humour
Bride Working On Laptop At Wedding While Groom Looking At Her Sparks Funny Reactions On Twitter
The coronavirus pandemic has changed the work dynamics to a great extent and most of the companies are now thinking of making their employees work from home. It is also easy for employees as it not only saves their time but also energy which is spend in transportation. Working from home is also beneficial for those who want to give more time to their family members but it also has certain disadvantages as it may lead to less physical activity which may result in obesity and some other diseases.
There are some moments in the life of a person when he/she doesn't like to work and one of them is marriage. A person may work while attending someone else's marriage but he/she will certainly not be willing to go to work on the day of his/her own wedding.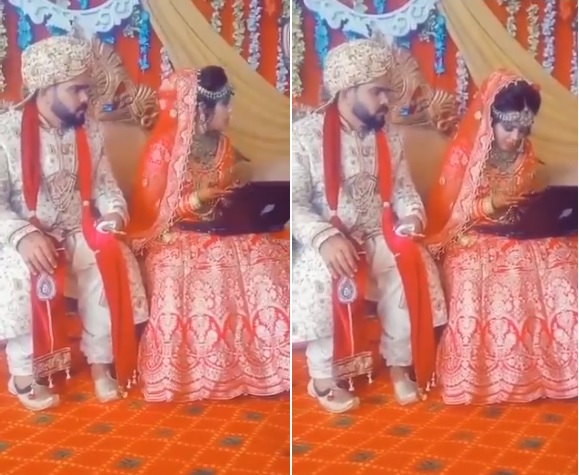 However, a video is going viral on the Internet and social media sites in which a bride is seen working on laptop while she is at her wedding venue while the groom is watching everything with a confused face. Even more amazingly, the bride talks on phone and looks around as well but doesn't pay attention to the groom who has arrived on the stage. She seems to have completely ignored him and the background music plus the groom's expressions give the whole scene a hilarious twist.
This video will tickle your funny bone too:
If you think you are under work pressure then watch this… via WA @hvgoenka pic.twitter.com/odbFTxNofh

— Dinesh Joshi. (@dineshjoshi70) July 3, 2020
Click here to watch this video directly on Twitter
Twitter just loves to react in every situation and this moment is indeed meme-worthy. So the creative minds come up with funny tweets with regard to the scenario, while some of them cite that the bride hasn't been able to achieve the sales target, another person says that work is worship for her and everything else is of no use.
Here are some of the selected tweets:
#1
Look at the expression of groom 🤦🤦😂🤣😂

— ꧁ঔৣ☬PiYuSh☬ঔৣ꧂ (@piyu_is_here) July 3, 2020
#2
Target pura karna hai sir

— Manoj Kumar Sharma (@ManojKu63912071) July 4, 2020
#3
When you tell your boss, you work from home to avoid counting the leave for your wedding

— 𝐂𝐡𝐞𝐭𝐡𝐚𝐧 𝐇𝐞𝐠𝐝𝐞 (@ChethanHegde0) July 3, 2020
#4
Groom be like , kata mera ab : pic.twitter.com/KNWmFfNfHs

— Smriti (@khaali_bottle) July 3, 2020
#5
Fixing a production Bug!!!

— Neeraj Bhargava (@NeerajBhargavan) July 3, 2020
#6
That's a good idea to ignore the relatives fake hugs and smile 🤣🤣

— Kawaii_Myra (@myra_kawaii) July 3, 2020
#7
Ha ha ha. Heights of work pressure. This guy might be thinking that he have to do work of home as his wife would be busy in Work From Home😆🤪😆🤪

— Mrityunjay (@BhartiyeBeta) July 3, 2020
#8
Bride was trying to telecast wedding on zoom.

— Ek (@Gulabi_Dori) July 3, 2020
#9
She must be a Bank's executive following up with the Branch Managers and the Branch Field Officer for PMFasalBimaYojana for Kharif season crops✅😂😂

— Dr Ratnabati Devi Meitram (@DrRatnabatiDevi) July 3, 2020
#10
Probably consulatant making last minute changes to the ppt @ConsultingHumor

— Mukul agrawal (@MukulAg_93) July 3, 2020
#11
She seems to be the VVVVIP I'm her office 🤣🤣🤣🤣🤣

— The Monk (@newmon_k) July 3, 2020
#12
Sales mein hogi aur month end mein shaadi fix ho gayi. Closing kare ya shaadi?

— Mastercandyman (@tilomme) July 3, 2020
#13
Busy informing friends that she is married now. Apparently, she ignored groom now. You know all why ?? Because it's an LOVE MARRIAGE..!! its clear and I am 200% sure.

— Varun Grover (@Varun_Grover11) July 3, 2020
#14
During final day of filing Income tax Returns

— nithindetector (@nithindetector8) July 3, 2020
#15
Work is worship !!… Baki sab bekar !!

— Wg Cdr Gitika (R) (@gitika9) July 3, 2020
We would love to know how the groom had reacted after their wedding!
Share Your Views In Comments Below