News
Bride Works Out At Gym To Make Her Pre-Wedding Shoot Unique, Twitter Is Loving It
It is wedding season in India and nowadays marriage is not just about ceremonies, it is also about photoshoots including the pre-wedding ones and creating unique things which make the occasion special and memorable. Presently, couples leave no stone unturned in ensuring that their pre-wedding shoots are unique and unforgettable.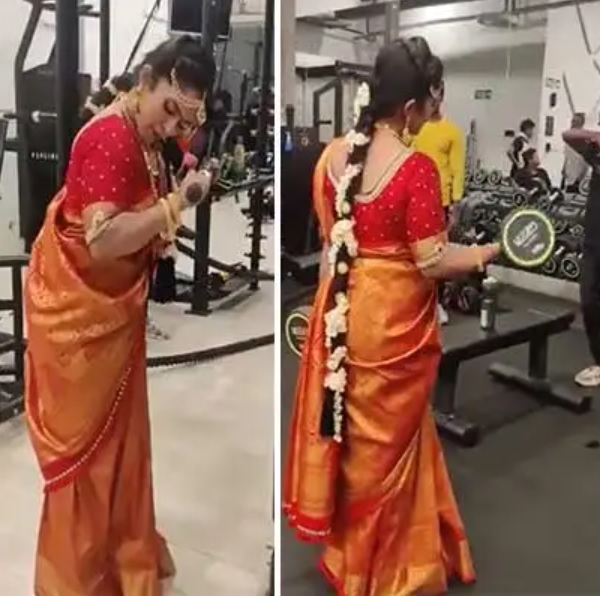 Fitness is quite an important aspect of our lives and this would-be bride also seems to have given a lot of importance to her fitness because of which she has decided to shoot some part of her pre-wedding shoot in a gym while working out.
The woman in the video is with complete bridal makeup and dress and she lifts dumbbells and weights but what makes her workout more special is the fact that she is wearing heals too but hasn't lost her balance even once.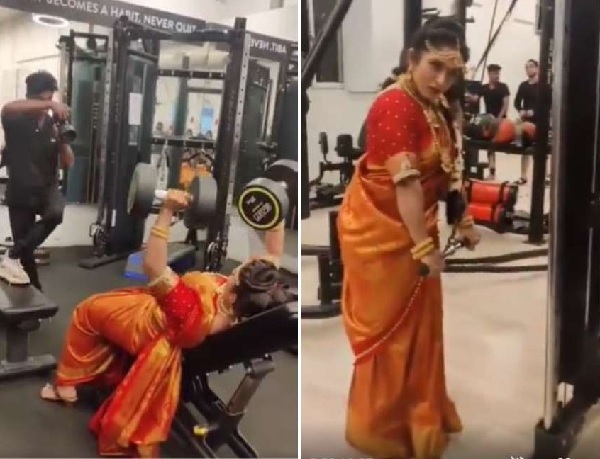 The video was shared on the micro-blogging site Twitter by IPS officer Rupin Sharma with the caption, "Pre-wedding shoot… Aaj raaz khula himmat ka…"
Pre-wedding shoot…👇

Aaj raaz khula himmat ka……. pic.twitter.com/1d9bJDVMqa

— Rupin Sharma IPS (@rupin1992) November 19, 2021
Click here to watch this video directly on Twitter
The video has gone viral for obvious reasons and as of now, it has been viewed by more than 18K people. Many Twitter users praised the would-be bride who made it clear that fitness is of paramount importance for her and few of them even called her Devsena which was the name of Baahubali's wife in the "Baahubali" series.
Here are some selected reactions:
#1
Devsena

— पागल वैज्ञानिक 😨 (@Dr_You_Mad) November 20, 2021
#2
This is today's wedding secret

— Pinakapani G (@panig_g) November 22, 2021
#3
Baah!!! pic.twitter.com/ROXLFCynP9

— दिव्यांशु प्रतीक सिंह (@divyanshu1493) November 20, 2021
#4
इनका पती सही मायने में 'हिम्मतवाला' 💪💪कहलाएगा 😀😀 pic.twitter.com/MWnK1IbhaY

— हितेंद्र पेठकर 🇮🇳 (@hitendra25) November 20, 2021
#5
Sahi hai…means business…no left no right seedha point…shaadi jung hai tyaari achchi honi chahiye.

— amith pillai (@15amithrp) November 20, 2021
#6
Mahila Thaane mein Photo shoot karwa lena tha, woh jyada effective hota

— @m (@MakaniAnkush) November 20, 2021
#7
Lagta hai shadi kisi bodybuilder se ho rahi hai.

— Sudhesh Kumar Sharma (@SudheshKumarSh6) November 23, 2021
#8
Her husband should be very careful.

— vasudevan (@vasudev03369501) November 24, 2021
#9
Eska matlb ab ghar mei sirf aur sirf enki chalegi… Bahot himmatwali hai 👌🏻💪🏻😂😅#pre-Wedding shoot

— Tanvi Shet Talauliker (@tejasvni_Shet27) November 25, 2021
Few days back, a bride from Gujarat went to give exam of her graduation course right before her wedding as the timing of her exam and muhurat of her wedding got clashed.
The good thing is that these brides are also getting support of their husbands as well as their families.
Keep rocking brides!
Share Your Views In Comments Below