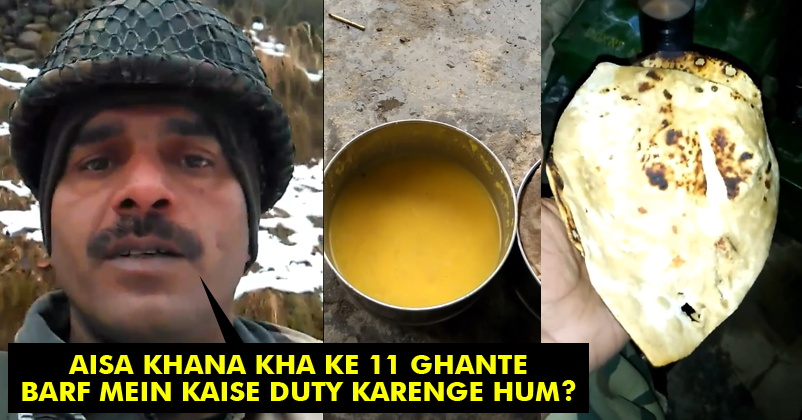 We get a peaceful sleep only when soldiers accept sleepless nights; it is because of them that we stay protected and move freely. No matter what the weather at the border is, they have to stand strong and protect the nation. Have you ever imagined what their condition is like? What kind of sacrifices they have to give? What kind of food they are given? No, we can never ever understand their condition…
However, there is a BSF Jawan who took to Facebook to share the condition of jawans; he has shared 3 videos on Facebook and majority of you will cry seeing them.
Named Tej Bahadur Yadav, this soldier says he is from 29th battalion of BSF in Jammu and Kashmir and highlights the bad condition of the jawans there. He says the soldiers don't get adequate facilities or food; although the identity of the man couldn't be verified, the videos are pretty sad.
He doesn't blame the government for anything but holds the senior officers responsible, for misusing the money meant for soldiers. Tej Bahadur wants the media to highlight the requests and conditions of Jawans so that everyone can be aware. Moreover, he has also requested the PM to interfere.
Here are the videos;
And the kind of breakfast…
OMG! Look at how Dal is being prepared
These Jawans aren't allowed to air footages from the border; in spite of such rules, this Jawan risked his work and life just to make everyone aware. The authenticity of the videos isn't verified but if these are real, it is indeed a very sad thing…
Share Your Views In Comments Below