Sports
Bumrah's Wife Sanjana Hits Back At Troll In The Most Kickass Way, Shares A Powerful Post
The Indian cricket team will be facing the Sri Lankan squad today in Super Four stage match which will be played at Dubai International Stadium and it won't be wrong to say that after losing the last match to Pakistan, India will certainly like to get back to winning ways.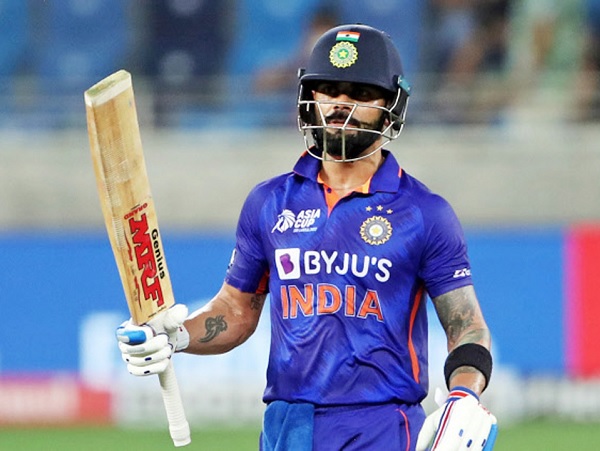 While India's performance in the group matches was good, it lost its first Super Four stage match to Pakistan by 5 wickets in an exciting and thrilling contest. The Indian pace attack is being led by Bhuvneshwar Kumar in the absence of Jasprit Bumrah who has been ruled out of the tournament because of injury.
Jasprit Bumrah is undoubtedly one of the best pacers of the world in the present times and he will certainly play an important role in India's scheme in the T20 World Cup which is going to take place in October in Australia. However currently, Bumrah's wife Sanjana Ganesan who is a sports journalist by profession is getting all the attention on social media networks because of her mouth-shutting response to a troller.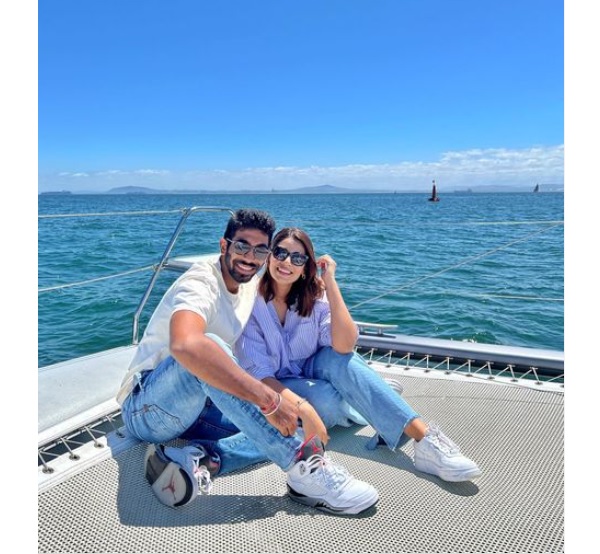 It so happened that Sanjana took to Instagram and posted an old photo of her and her hubby in which they can be seen sitting on a boat in the middle of the sea. She captioned it as, "Just a lovely throwback photo of Jasprit, me and Jasprit's sneakers (the real stars of this picture)."

Here is the post:
While fans and friends posted some really nice and lovely comments, an online user slammed them by saying that India is struggling in the tournament and these two are travelling.

Sanjana was in no mood to take this senseless comment with silence, she calls the troller a fool and tells him that it is an old photo as 'throwback' is written.
Here is what Sanjana's comment read, "Throwback photo hai, dikhta nahi kya chomu aadmi"

Some other online users also slammed the troller for making an unnecessary comment but few of them also made inappropriate comments and Sanjana made a point by responding on this matter as she shared a post on her Instagram story. She writes that she understands dealing with trollers is important and she will keep on taking chomu one by one on the Internet but dragging someone's religion, nationality, ethnicity or identity is something which she doesn't agree to and she also asks her followers to refrain from such activity.
This is what Sanjana Ganesan posted,
"While I do think it's important to stand up to Internet trolls and bullies, I do not agree with dragging someone's religion, nationality, ethnicity or identity into the matter and I sincerely urge you to consider doing the same.
Internet trolls aren't the way they are because of the religion, ethnicity or nationality, it's just a lack of common sense.
I promise to keep trying to make the internet a better place, taking down one chomu aadmi (fool) at a time.
Love,
Sanjana."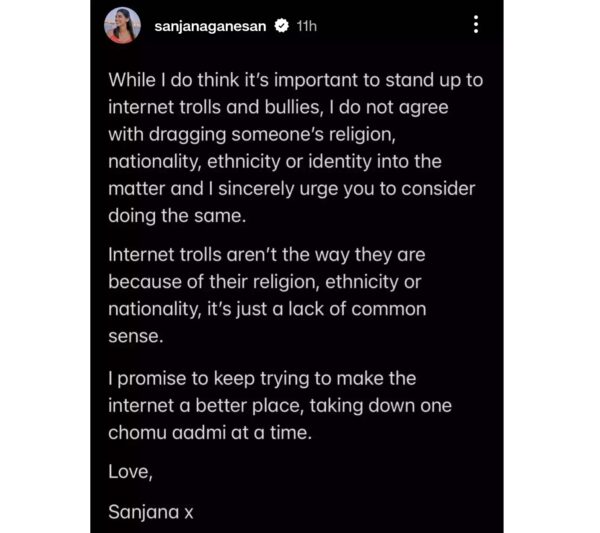 That's some kickass response to unnecessary trolls and criticism! More power to you Sanjana!
Share Your Views In Comments Below