Sports
Chahal & Fiancé Dhanashree's Romantic Photo Is A Viral Meme On Twitter Now
The IPL 2020 has been organized in UAE because of the increasing number of COVID-19 positive patients in India and this has also given a chance to the cricketers to enjoy some great time with their loved ones over there. We have already seen some photos of Virat Kohli with his wife Anushka Sharma in which they can be seen having gala time and recently, Indian cricketer Yuzvendra Chahal posted a pic in which he can be seen enjoying quality moments with his fiancée Dhanashree Verma at a beach.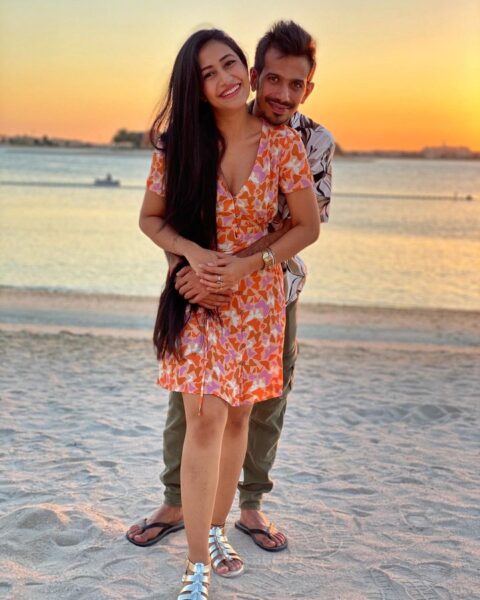 Yuzi is pretty active on social media networks because of which he is very popular even among those who do not watch cricket. If you remember, he also used to post funny videos on his TikTok account before the video app got banned by the Indian government.
The photo was loved by his fans and many comments were posted. Creative artists also availed themselves of the opportunity and soon it became a fodder for memes and jokes. Many thought that the photo has been clicked by AB de Villiers as he was the one who clicked Virat and Anushka's image while for several others, the image was a rare example of turu lob (true love).
Check out the post of Chahal:
Here are some selected comments:
#1
Bhago yuzi bhai ……piche pappy bhai aa rhe h 😂😂😂 pic.twitter.com/7BAfTNWUYU

— ~Er babu yash (@DeshlaharaYash) October 20, 2020
#2
@yuzi_chahal why not you hire @ABdeVilliers17 for pre-wedding photoshoots…😂😂 pic.twitter.com/9cOSq5rlRv

— Ankit choudhary (@ankitchoudhar39) October 19, 2020
#3
Is That You @ABdeVilliers17 Bhai?😂😂 pic.twitter.com/WRqjuX9Q7d

— RVCJ Media (@RVCJ_FB) October 20, 2020
#4
😂😂🤣🤣@yuzi_chahal @ABdeVilliers17 @imVkohli #haddhaibc #haddhaibcmemes #IPL2020 #ipl2020memes #YuzvendraChahal #ABDevilliers #ViratKohli #AnushkaSharma #RCB #royalchallengersbangalore pic.twitter.com/XrTAGoHJXd

— haddhaibc (@haddhaibc1) October 19, 2020
#5
Nehra ji disappointed by @yuzi_chahal because he use "back of length" didn't use length here😂#MsDian pic.twitter.com/Csz5AXaDse

— Shivam Agrahari (@ShivamAgr0) October 20, 2020
#6
Oh my go turu lob @yuzi_chahal bhai 😍😅 pic.twitter.com/Gu59E5Br5P

— Sai_Polineni😄 (@Sai_Polineni) October 20, 2020
#7
Feeling jealous yah😭😂😂😂🤙🤙🤙

Bakkode kani Mahanubhavudu😂🤙@yuzi_chahal #SarkaruVaariPaata @urstrulyMahesh #KXIP #RCB pic.twitter.com/8o2WqJ3kqy

— DHFM BABU FC😍 (@DHFMJaiBabu2) October 20, 2020
As far as the IPL 2020 is concerned, Virat Kohli-led Royal Challengers Bangalore is playing pretty well as they have won 6 matches out of 9 that they have played. The spinner Yuzvendra Chahal has been instrumental in RCB's good run in the tournament as he is not only taking wickets but also containing runs in this short format which is known for hard-hitting.
Yuzi and Dhanashree simply look great together! Made for each other!
Share Your Views In Comments Below