Bollywood & TV
CID's Fans Started #SaveCID Campaign On Social Media After Daya Confirms That It Is Going Off-Air
Fans of CID got the biggest shock of their lives when Dayanand Shetty, who is portraying the role of Daya in the fictional crime investigative show for a long time, confirmed that CID is going off-air soon and its last episode will telecast on October 27 this year.
Daya revealed that the show was in its 21st year and if they shot for some more episodes, it would have been their 22nd year. All the cast and crew were shooting as usual when they were suddenly informed of the shooting being cancelled indefinitely due to some issues with Sony TV.
Daya also said that the whole team worked with dedication to make this show successful and they are not just co-actors but a big happy family. In fact, CID was like their second home and they are going to miss each other a lot.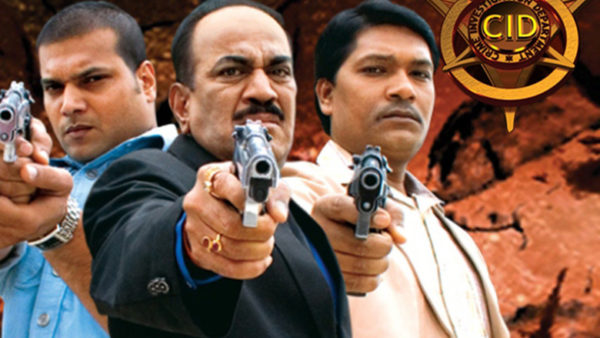 The show has entertained viewers for more than 20 years and there could be nothing more upsetting or saddening for its ardent fans than its going off-air all of a sudden. Due to their emotional attachment with the show, many fans have started #SaveCID campaign on the micro-blogging site Twitter in which they are expressing their feelings and sentiments towards the show and urging Sony TV not to end it.
Here are some selected tweets:
#1
@SonyTV
None of us are gonna watch your damn channel if CID gets off-aired! Remember those days when you had nothing to broadcast and it was CID who established your channel! We don't care about your other damn shows, we want CID back.#saveCID @shivaajisatam @SonyLIV #CID

— Rasil Adhikari (@rasil_adhikari) October 23, 2018
#2
@SonyTv or kitna giro ge, u think by spreading these fake rumours, we CIDians will stop …. no u r wrong we won't stop until we'll get desired result, our #CID back …. afterall junoon ki hadd tak koshish karna humne #CID se hi sikha hai #SaveCID pic.twitter.com/LYKJtLQhgW

— shikha sharma (@shikha07nov) October 23, 2018
#3
Why you are thinking for closing CID .CID is only show that made sony famous , its only show reached #21years and no other show had reached mark as cid . CID is iconic show of India and also famous in many countries,so please dont close our show cid #Cid #saveCID @SonyTV @SonyLIV

— sachin gaurav (@sachingaurav14) October 22, 2018
#4
@SonyTV we will not stop and why revamp the show/cast for 3 months mzak smja h kya…it came back after two months and then again on a break..why always #CID …we will keep our #SaveCID campaign till we get back #CID regularly…sar utha chlte rehnge ye kadam bdhte rhenge 😡😡 pic.twitter.com/H6HWVytP9r

— Akanksha (@Akanksha7188) October 23, 2018
#5
We will not let u to end Cid…u will always cheated us u will did injustice with Cid we will not tolerate this at any of the cost😡😡😡😡Don't end Cid Pls don't spread rumour that Cid is taking break….@SonyTV @indiaforums @tellychakkar @TellyTalkIndia #saveCID #DontendCid

— Anamika Singh (@FaisalkCidlover) October 23, 2018
#6
#SaveCid #DontEndCid @SonyTV ok stop playing games and release a press statement on twitter/or any other news site immediately, or we are gonna make this campaign very big

— Parth (@Maharajputsinh) October 23, 2018
#7
@SonyTV Cid is going off air and no official statement from you. Our emotional attachment is there with Cid.But how can you understand the pain in our eyes. The war has started already and we Cid fans will do our best so that our favourite doesn't go off air #saveCID I Love Cid

— [email protected] (@sarveshpriyank1) October 22, 2018
#8
its fake news..spread by @SonyTV what else we can expect…we are not going to stop..wht we did till now was our love for #CID but with this fake news u hv pinched in our already bleeding hearts..now ready to tackle our madness..#saveCID beware of #CIDians 😡😡😡😡 #WontLetGoCID

— Akanksha (@Akanksha7188) October 23, 2018
#9
@SonyTV I have just read that you are taking CID off air! I'm devastated plz change ur decision and sort out ur issues with the makers , our weekend is incomplete without it. #saveCID

— boredcritic (@boredcritic1) October 22, 2018
#10
#SaveCid
Plese Sony Tv don't do this
I am a 90's kid
I grew up watching CID
It's an emotion for all the kids of our era
Please rethink on your decision
My favourite actor in CID is Sr. Inspector Abhijeet

— Bhaskar Yadav (@yadavbhaskar860) October 23, 2018
#11
@SonyTV try to understand without those oconic characters noone going to watch the show and there is no need to revamp the show again u did this in 2016 and now we r happy with this so why u agin play the same game with us😡 @tellybuzz @tellychakkar @TellyTalkIndia #saveCID pic.twitter.com/XWr1OuITcZ

— Jennyliza (@LizaraniJ) October 23, 2018
#12
@SonyTV Just have had a lot, it's enough now. This is what happens every time. We #CIDians need an answer. We are tired, Firstly irregular timings, then on a break and now again on a break. We are not fools.#saveCID #DontendCID #WontLetCIDGo #WeWantCID pic.twitter.com/30akl4B5qf

— Srishti Sinha (@Srish_Tweet_) October 23, 2018
#13
#saveCID @SonyTV @SonyTV @SonyTV shame on you. You are forcing Cid to go off air. Now hear all cidians unsubscribe Sony TV. Channel from YouTube,delete Sonyliv and don't watch Sony set #boycottSonyTV.Do you really want to see fanpower of Cid Then do ready.

— [email protected] (@sarveshpriyank1) October 23, 2018
#14
@SonyTV I am tired. He is tired, she is tired. We all are tired. Either u admit or bring it back.
Cannot take it anymore. Slowly slowly ur taking the breath away. If something happens to any of us bevz of this. Trauma who will be responsible. Who? WHO. #saveCID plz plz pic.twitter.com/h6C5ttnJXE

— APARNA PATIL (@APatil06) October 21, 2018
#15
Hey @SonyTV – i don't watch your crap Indian idol, KBCs and other shitty reality shows. #SaveCid and don't u dare take it off air. 21 yrs is no joke. Remember the year when u had no serials to broadcast and It was CID that saved u. @shivaajisatam @Narendragupt @CID21Official

— Gooner P! (@Gunnerforeva_31) October 21, 2018
Do you also want CID to keep on going as usual? Are you going to take part in the campaign? Let us know.
Share Your Views In Comments Below