Politics
Congress Took A Dig At BJP, Compared PM Modi & His Team To Game Of Thrones Characters
The campaigning for the Lok Sabha elections 2019 is in full swing in India and no political party is leaving any stone unturned in targeting its opponent party. The social media networks are also a great platform for promotions and campaigning at the present time. In fact nowadays, each political party has its own social media team which focuses on gaining maximum advantage of these networks.
Game of Thrones (GoT) is one of the most popular shows and the episodes of its final and eighth season started getting aired a couple of days ago. The Congress party has used the poster of GoT as a base and replaced its character with Prime Minister Narendra Modi and his team.
Take a look: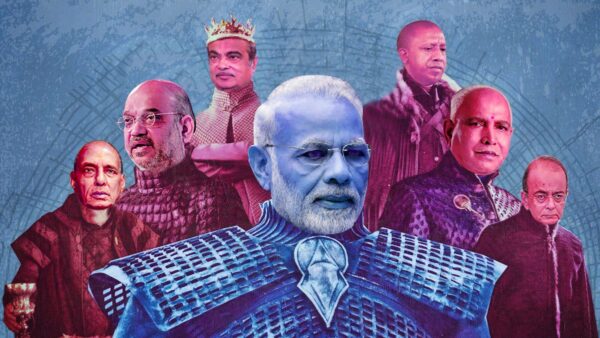 This photoshopped image was tweeted by the official Twitter handle of Congress party with caption,
"Spoiler Alert: When you play the Game of Thieves, you either lose or you bribe! 
#BJPGameOfThieves"
The caption has been taken from a very popular dialogue of the television series which is, "When you play the Game of Thrones, you either win or you d*e".
Here is the tweet:
Spoiler Alert: When you play the Game of Thieves, you either lose or you bribe! #BJPGameOfThieves pic.twitter.com/wAemvSrYY1

— Congress (@INCIndia) April 15, 2019
As you can see, Indian Prime Minister Narendra Modi has been shown as blue-eyed Night King who is the leader of the d*ad and most probably the main opponent in the final battle. The President of BJP Amit Shah is shown in the role of Cersei Lannister while Home minister Rajnath Singh is portrayed as Walder Fray and Union Minister Nitin Gadkari is seen wearing the Joffrey Baratheon crown. BJP chief of Karnataka unit Yeddyurappa is shown as Tywin Lannister while Yogi Adityanath, the CM of Uttar Pradesh, is depicted as Jon Snow.
Needless to say, this was an attempt by the Congress party to declare the BJP members as evil forces. Do let us know what you think of it.
Share Your Views In Comments Below