Videos
Couple Wears Mask & Performs Salsa Using Rope For Social Distancing, Video Goes Viral
The coronavirus pandemic has brought many changes in our lives and it is quite certain that we have to live in this manner, at least till the time the vaccine for this lethal virus is available in the market. Many countries have enacted laws in regard to making masks compulsory and everyone is being asked to maintain social distancing. It is very necessary that we follow these guidelines as coronavirus is contagious in nature and we need to maintain basic hygiene if we want to save ourselves from falling sick.
During this pandemic many people have felt low or stressed as they can't go out or meet their friends and have fun. Needless to say, there are many shows on TV which can entertain a person but the reality is that there is no better stress buster than dance.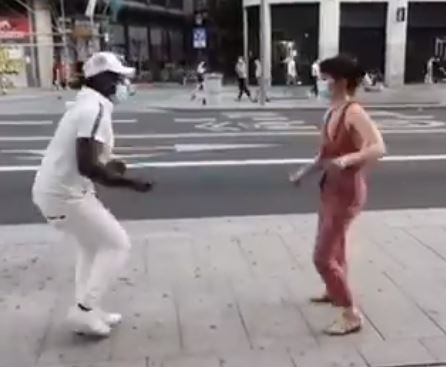 Dancing can refresh a person apart from keeping him fit but what if a person wants to do couple dance? Well some people might think that it is impossible considering the fact that it will violate the norms of social distancing. But two dancers (couple) have found the solution to this problem as they did Salsa dance while following all the safety guidelines including social distancing.
Yes, you read it right! A video is going viral on the Internet and social media in which a couple is seen dancing on the street sidewalk. They both are wearing the masks and also maintaining social distancing by holding ropes in their hands. The clip was first shared by a journalist Bianca Padró Ocasio and this video is certainly lighting up the hearts of many who were feeling sad and depressed in these critical times.
Watch The Video:
Good morning ☀️ A friend of mine shared this video of social distanced salsa and it's how i'm tryna be.

Enjoy. pic.twitter.com/xTtr3lO5my

— Bianca Padró Ocasio (@BiancaJoanie) June 29, 2020
Click here to watch this video directly on Twitter
Twitter users were all praises for the couple and here are some selected tweets for you:
#1
Maybe instead of complaining about how hard it is to wear a mask or how worrying about the health of others in your community is stepping on your freedom, we should figure out ways to actually have fun and enjoy our lives WHILE BEING RESPONSIBLE, like these two amazing humans 😭

— Mayank Tyagi 🌎🧢 (@doinkershnauzz) June 29, 2020
#2
Videos like that and this https://t.co/elSttVXv35 make alllll the bad socials worth it. https://t.co/3vimQLytw7

— Kirsten Alana Travel Photographer (@KirstenAlana) June 29, 2020
#3
This is amazing!

— Jo (@JoJoFromJerz) June 29, 2020
#4
I love this so much. And that jumpsuit 😍🔥

— εℓγ∫∫∀ VOTE THEM ALL OUT μιℓℓ∈ℝ (@Calculord) June 29, 2020
#5
Me after two spins pic.twitter.com/HlHZH7MZeZ

— Steven Coronado (@covenstronado) June 29, 2020
#6
This brings me pure joy!!!

— Gina (@ginatorres) June 29, 2020
#7
That was fun to watch. And right where everyone can watch them.

— Bob Chalfant (@FridayBob) June 29, 2020
#8
OMG that's all kinds of awesome. Veddy cool

— Sean Egbert Souse (@HelaoSouse) June 29, 2020
#9
thank you!!! awesome video to start the week

— Weston-LuxeLiving (@luxeLivingSFL) June 29, 2020
#10
Love it! Made my day…thanks for sharing…W

— Wanda Barquin ن (@WandaBarquin) June 29, 2020
#11
2020 will be known as the year of stupidity but also the year of creativity.

— Casual Callie (@SickMonkey89) June 30, 2020
How did you find the unique salsa dance? Truly amazing and creative, isn't it?
Share Your Views In Comments Below