Humour
Creep Asks Girl For S*X Chat. The Girl Deserves An Award For Her Perfect Reply
Internet is a weird place and social media is full of creeps who are looking for a chance to flirt with a girl or indulge in s*x chat just for the sake of fun. However, girls of today are too smart to be fooled and instead of giving an angry reaction, they teach such a lesson to the pervert that he doesn't forget for a lifetime, at least when it goes viral on social media sites.
We got to witness one such incident on the micro-blogging site Twitter where a user (Twitter handle – xopinkiexo) shared few screenshots of the chat that she had with a creep.
Firstly, the creep complements her by calling her hot and then asks her for s*x chat. She agrees but on the condition of doing role play. The guy has no problem and she starts by writing, "leads you to my room".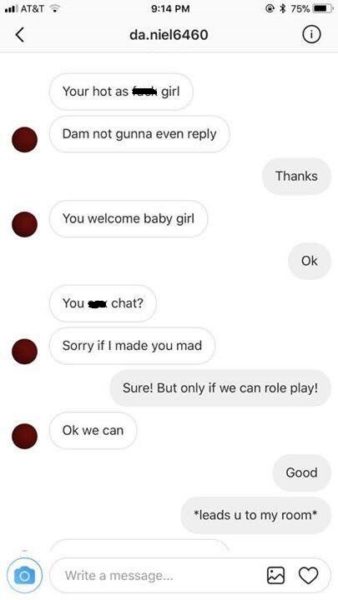 He goes two steps ahead by talking about kissing and taking off her clothes and just then, she brings a twist in the story by saying that her friend wants to join them and asks whether he has any problem with it. Before he could say "Yes", she blindfolds him and brings her friend in. Things get more interesting when the friend kisses the man and he kisses back.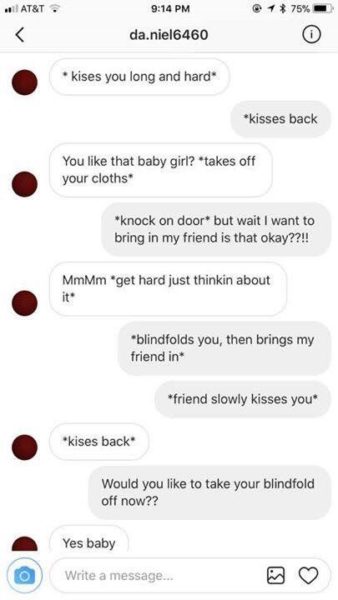 The girl then asks whether she should take his blindfold off and on getting a positive reply, she removes it. What happens then must have given the guy many sleepless nights. The friend is none other than Shrek!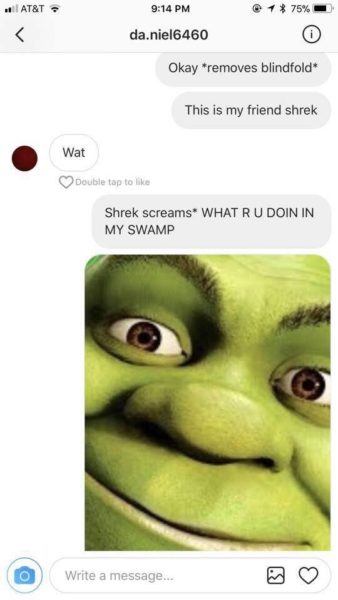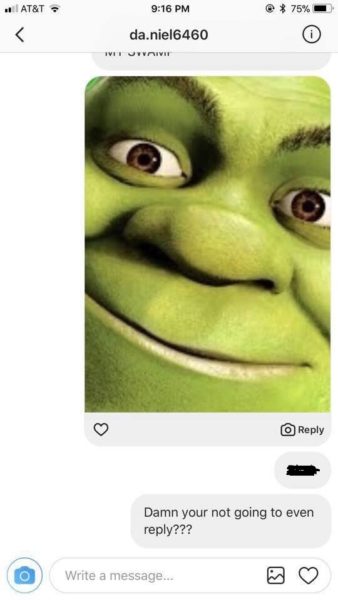 Check out the tweet:
lmaoooo pic.twitter.com/6YYuUsurgq

— outdated☆ (@xopinkiexo) November 27, 2017
LOL 😀 There couldn't be any better way to react and we bet that the guy would have thought 10 times before doing s*x chat with any other girl.
Twitter loved the whole episode and this is how people reacted:
#1
I thought he was gonna be fun and play along 🙁 if you're gonna be a creep why not be a clever one

— me ➡️ decadence az (@ImNotJohnTucker) November 27, 2017
#2
I don't even know how to respond to this 😂😂😂

— 👻Spooky Zeak👻 (@MrBIueSkies) November 28, 2017
#3
😂😂😂 damn that twist 😂😂😂

— Callum Tickner (@Callum_T7) November 27, 2017
#4
Can we get more screenshots from encounters like this from women, please? Lol

— Jags Winning it All (@JMGreen04) November 27, 2017
#5
😂😂😂😂😂 @chesta_1088 pic.twitter.com/6U8HAf2GHY

— The Squire (@RmTrevor) November 28, 2017
#6
Very smart lmao i know you got skrek screenshots might as well make them more useful 😂😂😂

— John Connor (@Bespoke_Connor) November 27, 2017
#7
This is something I would do!!!! 😂😂😂

— porkchop (@carolyn_rosiie) November 27, 2017
#8
This girl be livin in 2020 😂😂
Remind me to do this to a guy I don't like.

— Vampara💋 (@Paraleea) November 28, 2017
#9
This is the kind of shit I live for 👏🏼👏🏼👏🏼

— Lord of Lights (@Pat_the_package) November 27, 2017
You won it girl! More power to you!
Share Your Views In Comments Below