Sports
Cricketer Tried Imitating Dhoni's Helicopter Shot! It's So Funny That Even Dhoni Will Laugh!
It goes without saying that Indian wicket keeper and batsman Mahendra Singh Dhoni has made millions of fans in the world for his signature helicopter shot. The shot which he learnt from a friend helped him throughout his career.
There are many young cricketers in the world who try to copy his helicopter shot but don't get 100% success. We recently stumbled upon a video on Twitter which shows a cricketer trying to emulate Mahendra Singh Dhoni on the field.
At first, he tries to play the helicopter shot but in a matter of seconds, he changes his mind to play another shot. However, he cancels that too and finally hit the ball out of boundary in totally different way. The whole scene looks like as if he is dancing on the field.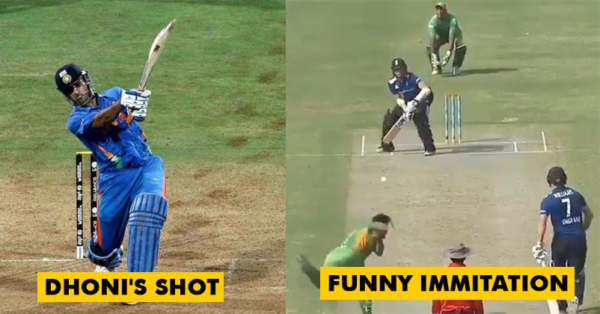 The 13-second video clip shared by a Twitter user will give you instant laughter. After watching the video, you will ask yourself, "What was he thinking"? Have a look:
https://twitter.com/its_tabrez_4u/status/905682558876213248
Click here to watch the video directly on Twitter.
Isn't that hilarious? Let us now if it made you laugh out loud. We wonder how will MS Dhoni react if he watch this video.
Share Your Views In Comments Below