Partner
Dainik Bhaskar Launches One Of A Kind App. It's Offering Vouchers Worth Rs 700 On Downloading It
Who doesn't like to get something extra? Well, we always keep looking for freebies so that we get to enjoy our favorite stuff without paying a penny for the same.
What if we tell you that there's a company which cares too much for us? What if we tell you that the company is offering us FREE VOUCHERS WORTH Rs 700? Yes, we are talking about Dainik Bhaskar, the leading media company which is all set to woo all you readers with not only a new app but also som amazing benefits along with it.
What's the app all about?
The app is known as "Dainik Bhaskar Plus" and you can easily download it from the PlayStore. It will not only offer readers a chance to grab all latest news but also give them some valuable tips on staying fit. Apart from that, some interesting offerings are internet radio, news as well as voice-based search. Too much for free, isn't it?
The main target of this app is Hindi speaking audience who wishes to consume news effectively and quickly. This will change the traditional "News experience" and set a new trend. A new campaign has been launched by Dainik Bhaskar in which vouchers worth Rs 700 are being offered on downloading the app. Some amazing features of this app are;
1) Powered by AR
2) Has news bots
3) Tips to stay fit and healthy
4) Audio bulletins
5) Internet radio
6) Live blogs
7) Voice based search
Redeem vouchers of Rs 700 now!
After downloading the app, go to settings and click login. Once you login then you will see the below screenshot:-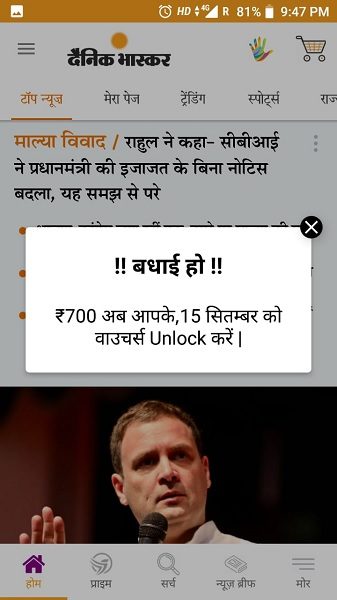 Make sure that version of your app is 5.0. This offer is exclusively valid from 15th September 12 AM till 15th September 11:59 PM. Once you download the app, you will automatically get vouchers worth Rs 700. Many brands are associated with the app and some leading ones include Mobikwik, Amazon India, Paytm Wallet, BookMyShow etc. These vouchers are totally authentic and are offered by the company just as a token of love.
Click here to download the app and avail free vouchers now.
In association with Dainik Bhaskar
Share Your Views In Comments Below