Lifestyle
Dalai Lama Gives Controversial Statement On Female Successor & Refugees. Gets Trolled On Twitter
The immensely popular and respected spiritual leader Dalai Lama has found himself amidst controversy after his comments on having an "attractive female successor".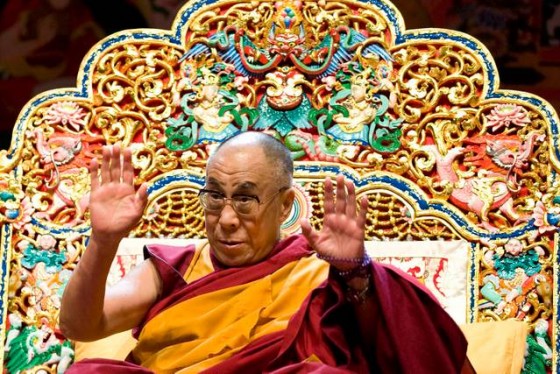 During a recent interview with an international news channel, Dalai Lama was talking about having a female successor and when speaking on the topic he said that If there is a female Dalai Lama then she should be attractive because people prefer not to see that (unattractive) face.
He even maintained his stance when the interviewer asked him to confirm. Dalai Lama said that it's true that real beauty is inner beauty but he thinks the appearance is also important.
The interviewer took to Twitter and posted-
This was perhaps the most surprising moment in the interview. I asked the Dalai Lama if he stood by his earlier comment that if his successor was female, she should be attractive.

He said he did. Watch here:#DalaiLama #BBCDalaiLama. pic.twitter.com/QAy0EFDZTT

— Rajini Vaidyanathan (@BBCRajiniV) June 27, 2019
He even shared his controversial thoughts on refugees and said that a limited number (of refugees) is ok but for the whole of Europe to eventually become a Muslim country is impossible. "Or an African country, also impossible," he concluded.
Twitterati is not happy with his comments and has reacted in this way-
#1
I can already picture her greatness… pic.twitter.com/6hXVsDZLK2

— A Gnaw Gnome Us (@agnawgnomeus) June 28, 2019
#2
It's interesting how resilient misogyny can be.

— Jeff Glenn Edwards (@jglennedwards) June 28, 2019
#3
No disrespect, @DalaiLama, but you're not exactly attractive yet people listen to you. I expected better from you than shallow sexism. You sound like Donald Trump when you believe such trash ideas, which should tell you that ugly ideas are far worse than an ugly visage.

— 🍑(((Annette))) #ImpeachThe◼️◼️ 🍑 🌊❄️🗽⚖️🌎 (@abytw) June 28, 2019
#4
The dolly llama is CANCELLED

— Ryan Weltzin (@Ryanweltzin) June 28, 2019
#5
— Summer Brennan 🌈👠 (@summerbrennan) June 29, 2019
#6
Instant Meme for "Bless your heart" and thoughts of "Funny I never thought of you as stupid before." pic.twitter.com/v3BgljqYAv

— Susan Woolner, CPXP (@susanwoolner) June 28, 2019
#7
The 14th Dalai Lama's final message to the next female 15th. pic.twitter.com/iMtQmyfI5e

— Winston Garcia (@Big_Winnie23) June 28, 2019
#8
I think my jaw is broken from hitting the floor just now. #DaliChauvinist

— bardgal (@bardgal) June 28, 2019
What are your thoughts on it?
Share Your Views In Comments Below