News
Daughter Asked Her Father To Help In Making Her CV. What He Did Will Make Her Unemployed For Life
If you have ever applied for a job, you must be knowing the importance of CVs as they play an important part in portraying you in positive light in front of interviewers.
16-yr Lauren Moore who is from Redcar, North Yorkshire, England, was applying for the job of office assistant that seems to be in her father's company. She asked her dad to help her in making CV.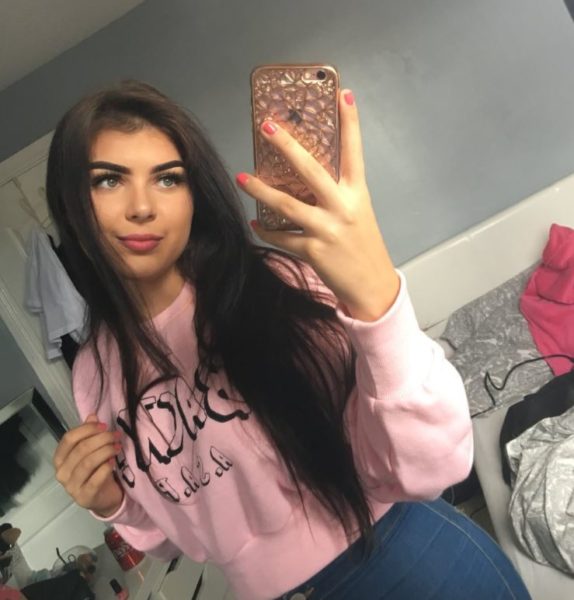 However, the father was in a mood of playing prank on her and he made a CV that listed all the horrible qualities about her. Under the heading of "Responsibilities & Duties", he wrote – 'getting on my father's t**s', 'browsing Facebook', 'giving out all clients information to the fraudsters', 'being messy' and much more.
That's not all! Under the heading of "Skills and Personal Qualities", he depicted Lauren as lazy, late, reluctant, ignorant, rude, someone who hates people, etc.
When it came to giving references, he wrote about a Probation Officer Ben Dover with a message about him that reads, "Don't contact him, he doesn't give a f**k either".
Here is the CV written by Lauren's father: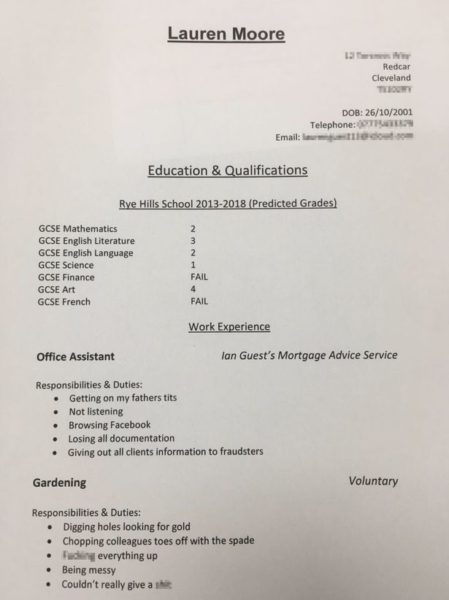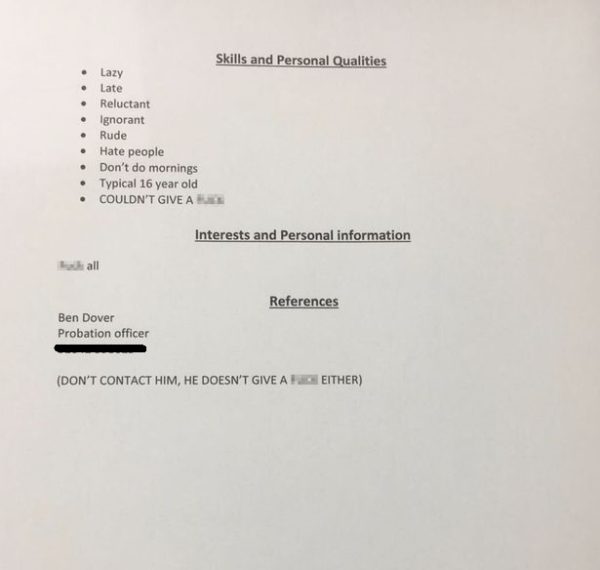 When the girl saw the horrible CV written by her father, she posted it on the micro-blogging site Twitter with the caption, "Remind me not to let my dad do my CV for me".
Remind me not to let my dad do my cv for me pic.twitter.com/rFFdoRgHxZ

— Lauren guest (@lauren_guest123) August 20, 2018
This man seriously should not write CV for anyone! What do you think?
Share Your Views In Comments Below