Sports
David Warner Banned By BCCI To Visit India And Watch SRHs IPL Match. Wife Candice Tells A Fan
David Warner, Steve Smith and Cameron Bancroft were banned from Australian Cricket last month following a serious ball tampering offence. Following this, even BCCI had banned David Warner to play IPL.
David Warner who used to represent Team Sunrisers Hyderabad in IPL wanted to visit India to support his team. He was also seen commenting on the live Instagram videos of SRH that he will visit India and support the team at some stage. However, BCCI has denied him even that.
A Twitter user named 'Srujana Konakanchi' shared an Instagram DM conversation with David's wife Candice who told that BCCI has denied his request to visit India and support Sunrisers.
Her reply read –
"He was wanting to come over but unfortunately the BCCI have stopped him from coming over to watch. He will be back next year."
In another message she said-
Yes he is very disappointed as he wanted to support the team he loves."
Srujana shared a snapshot of her "Direct message conversation" with Candice. Have a look-
#Day29 #WarnerOffField Now this is surprising !! @davidwarner31 wish to be here yet BCCI isn't okay with it? When @CountyChamp has given the green signal for players to come down and play, why not BCCI at least let them watch and support? @CandyFalzon @tarun_0707 @SunRisersC pic.twitter.com/MlppUahsBi

— Srujana Konakanchi (@srujanak94) April 22, 2018
You can also check the chat below-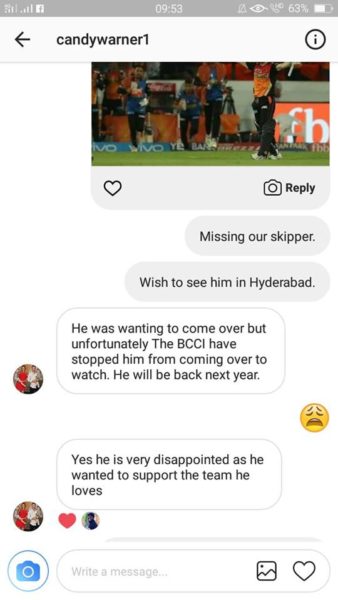 Have a look at some reactions-
1
Why are they treating like a criminal insane this…BCCI should remember he's the one who lit up the IPL from last 4 seasons he's the best player in the IPL

— SRH 132 KXIP 119 (@tarun_0707) April 22, 2018
2
It's a clear conspiracy against Warner sir by our so called honourable BCCI..

— Moumideychowdhury (@Moumideychowdh1) April 22, 2018
3
— Intaza choudhary (@intazakhan46) April 22, 2018
4
This is an example how the big three cricket boards work hand in hand, outright stupid! #WeWantDavey #OrangeArmy #Hyderabad

— Sai Rajesh Koka (@SaiRajeshK) April 22, 2018
5
😱😱omg!!! dis idiot bcci is stopping him?? 😡😡

— mona💛SRH (@im__mouni) April 22, 2018
What are your thoughts on it?