Humour
Decent Robber Asks Shopkeeper To Keep Rs 10-20 & Give Only Big Notes, Twitter Reacts
Robbers are known to be ruthless, cruel and insensitive as they can not only harm but take lives of people for money, jewelry, etc. However, recently an incident took place in Pakistan in which people got to witness robbers who had ethics and were very cordial towards a shopkeeper whose shop they were robbing.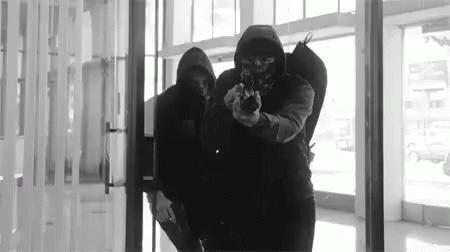 A video clip from Pakistan is going viral on the Internet in which the robber and the shopkeeper were talking as if they know each other very well. In the beginning of the clip, a person is seen picking some items from the shelves while the shopkeeper is putting currency notes in a bag. It is then that the shopkeeper asks the robber whether he can leave the Rs. 10-20 notes to which the robber replies in positive.
When the robber asks the shopkeeper where the big notes are, the shopkeeper says that he has no work to which the robber also responds by saying that they also don't have much work and they are indulging in robbery as a last resort. Then the robber uses curse words for the Pakistani Prime Minister Imran Khan and when the shopkeeper asks the robber not to come again, the robber says that hopefully they won't come again.
Here is the video:
Pakistani robbery video !!
"Bade note kaha hain"
"Abhi kuch hua hi kahan"
"10-20 to rehne do"
"Hamare paas bhi nai hai yaar, hum to majburi e kar rhe.. Imran khan beep beep something"
"Fir se mat ana bhai"
"Inshallah fir ni ayenge"
😭😭
Courtesy @notmanoj_ on IG pic.twitter.com/LaXBzEFytM

— PratsD (@pratsd) May 25, 2021
Click to watch this video directly on Twitter
The social media users were left amused after watching the video of robbers with ethics. Here are some hilarious reactions:
#1
Chori bhi tameez se kar raha hai.
This is just sad. Shopkeeper must be a very kind hearted man.

— Undercover Economist🌱 (@eco_comics) May 25, 2021
#2
Khule hue chodh jaana bhai badi pareshaani hoti hai😅

— Abdus Samad (@absd8814) May 25, 2021
#3
Chor bade achay gharane ka lagta hai. Bohut he tameez k saath baat kar raha hai. 🤣
Jiski dukan uska ❤️ bhi kitna bada hai…hats off

— Zakir Hossain (@zakir_hn) May 25, 2021
#4
Mujhe uss acche chor ki yaad aagyi jinhone kuch din phle Police Station ke baahir Corona ki Vaccine rakh aayi tho or msg diya tha-Sorry maalom nhi tha Corona ki dawai hai
I think ye wala chor or wo chor, dono hi bhai hai

— Faiz Mintorian (@FMintorian) May 25, 2021
#5
Kya bhai… I🤣
After "Maro Mujhe" Video of Pakistan
Ye wala suberb hai🤣

— MOIN (@MPatel52) May 25, 2021
#6
😂😂🤣🤣🤣itne ache chor OMG kaise 🥺🥺🥺

— Pandey Neha 🇮🇳🔮 (@Pandeyneha6) May 25, 2021
#7
May Allah grant good senses to those "decent" robbers

— Munawwar Hussain (@Munawwa99739321) May 26, 2021
#8
Inke yaha chori itne pyar se hoti hai? 🤣🤣

— Saket Gokhale Fan Club (@FanSaket) May 25, 2021
#9
Sad but.. Doesn't justify robbery…May almighty ease the burden of everyone involved here.

— Don Draper (@DonDrap73291727) May 26, 2021
#10
😂😂 my favourite kinda chor are the chor with ethics !

— Puja Ibadat Kaur Williams (@DConquered) May 25, 2021
#11
Khulle wapis bhi kiye usne..😭😭

— PratsD (@pratsd) May 25, 2021
Have you ever witnessed any such incident before? Do let us know.
Share Your Views In Comments Below