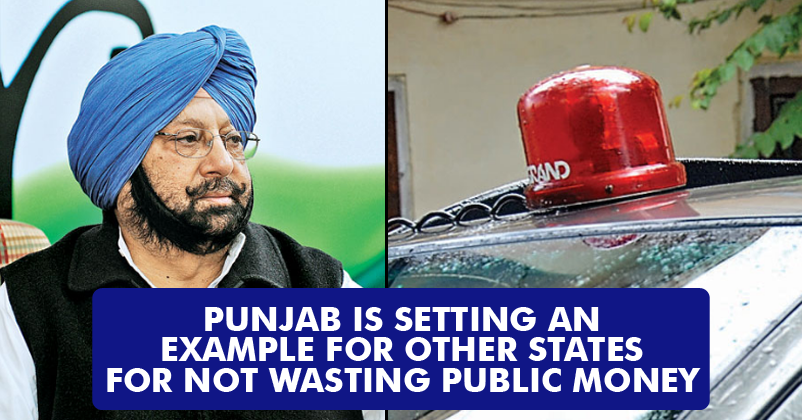 Usually, ministers are popular for their VIP culture! However, this decision by Amarinder Singh government will fill your hearts with respect.
Yes, the Punjab government has put an end to this VIP culture by banning the foreign travel of ministers and MLAs for 2 years, beacons (Red and other colors) on government vehicles and also use of state expenses for dinners and banquets. Red beacon on vehicles is the biggest symbol of being a VIP and Captain Amarinder Singh has said a strict no to the same! Very soon, the official notification will be released.
This decision was taken in the 1st cabinet meeting and according to an official spokesman, beacons are allowed only on vehicles of fire brigades, ambulances and cars of judges and Chief Justice of Punjab and Haryana High Court.
Moreover, the cabinet also took the decision that foreign travel will be allowed but only if it's mandatory and if done under bilateral arrangement.
Dinners and state banquets won't be held at the expense of state government; exceptions include banquets in honour of the PM, President, Vice-President, foreign dignitaries, governors and Lok Sabha speakers.
Moreover, MPs and MLAs have to declare their immovable properties on the 1st of January each year but for 2017-2018, the declaration should be done till the month of July. To avoid burden on state government, the decision of insurance schemes covering reimbursement of medical expenses of CM, former minister, ministers and MLAs, was taken.
Also, the foundation stones will be laid only by CM, PM, President, Vice-President, state ministers and assembly speakers.
The functioning of district administrations would be normal even if the CM is visiting there. Further, the spokesman said that "If VIPs require any official, he would make himself available with the prior written permission from the appropriate authority."
Journalists will be exempted from paying the toll tax on state highways in Punjab. These decisions taken by the government is sure to make common people happy. Punjab is setting a good example for other states to not waste public money. This will definitely bridge the gap between common man and ministers to some extent, don't you think so? Do share your views in our comments section below.
RVCJ Video Of The Day
Share Your Views In Comments Below