Sports
Deepak Chahar Proposing To Ladylove Jaya After CSK Lost To PBKS Sparks Meme Fest On Twitter
The IPL 2021 is close to its end now as only two league matches are left to be played and we almost know all the four teams that are going to play in the play-offs. While Delhi Capitals, Chennai Super Kings and Royal Challengers Bangalore have confirmed their places in the play-offs, the fourth team which will most probably enter the play-offs is Kolkata Knight Riders. However, KKR's place will be sealed only after Mumbai Indians plays its last league match against Sunrisers Hyderabad as the Mumbai franchise has a very bleak chance of making into the play-offs.
Punjab Kings played its last match against CSK yesterday at Dubai International Stadium and won it quite comfortably as the PBKS skipper KL Rahul played a blistering knock of 98 runs not out and helped his team in chasing the target of 135 in just 13 overs with six wickets in hand. Well apart from the game, this match will also be remembered for a romantic event as CSK player Deepak Chahar proposed his girlfriend Jaya Bharadwaj after the match in the stands by kneeling down in front of her.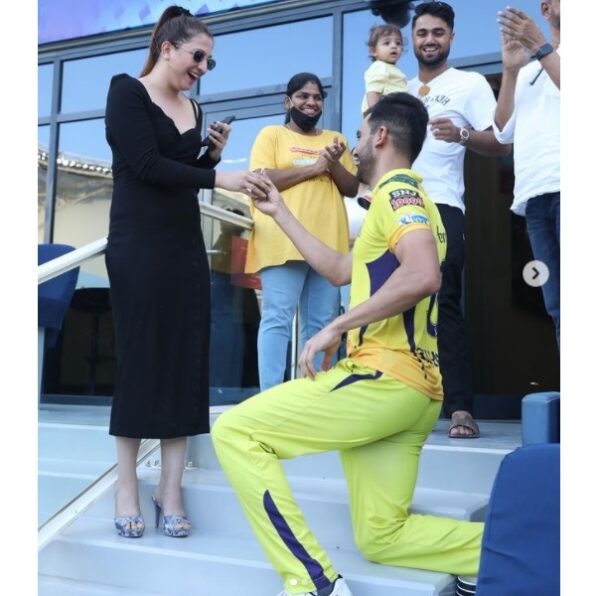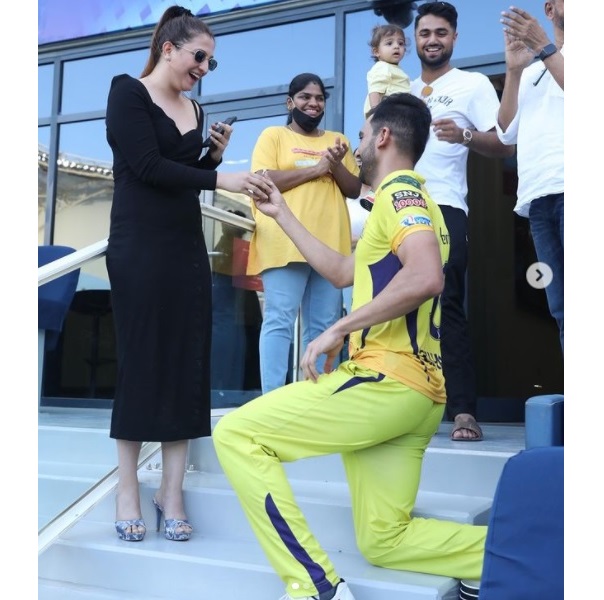 Jaya said YES instantly and people around them clapped for them as the couple exchanged the rings.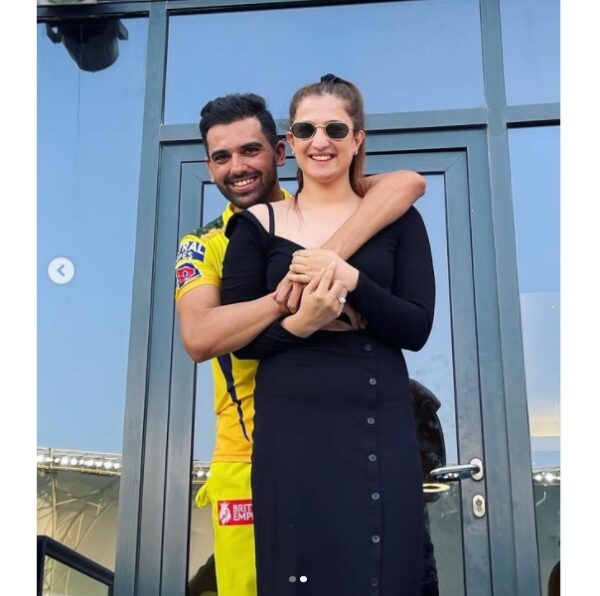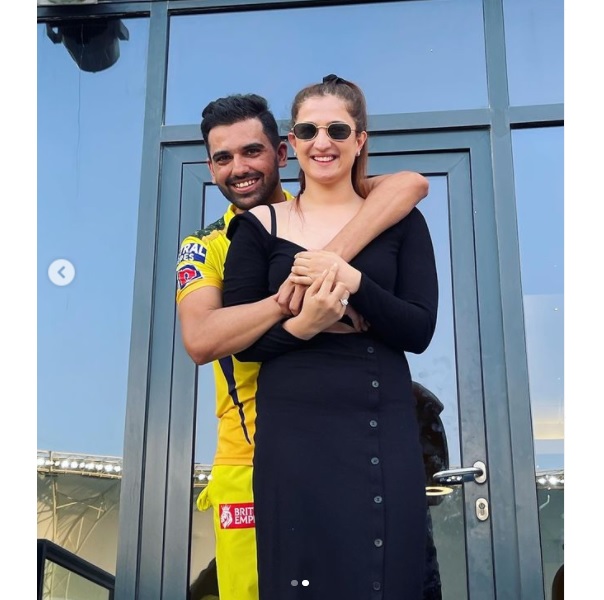 Here is the video of that lovely moment:
Special and one of the best moment of my life #love pic.twitter.com/jsCEhiAUZY

— Deepak chahar 🇮🇳 (@deepak_chahar9) October 7, 2021
Click to watch this video directly on Twitter
If reports are to be believed, Deepak Chahar was planning to propose his girlfriend during the play-off match but when he discussed this idea with his skipper MS Dhoni, the captain told him to change the timing and propose his girlfriend after the league match.
This incident also gave a chance to many creative people on the virtual world to show their creativity and as a result, the micro-blogging site Twitter was flooded with rib-tickling memes.
Here are some of the selected reactions that will leave you in splits:
#1
CSK lost
After match #DeepakChahar pic.twitter.com/FHjaBoelyW

— FIRE 🔥 (@TheUnnamedFire) October 7, 2021
#2
Deepak chahar and his girlfriend : pic.twitter.com/1tn6aGSue5

— 🅱🆄🅽🅽🆈🥳🌈 (@aakash_lakhia) October 7, 2021
#3
Deepak chahar right now pic.twitter.com/gb6G5IDiV4

— CHILL ठंडा (@wtfvikrant7) October 7, 2021
#4
The situation after Deepak Chahar and Jaya Bhardwaj's engagement.

(MS Dhoni is on the way to follow Jethalal) pic.twitter.com/VSet98IWF7

— Dhaval Balai (@DhavalBalai) October 8, 2021
#5
Dhoni : full attention on the match everyone

Meanwhile Deepak Chahar : pic.twitter.com/mZpJmsSSWI

— SwatKat💃 (@swatic12) October 7, 2021
#6
Chahar's other plans🤣#CSK #DeepakChahar pic.twitter.com/uiE3YPgSIW

— Memes Central (@SINGINTHIRAIN) October 7, 2021
#7
Same energy. #deepakchahar pic.twitter.com/P2QGnT6tjR

— Shibhhuu (@shibhhuu) October 7, 2021
#8
Deepak Chahar today :- pic.twitter.com/eIbl7o9jTy

— Unpaired_electron🦁 (@i_m_mukul_sahu) October 7, 2021
#9
Deepak Chahar with same energy ❤🔥 pic.twitter.com/TTEFsne7zj

— Imabzkhan MSDian™ (@MSDhoniRules) October 7, 2021
#10
Deepak Chahar be like: pic.twitter.com/4YMdI1NCMx

— Vikky Chandnani (@vikky_chandnani) October 7, 2021
#11
CSK loosing the match, meanwhile Deepak Chahar proposed his gf –#CSKvsPBKS#DeepakChahar pic.twitter.com/yu1W8apExA

— _pretty_potato__ (@prashhhyaaar) October 7, 2021
#12
Deepak Chahar proposing to his gf after #CSK getting thrashed: pic.twitter.com/g8sKpmdGhr

— Jeff Winger's text message (@ShubhankarSinh) October 7, 2021
#13
Dhoni watching Deepak chahar from dressing room pic.twitter.com/r8fgVCrkrq

— 𝕋𝔸ℝ𝔸ℕ𝔾 (@unfocused_guy) October 7, 2021
#14
Deepak Chahar proposed to his partner after the match. Dhoni inside dressing room 😁🤣😭 pic.twitter.com/HgS2nWjB4x

— തമിഴ്🦋 (@T_m_l_06) October 7, 2021
#15
Deepak Chahar performed well at the end .#CSKvsPBKS #IPL2021 pic.twitter.com/2gV4WGMWD7

— Abdul Samad (@the__outlier__) October 7, 2021
Deepak Chahar was not able to make any impact in the match against PBKS but hopefully, he will perform well in the play-offs. Though CSK lost the match, it is already in the play-offs and the team celebrated this special moment with the couple with full zeal and enthusiasm. Deepak Chahar's father was also pretty happy and in an interview, he said that the date of marriage would be decided by the family once Deepak and Jaya return.
Congratulations to the beautiful couple!