Bollywood & TV
Deepika Padukone Vs Priyanka Chopra – Deepika Beats Priyanka In The Social Media Race
Deepika Padukone got an amazing Diwali gift from her fans and followers this year. We always hear about competition among film actresses and a comparison between Deepika and Priyanka is not new. They both are brilliant actresses, have attained name and fame in Bollywood and are now international stars.
However, Deepika is little ahead of Priyanka when it comes to followers on all the social media sites, such as Facebook, Instagram and Twitter.
As far as the photo-sharing site Instagram is concerned, Deepika has 20.1 million followers:
While Desi Girl is behind the Mastani of Bollywood as she has 19.8 million followers:
On account of the same, Deepika Padukone has successfully defeated many actresses of the present generation. She shared a lovely video on Instagram to express gratitude for fans and followers:
A point which needs to be discussed here is that Priyanka is quite active on social media while we don't get to hear much from Deepika. Then what is the reason of her ever-increasing number of followers?
Talking about Twitter, the "Padmavati" actress leads here too as she has 21.2 million followers:
Whereas the number of PeeCee's followers on the micro-blogging site is 20 million:
On Facebook too, Priyanka is behind Deepika as the former has 33 million followers while the latter is followed by 34 million people.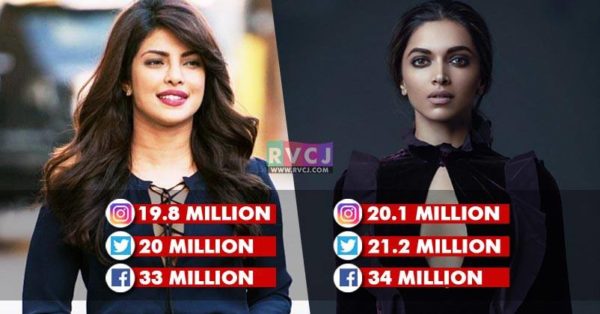 We are pretty sure that it won't take Priyanka much time to get as much followers as Deepika currently has; however, this number game is surprising to the core! At one fell swoop, it also confirms that Deepika is ruling the film industry as well as fans' hearts presently.
Share Your Views In Comments Below