News
Delhi Couple Indulged In Extreme PDA On Bike In The Busy Road, Video Went Viral
Many people violate traffic rules on the Indian roads but a couple in Delhi has crossed all the limits of decency as well while breaking the law.
A video is going viral on the Internet and social media featuring a couple on the bike. The guy is driving the vehicle while the girl is not sitting behind him but on the oil tank, hugging him with her legs across him and kissing the man as he drives.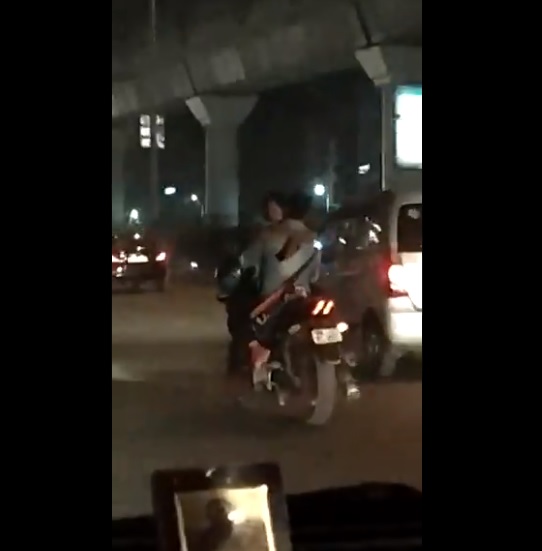 They both were not wearing helmets, jumping lanes and it was an exact recreation of a scene from the movie "Ghulam" which starred Aamir Khan and Rani Mukerji. The video was shot by another traveller and all this happened on the busy streets of New Delhi's Rajouri Garden and Kriti Nagar crossing.
An IPS officer shared the video and talked about the need of new sections in the Motor Vehicles Act in order to deal with such traffic violations.
He tweeted the video with caption, "Need for new sections for #MV Act violations!! #Rajouri garden crossing."
Need for new sections for #MV Act violations!! #Rajouri garden crossing. pic.twitter.com/0gn7LsIIYM

— HGS Dhaliwal IPS (@hgsdhaliwalips) May 2, 2019
Click here to watch this video directly on Twitter
The name of the IPS officer is HGS Dhaliwal and as soon as he shared the video, Twitter users supported him and demanded a strict action against the couple. They should be punished not just for violating the rules and risking their lives but also for putting the lives of other commuters in risky situation.
Here are some of the reactions:
#1
Nonsenes going on and even without helmet, and if God forbid anything happens then who u will blame, seriously some values needs to be inculcated from childhood only, other wise the example is there. Totally unacceptable.

— gurmeet (@fun6942) May 3, 2019
#2
They should be punished. Putting others as well as their lives in danger.

— Pardeep Chaudhary (@goldy8581) May 3, 2019
#3
We don't need new sections we need implementation of existing sections

— Shivam Miglani (@funnymiglani) May 3, 2019
#4
Sir, thanks for posting this. This is dangerous and potentially fatal,not only for riders but also for others.
I hope you chased, caught and arrested the young couple and charged them with appropriate sections.@dtptraffic

— Bharati (@DrSunilBharati) May 3, 2019
#5
Definitely sir need strict action against them ..@dtptraffic

— ravi jalhotra (@ravijalhotra) May 2, 2019
There were some Twitterati who also took a hilarious jibe at the couple's act:
#1
Need for New section for #Love Act 😂 🤣

— Gokulvisvas (@Johnpat19) May 3, 2019
#2
Aashiqui wala thumbs up pee liya hoga, tufaani kar raha hai!! 🤣👍

— Md Abul Kalam Azad (@kalamtweets) May 3, 2019
#3
The background music seems like teaser 4 a movie. Shot on iPhone.😅😂😂

— piyush kaushik (@PiyushKaushik_1) May 3, 2019
#4
Helmet or DL etc na hone pe…just do this. 😂😜😝 pic.twitter.com/RhCbwZoZ5m

— Ranjan Fadia (@RanjanFadia) May 3, 2019
#5
I am shocked to see that how this guy is even able to focus on driving properly.😂😂😂

— Bhavesh Singh (@BhaveshJmd) May 3, 2019
The person who has shot the video can be heard saying that that all the limits have been crossed and we also feel exactly the same. What do you say?
Share Your Views In Comments Below