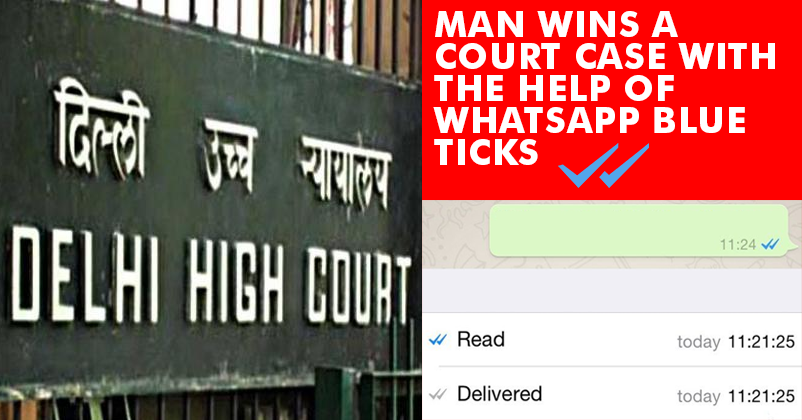 Just recently, a 21 years old girl who blackmailed a Jaipur doctor and usurped a whopping amount of Rs. 1 crore from him was caught with the help of technology, as police tracked her after she went live on Facebook. And now once again, technology has come to the rescue of an old man from Delhi.
As per Indian Express, an appeal has been filed in civil court on May 6 by a man who lives in Model Town, requesting the court to pass a restrain order on his son, his daughter-in-law, her parents and her friends, so that they cannot enter his property. The court gave decision in his favor but it would naturally take some time in issuing the order and the man claimed that those people would try their best to come into his home and property even before the notice would be served to them.
Court gave the solution to this problem and you won't believe what the solution was – send the notice through WhatsApp.
Colored photocopies of WhatsApp chats which were carried out by the old man with those members were submitted in the court by him on 8th May. Those photocopies have double blue-ticks which imply that the concerned people have read the messages. The double blue-tick feature was brought by WhatsApp in Nov 2014 and it means that the message has been read by the recipient.
The court has taken those double blue-ticks messages as the receipt to the restrain order. It has announced that those people know about the court orders and their presence on the man's property is prohibited. If they try to enter the property, it will be considered as an act against the law.
The court's order stated,
"I have gone through the record. The conveyance deed… of the suit property is in the name of plaintiff which makes him the exclusive owner… The defendants are restrained from trespassing into the suit property without due process of law till the next date of hearing. Though the defendants No. 1 to 4 have been served via WhatsApp, but still I deem it appropriate that they be served once again. Accordingly, issue fresh summons to the defendants No. 1 to 4 on filing PF/RC returnable for 24.05.2017."
The use of WhatsApp and emails in the judicial work has been allowed by Delhi court since May 4. Delhi court should be applauded for changing themselves as per the time and using technology for the benefit of the citizens.
RVCJ Video Of The Day
Share Your Views In Comments Below