News
Delhi Police Shows Mirror To People Breaking Traffic Rules, Gets Praised For Innovative Idea
Road safety is a very serious concern nowadays as every year many people lose their lives in road accidents and what is more surprising is the fact that people know that by not following traffic rules, they are risking their own lives but still they avoid rules.
The traffic police of many states have been trying to educate people about the traffic rules by coming up with creative ideas and also by using social media for this purpose. However, still we can see people not following some basic rules, such as wearing helmets while riding two-wheeler or wearing seat belt while driving four wheelers.
Delhi Police has started a new campaign to educate and make people aware about road safety by showing them a mirror, literally.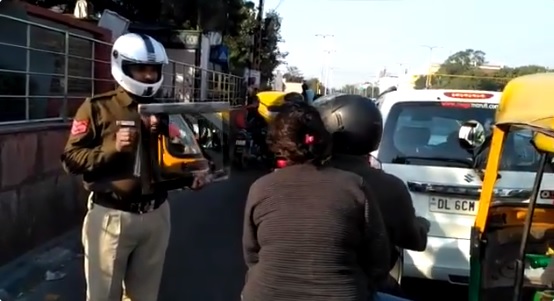 A video has been posted on the official Twitter handle of Delhi Police in which a cop is seen wearing a helmet and showing a mirror to those who have been breaking rules. Along with the mirror, the policeman is also showing placards with messages related to road safety. The main motive of this campaign is to encourage people to wear helmets.
Watch The Video:
— Delhi Traffic Police (@dtptraffic) February 9, 2019
Click here to watch this video directly on Twitter
Till the time the article was written, the video had been viewed for more than 50K times and the tweet was retweeted for over 1000 times.
People are praising Delhi Police for coming up with a unique, innovative, creative and wonderful idea for promoting road safety. Here are some selected reactions:
#1
Wow!! This is only way I guess people will get aware . Good step @dtptraffic . Drive safe, wear seat belts and Helmets while driving because we just have one life and can't waste it 👍🏻

— Dheeraj zadoo (@dheeraj_zadoo) February 11, 2019
#2
well done, dost. yeh helmet use kare ya nahi but yeh incident isse humesha yaad rahega. Bas aage se one hour wait aur karwana please. one hour standing punishment

— Rocky (@RohitAggarwal89) February 9, 2019
#3
It's good to see the new technique that has been implemented by the traffic staff

— Lomesh Garg (@kinglomesh) February 9, 2019
#4
Brilliant! Kudos to Delhi Traffic Police. Very innovative, not offensive. @MadhuriDixit wala "Perfect"

— Dheerendra Jain (@dheeren2009) February 10, 2019
#5
Amazing creativity.. humiliation is best weapon ..

— 🇮🇳Hitesh Dagar🇮🇳 (@HITESHDAGAR) February 11, 2019
#6
Innovative idea of @dtptraffic wear Helmet Campaign.The city drivers need to be taught via your Mirror Education :
'Lane Driving is Sane Driving'
'Stop Before Stop Line'
'Respect Zebra Crossing' #pedestrians@DelhiPolice @SplCPTrafficDel@dcpter @dcptrafficouter @DCPWestDelhi

— Jasvinder Singh Dhir (@JASVINDHIR) February 9, 2019
#7
Great job officiers. This is unbelivable. Mujje kabhi yahkin nahi tha i hamari police ese bhi kar skti hi. We all are proud of you. Hatsoff.

— Mukesh (@Mukesh31763339) February 10, 2019
#8
Innovative… Hope now people will understand the importance of safety

— Pradeep Kumar (@pradeepDigital2) February 9, 2019
#9
Great job by police.. Aunty G ki respectfully, politely insult.. 😆

— Rajiv (@rajivw67) February 10, 2019
#10
Commendable job . By these people should be punished with challan

— Mrityunjay (@Mrityunjaynse) February 10, 2019
#11
Thats a nice initiative but why they didnt get a challan for not wearing helmet. #strange #lawless

— A* (@Exsistentialist) February 10, 2019
We appreciate the efforts of Delhi Police and hope that people will now be more cautious regarding their own safety.