News
#DelhiRains Trended On Twitter As The Delhites Enjoyed Pleasant Rain Amidst Winter
The residents of Indian capital city New Delhi were in for a pleasant surprise as they woke up on 8th January 2020. They were overwhelmed with happiness after seeing that it was raining in the city as it would not only make the climate a little pleasant but also reduce the smog and pollution to some extent.
There is no denying the fact that the pollution levels in Delhi have crossed the alarming point and it has become pretty difficult for Delhites to breathe and live there. In such a scenario, rain brought a relief for them and suddenly the city started looking like a hill station.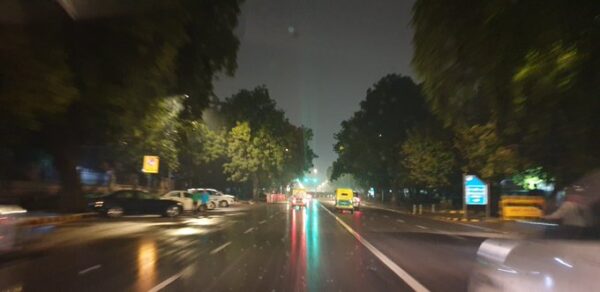 The same weather was experienced in the nearby cities such as Noida, Faridabad, Gurugram, etc. and it resulted in troubles for the commuters as well but still the majority of the population was quite happy with rains.
Within few minutes, #DelhiRains started trending on the micro-blogging site Twitter and people started expressing their happiness. While some were pleased to skip their college, few were thankful to rain because they overslept and several others were hoping to go for a long drive in such a lovely weather.
Here is a collection of some tweets under the hashtag #DelhiRains:
#1
Thank God for #DelhiRains. Atleast now I have a reason to skip college 🙂

— Alpha pinky (@slipperysandune) January 8, 2020
#2
A blend of coffee nd #DelhiRains in winter, what u need in life..then..😀😀

— Abhimanyu Thakur 🇮🇳 (@iamabhimanyut) January 8, 2020
#3
Dear weather,
Don't be so Romantic😀.
I'm already in love ❤ with you.#DelhiRains #DelhiWeather pic.twitter.com/JNoQj1ZAtd

— Vishal Shelake (@VishalShelake94) January 8, 2020
#4
You can take a Mumbaiker out of Mumbai but you can't take Mumbai out of her.
A nice rain shower, even in this wintery Delhi puts smiles on my face, a spring in my steps and a song on my lips 🤩#DelhiRains 💦💦

— Preeti Sharma Menon (@PreetiSMenon) January 8, 2020
#5
Rainy day here in Delhi… I wish I could skip rest of the day from office and go for a long drive😒
#DelhiRains #bored

— VarshaSingh (@VarshaKSingh) January 8, 2020
#6
#DelhiRains
Drizzling Delhi
more satisfying and good air quality making me happy 😊 pic.twitter.com/fds6NaalEx

— Nitish Verma (@imntshvrma) January 8, 2020
#7
It's raining in Delhi again and I'm loving it. We really need this. #DelhiRains pic.twitter.com/q9WYpHDOfS

— Dr.Ashish Gupta (@ashishbadshah) January 8, 2020
#8
Boss's expectations be like:#rain #DelhiRains pic.twitter.com/IOLB50s3O1

— Siddharth Singh (@ssr1609) January 8, 2020
#9
The climate is so perfect. I feel tired now despite sleeping for 8hrs. #DelhiRains pic.twitter.com/z6x6iXYGTt

— Mallikarjun D. Luffy (@CRonaldofied) January 8, 2020
#10
Delhi- the Accidental hill station!! #DelhiRains pic.twitter.com/OFf85fTjUT

— Shivani Jain (@She_Vaani) January 8, 2020
While Delhi witnessed rains for just one day, some of the hilly areas of the country were experiencing heavy rains for more than 36 hours.
Did you also experience rain amidst winter? Share how you felt with us.
Share Your Views In Comments Below