Entertainment
Desi Twitter Is Praising Virat Kohli For Providing Match Tickets To Charulata Patel
During India's innings against Bangladesh, more than the performance of the men in blue the 87-year-old ardent cricket fan grabbed the limelight. The camera person focused the camera on an 87-year-old Indian supporter with her spirit held high and enthusiasm she amazed the people. The elderly fan was seen blowing horns and immediately she went viral on social media.
The 87-year-old Charulata Patel said, she loves cricket and the current cricket team is all like her own kids. Team India's captain Virat Kohli and Vice-captain Rohit Sharma met their elderly fan after the match was over at Edgbaston. Virat Kohli promised to get her tickets for the next match.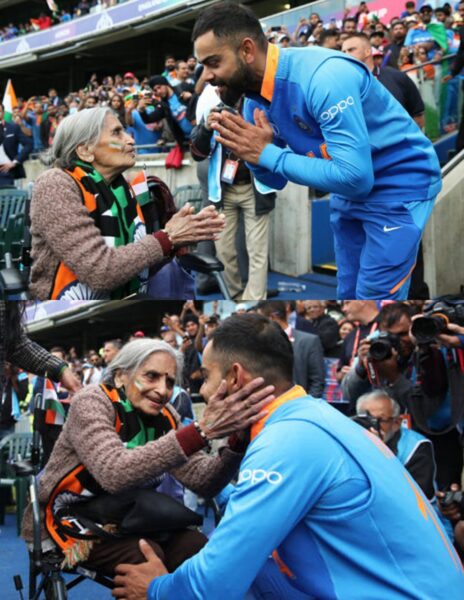 And, as promised the octogenarian attended team India's match against Sri Lanka in Leeds. Board of Control for Cricket in India (BCCI) shared a picture of the 87-year-old cricket fan donning team India's jersey along with her tricolour muffler with Indian flag painted on her cheeks and glares at the India vs Sri Lanka match in Leeds.
BCCI posted the picture with the caption, Hello Charulata ji. #TeamIndia captain @imVkohli promised her tickets and our superfan is here with us is in Leeds.
Hello Charulata ji. #TeamIndia captain @imVkohli promised her tickets and our superfan is here with us is in Leeds.😊 #CWC19 pic.twitter.com/lKqbVllLjc

— BCCI (@BCCI) July 6, 2019
Fans loved the gesture of team India's captain. Twitter is busy praising King Kohli for keeping his promise :
#1
kohli ji, ek hi dil hai kitni baar jeetoge 😔💕

— aditi. (@AdiiiTea) July 6, 2019
#2
mai bhi apni dadi ko bhejunga match dekhne.. fir agle matches puri family free me dekhegi 😍😂

— KeetaANU M̶a̶l̶i̶k̶ (@VirusUncle) July 6, 2019
#3
I love this team so much and i love @imVkohli more than that ❤️❤️❤️this gesture of him is pure ❤️ https://t.co/L6vBRnKhHx

— TMC goon🎭 (@thegirl_youhate) July 6, 2019
#4
This made so happy:)❤️

— ⎊ (@saumya_x) July 6, 2019
#5
@imVkohli is a love real man, i this thinking ❤️.

— Froogie🐸 (@AnnuFroogie) July 6, 2019
#6
Won all our hearts 😘❤️ pic.twitter.com/ljetOqIcrh

— Amy #TeamIndia (@gueswhoamiii) July 6, 2019
#7
Wow such a sweet an humble captain .. so proud of you and Respect 🙏🙏❤

— Supriya Rajput💙 (@SupriyaRajput20) July 6, 2019
#8
That's so sweet. The letter matters the most than the tickets. 🙂 #TeamIndia #ViratKohli #mahirat

— Ashok Surya (@AshokSuryaG) July 6, 2019
#9
Man with golden heart Hamara cheeku😭❤️

— Rishu-I love team india (@forever_rishu) July 6, 2019
#10
Dear @imVkohli
How many times will you win our heart? https://t.co/XS5yZ5zZlL

— Happy Kaswan (@happykaswan) July 6, 2019