Sports
Dhoni Did Two Lightning Fast Stumpings In CSKvsDC; Twitter Flooded With Applauding Memes
MS Dhoni is not just a great captain but his wicket-keeping skills are also quite extraordinary. In yesterday's match which was played between Chennai Super Kings (CSK) and Delhi Capitals (DC), Dhoni has one again proved that finding a wicket-keeper of his caliber as replacement is next to impossible.
The match was played at M. A. Chidambaram Stadium, Chennai, and CSK gave a target of 180 runs to DC. The CSK skipper Dhoni was back in action after taking rest for 2 matches and his knock of 44* (22) was very helpful for his team in putting up a good score on the board.
DC had a bad start to the innings and other than the team's captain Shreyas Iyer, no other batsman was able to give a fight to CSK bowlers. Dhoni also played an important role in DC's downfall as he carried out two lightning fast stumpings of Ravindra Jadeja's bowling. He stumped two important batsmen of DC – Chris Morris and Shreyas Iyer and the manner in which he did it left everyone awestruck.
Here is the video:
Do not mess with MSD's gloves https://t.co/MKb12I658q via @ipl

— gujjubhai (@gujjubhai17) May 1, 2019
Click here to watch this video directly on Twitter
As you can see, in both the dismissals, the foot of each of the batsmen was in air for just few seconds but even that small duration was more than enough for Dhoni.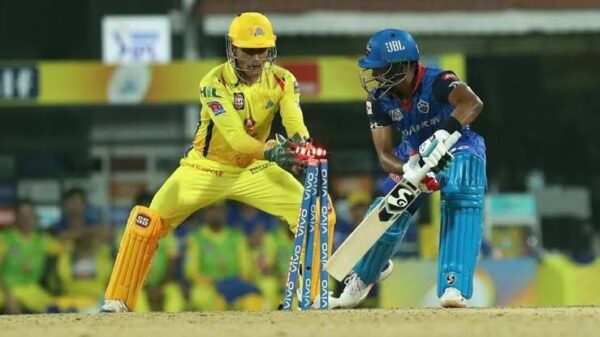 Dhoni's fans went crazy after this match and flooded social media with memes and jokes for praising their favourite cricketer, declaring that he is faster than light.
Here are some of the selected reactions:
#1
Speed to Dhoni : pic.twitter.com/MYfbMz64MX

— Godman Chikna (@Madan_Chikna) May 1, 2019
#2
*dhoni stumps* #CSKvDC

umpire: its not out
Dhoni: its out
Umpire: its not out
Dhoni: pic.twitter.com/6FSsFMWztp

— prayag sonar (@prayag_sonar) May 1, 2019
#3
Wese to mai Dhoni fan already hu par kasam se aaj k match me i was like:#CSKvDC pic.twitter.com/et9rvadEAd

— BITCH_AARI🇮🇳 (@who_is_pc) May 1, 2019
#4
*After 20 years*

*A wicket keeper stumps*

Dhoni fans: pic.twitter.com/FrXGAMhEg6

— Silly Point (@FarziCricketer) May 1, 2019
#5
* Batsman lifts foot for 0.0001 seconds"

Dhoni : pic.twitter.com/yHsI3lmIMu

— Roshan Rai (@RoshanKrRai) May 1, 2019
#6
watching #Dhoni stumping be like.#CSKvsDC pic.twitter.com/b4n6gtwQ71

— WASIM 🇮🇳 (@Akramwasim_) May 1, 2019
#7
Umpires to batsmen, when Dhoni stumps them.. pic.twitter.com/wsN49aLbEF

— Keh Ke Peheno (@coolfunnytshirt) May 1, 2019
#8
24 frames per second and one and only frame in which the batsman has his leg in air, MS Dhoni stumps. SKILL BEYOND QUANTUM PHYSICS. pic.twitter.com/W2oZ9Gv6Xl

— Neeche Se Topper (@NeecheSeTopper) May 1, 2019
#9
Dhoni's speed of stumping is faster than – "MutualFundAreSubjectToMarketRisk" 🙌🏻#WhistlePodu#Yellove pic.twitter.com/gPwZZO8VIr

— Bhavya Shah (@bhavyashah01) May 1, 2019
#10
Everyone else : Love is in the air.
Dhoni: Foot is in the air 😻 #CSKvDC pic.twitter.com/gyfWPV3Uul

— D. (@d1ksha_) May 1, 2019
#11
MS Dhoni's hands should be the official logo for the bullet train 🙌

— Gaurav Kapur (@gauravkapur) May 1, 2019
#12
When the batsman lifts his leg for a fraction of a second.

1. Bowler
2. Dhoni pic.twitter.com/h1cvz8mYGP

— Sagar (@sagarcasm) May 1, 2019
#13
Thunder God Lightning God pic.twitter.com/EzS5iePRo1

— Sᴀɴᴋᴇᴛ (@Sanket_HR) May 1, 2019
#14
1. Fiction
2. Reality#IPL2019 #msdhoni #CSKvDC pic.twitter.com/OkCSSbHcVD

— Jaggu (@rhumour_D) May 2, 2019
Dhoni is just awesome and we are speechless!
Share Your Views In Comments Below