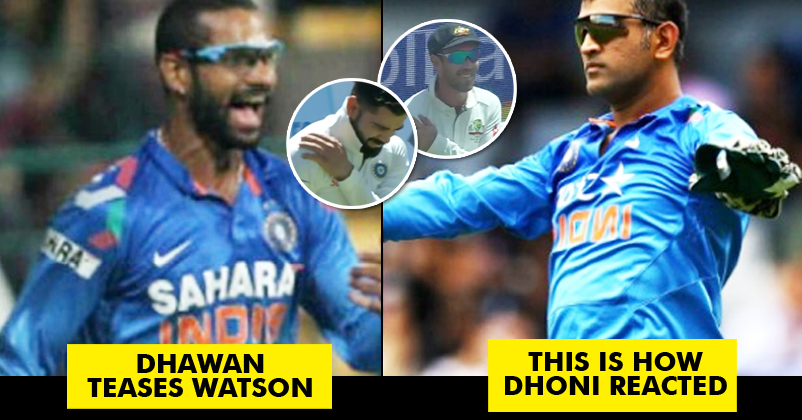 Sledging is just another highlight of Australian cricket and it only increases when they're playing against their arch-rivals India. In the ongoing third test at Ranchi between the two sides, a lot of sledging has already spiced up the match.
Sledging often turns ugly and unacceptable when players forget the true spirit of cricket and go on insulting their opponents. Things turned ugly in the ongoing test match between India and Australia too when Glenn Maxwell mocked the Indian captain Virat Kohli by imitating Kohli's reactions after suffering a shoulder injury.
Such incidents are not a rarity these days on a cricketing field. In another such incident during an ODI between India and Australia, MS Dhoni showed what a captain should do when his players forget the respect they should have for their opponents.
The match took place a few years ago when Shane Watson used to be an integral part of the Australian side. Shane Watson had injured his leg during the game and still decided to continue his batting despite the pain he was in. Suresh Raina and Shikhar Dhawan however had a different take on Watson's injury. While Suresh Raina could be seen holding his knee, Shikhar Dhawan went a step ahead and imitated Watson and limped while fielding.
Shane Watson was highly disappointed and shook his head in dismay after watching the ugly reactions from the Indian fielders. It was then time for the ever so cool MS Dhoni to come up and stop the nuisance. Dhoni decided to intervene from his position itself and ordered the erring fielders to end the scene. He asks Raina and Dhawan to stop imitating Watson and get on with the game.
Here is the video of the full incident that is enough to fill your hearts with respect for the 'Captain Cool'!
https://www.twitter.com/FarziCricketer/status/843013532232957952
Click here to watch this video directly on Twitter.
The third test match between the two sides is not over yet and chances of a repeat from Glenn Maxwell are very likely. It will be interesting to see what Steve Smith does if such a thing happens again. Things like these are what made MS Dhoni the captain that we all love so much.
Murali Vijay, while speaking on India's behalf, said that the Indian team is hardly bothered by the incident and are taking it sportively. However, Kohli's face depicted a different story. Yes Smith can't be the captain cool of Australia but at least he can try to be a decent one.
There are many such incidents that are good enough to make the whole nation feel proud of arguably their best captain ever. Do let us know what you feel Steve Smith will do if such an incident happens again.
RVCJ Video Of The Day
Share Your Views In Comments Below