Sports
Dhoni Sleeps On The Floor At Chennai Airport! Even BCCI Tweeted About Him!
Time and again Dhoni has proved his title of being "Captain Cool". Whether it is off the field or whether it is on the field, he never leaves a single chance to show his coolness. Remember, Dhoni was sleeping on the ground while playing a match against Sri Lanka? We all had loved the way he stayed relaxed and calm.
Once again, we got to see that and this time, it was at "Chennai Airport". Yes, after winning against Australia in the ODI, the Indian team packed bags and traveled to Kolkata for the 2nd ODI.
Guess Dhoni was too tired after the match, which is why he decided to take a quick nap on the floor at Chennai airport. Even KL Rahul, Pandya, Dhoni and Kohli were seen resting, but Dhoni has crossed the level of simplicity. Although his networth is hundreds of crores, he is simply seen lying down on the ground.
After seeing this picture, even BCCI couldn't stop tweeting the picture and captioning the same.
Check out the tweet…
That is how you relax after taking a 1-0 lead. #TeamIndia #INDvAUS pic.twitter.com/EiCH9ruPep

— BCCI (@BCCI) September 18, 2017
Here's the pic in case the tweet is not loading;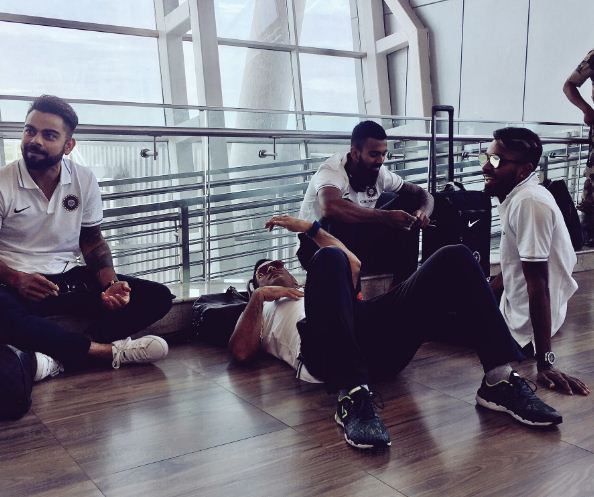 The tweet read, "That is how you relax after taking a 1-0 lead. #TeamIndia #INDvAUS"
Soon, even other fans started tweeting about the legend.
Sleep deprived!
How sleep deprived is Dhoni? On field, off field he seems to be leaving no chance of catching a power nap, go!

— pratyush patra 🖊 (@KalamWalaBae) September 18, 2017
Simplicity!
Look who z sleeping on d floor!
If d word "simplicity" had a Face,@BCCI boys r perfect to it❤️@imVkohli @msdhoni @hardikpandya7 @klrahul11 pic.twitter.com/kxDYg7XDR5

— Subhasish (@i_mPups) September 18, 2017
Down to Earth!
Dhoni is so down to earth. He's again on the floor. 😂👌

— Abhishek (@Abhility_) September 18, 2017
True indeed!
He has a net worth of hundreds of crores yet he doesn't hesitate to sleep on the ground

Simplicity level MSD 🤩😍 pic.twitter.com/5oaPyCcg1H

— PIYUSH DWIVEDI (@FoodiePandit) September 18, 2017
Mahi way!
Mahi way… being the different among the best

— Vaishali♀ #MI (@vaishali_45) September 18, 2017
Always wins hearts!
@msdhoni ground ho ya airport msd never fails to win hearts✌💯

— Rajat Agarwal (@rajatagarwalla) September 18, 2017
Always cool!
look at Dhoni why he always on the floor or ground when he free.. Always cool😃👌👌👍👍

— Ajay kumar singh (@ajasinajay) September 18, 2017
Thala Dhoni!
https://twitter.com/ImVimalRaina/status/909677010665979904
This is the simplicity level of Dhoni. We loved the way he forgot his status and coolly lay on the floor, just to relax himself and prioritize his sleep.