Sports
Dhoni's Fan Gets His Idol's Pic Printed On His Wedding Card, Invites MSD To His Wedding
The former Indian cricketer MS Dhoni has once again won the hearts of his fans by making Ambati Rayudu and Ravindra Jadeja lift the trophy after winning the IPL 2023. This is the fifth time that CSK has won the IPL and with this, MS Dhoni has become the joint most successful skipper of the IPL as Mumbai Indians has also won the tournament 5 times under Rohit Sharma's captaincy.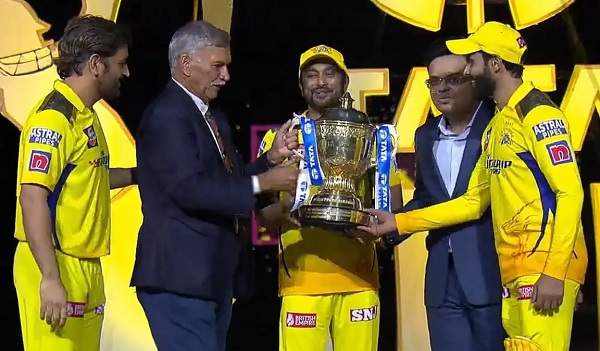 As far as international level is concerned, it is Dhoni who has given a lot of happiness to the Indian cricket fans as it was under his captaincy, India won the 2007 ICC T20 World Cup, 2011 ICC ODI World Cup and 2013 Champions Trophy as well. Mahi is considered to be one of the best skippers that the Indian cricket team has ever had, fans love him so much that some of them even worship him and it won't be wrong to say that MS Dhoni is not just a name, it is an emotion.
Recently, an Indian cricket fan showed his love and admiration for MS Dhoni by printing the CSK skipper's photo and jersey number on his wedding card. The name of the fan is Deepak Patel who belongs to Kondkel village in Milupara. MS Dhoni is the idol of Deepak since his childhood and now in his youth days, Deepak has become a successful skipper of his village team by following the captaincy skills of Dhoni. In fact, Deepak is famous in his village as MS Dhoni of village and he says that he has printed Dhoni's photo on the front and back of his wedding card just to show his devotion for Thala.
Check out the pics: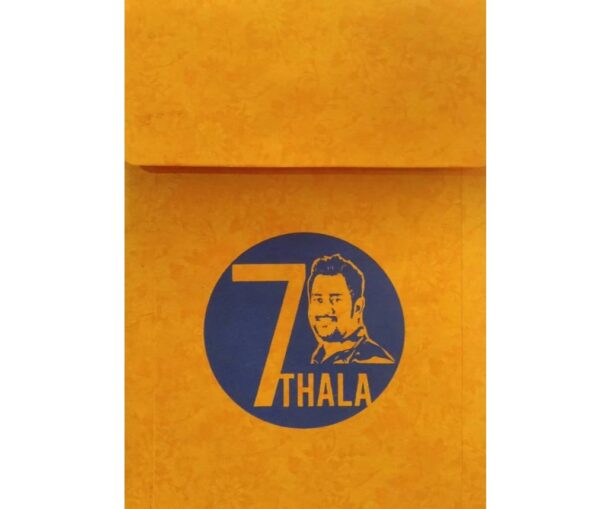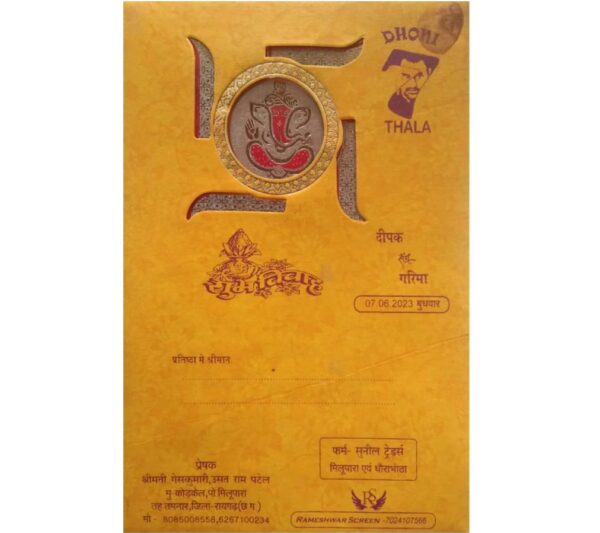 Deepak has even sent a card to MS Dhoni as well to invite him for the big day!
CSK #yellove 💛 fever isn't over yet⁉️
A fan boy of @msdhoni from #chhattisgarh printed Dhoni face, #Jersey no 7 on his wedding card and invite to the #ChennaiSuperKings captain❤‍🔥
#MSDhoni𓃵 #thala #Dhoni pic.twitter.com/dZmAqFvI14

— Shivsights (@itsshivvv12) June 3, 2023
MS Dhoni was suffering from knee injury throughout the IPL 2023 and recently he underwent knee surgery in Mumbai. As per the reports, the knee surgery has been successful and Thala has returned to Ranchi where he is taking rest. After some time, his rehabilitation program will start and hopefully he will be fine before the next IPL.
This is certainly a very beautiful way to show admiration and devotion and we wish Deepak Patel and his wife-to-be a happy married life.