Sports
Dinesh Karthik Responds To Harsh & Mean Tweets In The Coolest Way Ever
Indians are crazy about cricket so when their favourite team wins, they celebrate the victory like a festival and if the team loses, they don't mind condemning the team's captain or the player whom they think has not performed better and because of whom the team has lost.
IPL is reaching towards the play-offs and Kolkata Knight Riders (KKR) has become the third team to enter the play-offs. However, this season has not been very good for KKR and they have just picked up the momentum at the right moment.
People have been criticising Dinesh Karthik, the newly appointed captain of KKR, when the team was losing matches and they were slamming him left and right.
One user said that DK is no way near to Gautam Gambhir in captaincy while another user said that DK has not justified his talent; he debuted before MSD but is still far behind.
Innumerable talents ?? Although I agree that he has had the potential to be a great WK batsman, he has been far too inconsistent whenever he's played for India, a shame that he's never justified his talent. A guy who started his career before MSD but never reached any heights.

— Nandakumar vihari (@nandavihari) April 18, 2018
One more user said that he looks like Sonam Kapoor's husband Anand Ahuja and other one asked him to rename himself as Bengali and become Bose DK.
Dinesh Karthik should officially turn into a Bengali and change his name to Bose DK #MIvsKKR

— BeanThereDoneThat (@mrbeanaug17) May 10, 2018
Usually, cricketers tend to ignore such trollers as it doesn't result in anything productive but the KKR skipper decided to face them. He not only read mean and harsh tweets but also responded to them. Most of the tweets were sent when KKR was not playing well in the tournament.
However, while dealing with some of the tweets, he responded with the best possible option which is silence.
Watch the video:-
— Provook (@topoprovo) May 20, 2018
Click here to watch the video & enjoy Dinesh Karthik's priceless expressions: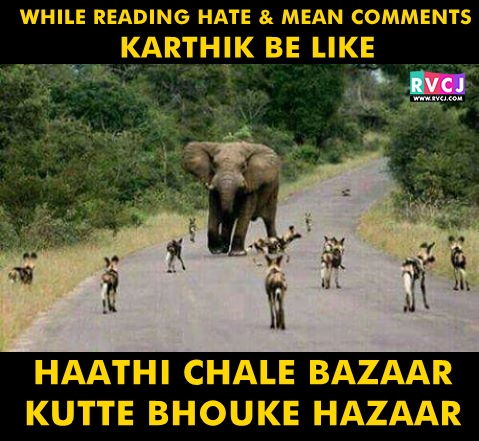 Do let us know what you think of the brave step taken by the KKR skipper and how you found his answers!
Share Your Views In Comments Below