Entertainment
Dj Snake's Fan Boy Moment With Shah Rukh Khan Took The Internet By Storm.
When a leading news channel, introduced and referred Shah Rukh Khan as 'World's biggest movie star', we could not agree more. We have already seen many such instances where, top Hollywood celebrities declared themselves as a fan of Shah Rukh Khan, including Leonardo Di Caprio, singer Marshmello and even Brad Pitt.
Bollywood Superstar Shah Rukh Khan holds a massive fan-base for himself and his popularity has no bounds. Even though Shah Rukh Khan never did any Hollywood projects, he still is quite famous internationally as well. We also saw how Coldplay's lead singer, Chris Martin acknowledged King Khan in one of his recent tweets.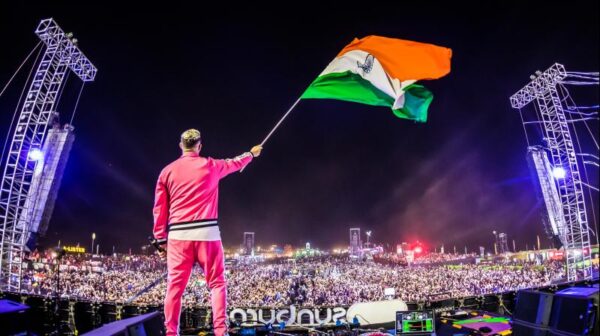 Now, the latest international star to join the list is none other than French DJ William Sami Etienne Grigahcine, popularly known as DJ Snake, among his fans and followers. He is a famous record producer from Paris. When DJ Snake came to Mumbai for an event, he make sure he is meeting up with our King Khan.
He surely did, a day before Holi and look just how!
Legend. pic.twitter.com/LyHbRaBaQ8

— DJ SNAKE (@djsnake) March 22, 2019
In this picture shared by DJ Snake himself, they have their hands joined, doing namastey together. Even DJ Snake captioned the picture as ' Legend', which took the internet by storm.
#1
French legend with Indian legend
King Khan

— TEAM DJ SNAKE (@DjSnakeIndia11) March 22, 2019
#2
Fuckin legendary picture 🇮🇳🇫🇷

— G (@jain11gaurav) March 22, 2019
#3
WHOEVER COMES TO INDIA MEETS SRK.

RUSSIAN PRESIDENT MEETS SRK.
MEXICAN PRESIDENT MEETS SRK.
CHRISTOPHER NOLAN MEETS SRK.
BRAD PITT MEETS SRK .
CHRIS MARTIN MEETS SRK.
APPLE CEO MEETS SRK.
UBER CEO MEETS SRK.
NETFLIX CEO MEETS SRK.

MANY MORE…

SRK:WORLD'S BIGGEST MOVIE STAR❤️ pic.twitter.com/WMQxNJ5X7T

— MASRUR (@masrur2srk) March 22, 2019
#4
Bro @djsnake he is not only a LEGEND for us. He is our GOD.He is our everything. Without @iamsrk i am nothing.We all are nothing. WORLD'S BIGGEST SUPERSTAR..SHAH RUKH KHAN❤😎
All Hail The KING👑 PROUD SRKIAN I AM. @djsnake you should watch his movies. Devdas, DDLJ, Mohabbatein.

— Rohan Kedar🇮🇳 (@k_k_k_k_kedaar) March 23, 2019
#5
Best Thing Happened To Internet Today! ❤ #Legends pic.twitter.com/2CBbaMZsB8

— Mobasshir Khan (@MK_srkian) March 22, 2019
#6
2 legend in single fream 😍♥

— GANPAT🚩🚩 (@Maliganpat6) March 22, 2019
#7
OMG 😳😳😳😳😳😳
Really I m watching you two together 😳😳😳

— Chowkidar Sushma Shaw (@SushmaShaw8) March 22, 2019
#8
The man with the most emotions 😍🙏

— Anika (@Anika1402) March 22, 2019
#9
Favorite 2 legends @iamsrk & @djsnake 💣👍
Welcome To INDIA Bhai🙏❤️

— Bunty Newalkar (@bunty_newalkar) March 22, 2019
#10
He is a legend and the whole world agrees

— Abhishek (@Abhishe23088293) March 22, 2019
#11
Wow kings together!!

— Lisa power (@Lisapow70860750) March 22, 2019
#12
Two legends together in one frame 🙏🏻❤🇮🇳

— Disha Gupta (@DishaGupta39) March 22, 2019
So, how are you feeling? ecstatic much?
Share Your Views In Comments Below