News
Donald Trump's Daughter Ivanka Trump Heavily Trolled On Social Media For Endorsing A Brand
The USA President Donald Trump has the reputation of making statements which create controversies but this time he has created a controversy by indulging in promotions of Goya, a food brand.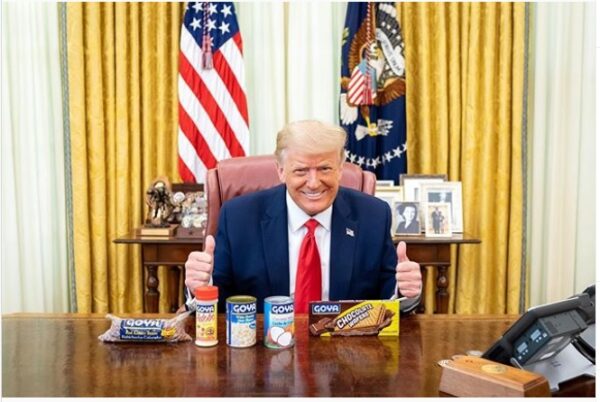 The brand Goya was already trending on Twitter as many users wanted to boycott it in view of the fact that its CEO Robert Unanue praised the USA President Trump last week. Goya foods are liked by Latino Americans a lot and it is the biggest Hispanic owned company but the community feels that Donald Trump has a racist attitude towards them. Even a huge number of Americans feel that the government policies towards Hispanic community are discriminatory.
Donald Trump's photo was posted on the social media handles in which he is seen smiling while sitting in his office with many Goya products displayed on his table.
Later, Donald Trump's daughter Ivanka also promoted the brand and she was seen holding a can of black beans.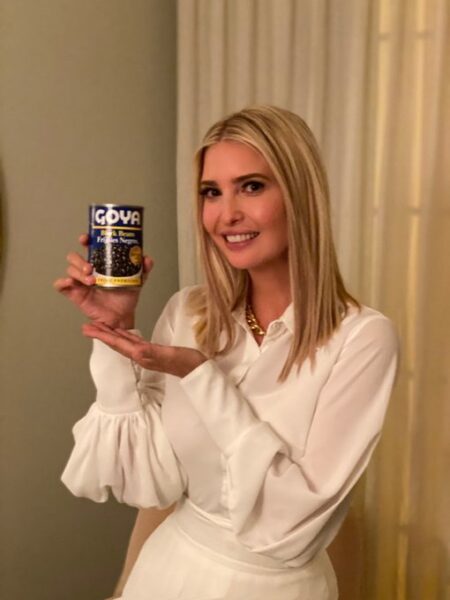 Ivanka Trump shared it on Twitter with the caption written in English and Spanish, "If it's Goya, it has to be good. Si es Goya, tiene que ser bueno."
Check out the tweet:
If it's Goya, it has to be good.
Si es Goya, tiene que ser bueno. pic.twitter.com/9tjVrfmo9z

— Ivanka Trump (@IvankaTrump) July 15, 2020
Netizens have slammed both father and daughter for marketing a food brand and some also say that it is the violation of United States Office of Government Ethics as per which the executive branch employees should not use their government positions for the purpose of marketing or promoting any organization, service, person or product.
Here are some of the selected tweets:
#1
You're kidding me, right? No ethics left in this White House on issues big or small.

— Joyce Alene (@JoyceWhiteVance) July 15, 2020
#2
Why is a senior White House official endorsing a food product?

— Kyle Griffin (@kylegriffin1) July 15, 2020
#3
You are pure racist trash with a fake job that has left you morally bankrupt enough to hold up a can of beans— that you didn't buy yourself, and that you don't know how to cook— just so you can pretend to support a community you prefer to keep in cages, all to make daddy happy.

— Natasha Rothwell (@natasharothwell) July 15, 2020
#4
Goya is now married to the Trump brand. I don't think this is a wise long term strategy for the company.

— Wajahat "Wears a Mask Because of a Pandemic" Ali (@WajahatAli) July 15, 2020
#5
I'd bet a lot of beans that no one in the Trump family has ever eaten Goya before

— Katie Hill (@KatieHill4CA) July 15, 2020
#6
Like father like daughter… the problem is neither one of you has ever tried the products you're holding in your hands. pic.twitter.com/SFZhKHRImd

— Ethan Vosburgh (@antenna_tree) July 15, 2020
#7
Ivanka está loca: pic.twitter.com/8A01WrldBi

— Nick Jack Pappas (@Pappiness) July 15, 2020
#8
— Cajun #Resister Texas (@LA_Randy_NovaSc) July 15, 2020
#9
— Parker Molloy (@ParkerMolloy) July 15, 2020
#10
— Kip Resists 🇺🇸🌊🏍️ (@Outtascope) July 15, 2020
#11
Omg! Ivanka is using her official position paod by tax payers, whatever that is, to advertise a product. Is she getting paid for this by @GoyaFoods ? Will Trump's white nationalist base who wanted kids in cages and stolen from their parents actually buy the product?

— Olga Lautman (@olgaNYC1211) July 15, 2020
#12
It's so nice of Daughter-Wife Ivanka to take time out of her tremendously busy schedule of doing absolutely nothing to promote a can of beans

— Trumpy Trumpy (parody) (@outofcontroljb) July 15, 2020
#13
#TrySomethingNew 😂 pic.twitter.com/DteNjSBrok

— JerriLynn (@Jerri_Lynn25) July 15, 2020
#14
here, I fixed it for you. One with your 'other daddy', one pre plastic, when you still looked human, and one showcasing your special edition "kids in cages" collectibles pic.twitter.com/bP3kpkUe9c

— We Are Better Than This (@Agility_Fan) July 15, 2020
#15
#NoBuenoIvanka! pic.twitter.com/PLRGPvXa0l

— Nurse Nina (@NurseNinaPA) July 15, 2020
The Americans are also not very happy with the manner in which the Trump government handled the coronavirus pandemic as more than 138K Americans have lost their lives till now and over 3.53 million have been registered as COVID-19 positive patients. The condition is so bad in the USA that 70K COVID-19 patients have been recorded yesterday only.
Share Your Views In Comments Below