Brands
Durex Trolled England As It Got Out Of FIFA World Cup & The Poster Is Too Witty
The FIFA World Cup is near to its end now as France and Croatia will clash with each other on 15th July, 2018 in finals.
Croatia has entered finals after defeating England in semi-finals by 2-1 and it was a quite big surprise for England. Earlier when England defeated Sweden and entered semi-finals, the England fans were completely sure that this time the cup would come home.
In fact, England's former footballer David Beckham posted a video in which he was sitting in a lavish manner and saying, 'it's coming home'. By 'it's coming home', he meant to say that the World Cup is coming home.
Watch The Video:
David Beckham knows it's coming home 🏴󠁧󠁢󠁥󠁮󠁧󠁿 pic.twitter.com/t2yVvZfJfy

— Soccer AM (@SoccerAM) July 7, 2018
Click here to watch this video directly on Twitter
There was a sense of belief among the England fans, followers, former players and sports analysts that England would easily defeat Croatia in semi-finals. However, the result of semi-finals surprised everyone as Croatia defeated England by 2-1 and made its way to finals. A number of memes flooded on social media regarding "it's coming home".
A contraceptive brand Durex also took this opportunity to troll England by sharing a poster on social media in which it took a dig at "it's coming home" by stating "you can always… come home, come late".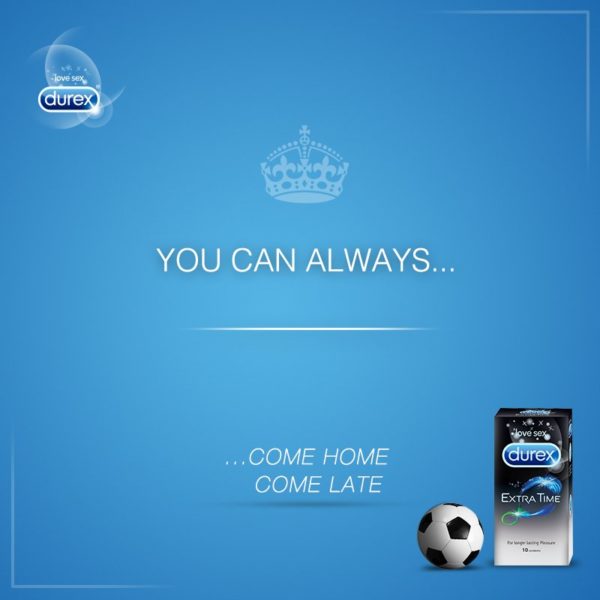 It was posted on Twitter by the official handle of Durex India with caption, "Never mind lads. #CROENG" and since then, it has been getting viral.
Never mind lads. #CROENG pic.twitter.com/rpdat1Iw7w

— Durex India (@DurexIndia) July 11, 2018
Well, one has to accept that England played well but they shouldn't have taken Croatia lightly in semi-finals and now there are many who are trolling David and England.
Here are some reactions:
#1
Spot on david your team is coming home.😂😂😂👍

— GARNGAD.67🌟🍀 (@johnjmcghee) July 7, 2018
#2
😂😂😂😂😂😂ur team is coming home u mean yet again without that trophie.😂😂😂👍

— GARNGAD.67🌟🍀 (@johnjmcghee) July 7, 2018
#3
Too much wine David lol

— Tomo Feck n Feck (@tommyweehawk) July 7, 2018
#4
Yeah! 😂😂😂 pic.twitter.com/W4hMF9Y9HJ

— Tomislav Pleše (@tplese_zg) July 12, 2018
#5
He's coming home p*ssed 🤣

— Guy Bradley (@GuyDBradley) July 7, 2018
How did you find Durex's style of trolling?
Share Your Views In Comments Below