Bollywood & TV
Even Anup Jalota Has Girlfriend. Twitter Trolled All The Single Guys Hilariously
Bigg Boss is back with its twelfth season and it seems that the theme of 'Vichitra Jodi' will add more spice and drama to the controversial reality show. The Jodi of Bhajan singer Anup Jalota and his beautiful girlfriend and Jasleen Matharu fits appropriately with the concept considering the huge age gap of 37 years between the couple; while Anup Ji is of 65, the age of Jasleen is just 28.
Needless to say, the whole nation along with the host Salman Khan was shocked when hot Jasleen made an entry as Anup Jalota's girlfriend; however, we can't deny the essential fact that they rocked the premier and made it much more entertaining than expected.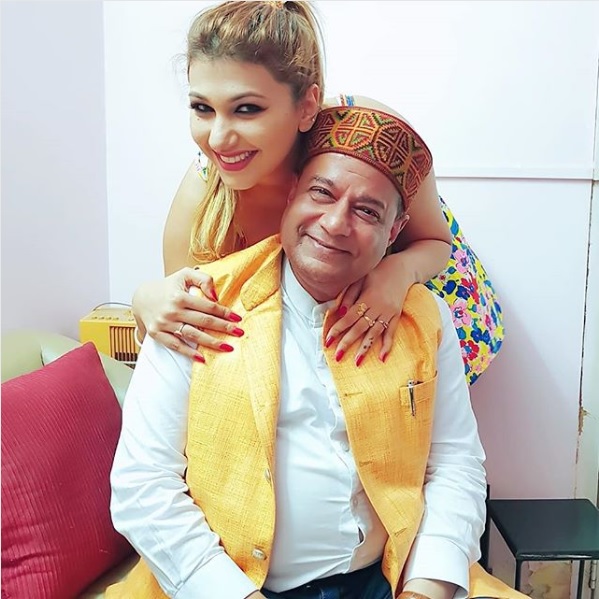 Indisputably, they have become the talk of the town and social media just can't get over with their affair. Twitter is wondering how a devotional singer indulged in a relationship with a young girl and is further trolling all the single guys, saying that even Anup Jalota has a girlfriend at this age.
These tweets will make you ROFL literally:
#1
#SalmanKhan after he get to know about #AnupJalota girlfriend #BiggBoss12 #BB12 pic.twitter.com/YptfI2AdyC

— Rishabh Srivastava (@AskRishabh) September 16, 2018
#2
Kids – Romantic Songs
Men – Poetry
Legends – Bhajan#AnupJalota

— Varun Kumar Rana 🇮🇳 (@BeingVarunRana) September 17, 2018
#3
Don't Be Disappointed If You're Still Single. Maybe She's Not Born Yet 😭🙃😬 #AnupJalota #BB12

— Sir Ravindra Jadeja (@SirJadeja) September 16, 2018
#4
Looking at #AnupJalota and #JasleenMatharu together in #BiggBoss12 house… pic.twitter.com/DmCV7cyZoc

— Paresh Shah (@parespective) September 16, 2018
#5
Guy: I will use phone 📞 a friend.

Big B: kya krte h aapke dost ?

Guy: ji budhape mein ishq

Big B: Computerji, anup jalota ko phone lagaya jaaye!#AnupJalota #BiggBoss12

— Dr. Mashoor Gulati (@Gulatisays) September 17, 2018
#6
Two minutes silence for boys who are still single …😂😂🤣🤣including me#AnupJalota#BiggBoss12 pic.twitter.com/N8t66Wqcpb

— kapil dahamiwal (@kkcool24399) September 16, 2018
#7
Single's reaction after seeing anup jalota's gf #AnupJalota #JasleenMathar #BiggBoss pic.twitter.com/5677BS86gP

— Rahane Hater Ko Bhagao (@rahaneswarrior) September 17, 2018
#8
#AnupJalota in morning : Meera ho gayi magan🎶🎶#AnupJalota in night : Baby doll tu sone di 🎶🎶😁😂

— Bhrustrated® Activist (@AnupamUncl) September 16, 2018
#9
When you expected Milind Soman but got #AnupJalota instead ..😂😂😂🙊🙊💃💃👻#bb12 #BiggBoss12 #BiggBoss #ShilpaShinde #ShilpaInBB12 pic.twitter.com/Pn8LHPzLnY

— 🎭 (@Leonotcaprio) September 16, 2018
#10
#AnupJalota has a girlfriend. pic.twitter.com/YMX3D1DAnI

— निशाचर (जलोटा जी के कोरस सिंगर) (@nishacharr) September 16, 2018
#11
#Biggboss12 #AnupJalota #JasleenMatharu pic.twitter.com/kUOPrOia3f

— PIYUSH DWIVEDI (@InsaneEditor) September 16, 2018
#12
All lounda lapada's will be like this after watching #AnupJalota Ji's gf pic.twitter.com/tYT6aJlZYA

— #Bhajan Sandhya 😭😭😂🙏😂🙏 (@Being__Amit) September 17, 2018
#13
Never underestimate a man who sings Bhajans. Or for that matter who's only 65 years young. 🤣#AnupJalota

— SUHEL SETH (@suhelseth) September 16, 2018
#14
When u get to know Anup Jalota having 28 year old gf #AnupJalota #Biggboss pic.twitter.com/M8YItdp1pr

— RITDHWAJ SINGH (@ritdhwajsingh) September 16, 2018
#15
Log Milind Soman aur Priyanka Chopra ko ro rahe hain. Yahan asli stud toh Anup Jalota nikla bhai.

Abhishek Walia 😂😂😂

— gourav soni (@gourav941) September 17, 2018
Are you still single? Wait for the next few decades, may be she is not born yet 😀