Entertainment
Even Vadodara Police Knows The Popularity Of Priya Varrier. Here's How They Are Using Her Wink
Cops of the nation have understood one fact that social media is a great medium to send out important messages to youngsters. Earlier it was Mumbai and Hyderabad Police and now Vadodara Police is also making news for going the digital way.
What comes as a pleasant surprise is their approach towards youngsters and the way of reaching out to them. Unlike their usual rough and angry ways, the police department has now started going quirky and funny.
They know they need to strike a chord with youngsters so they are doing it in a way that is understood by them.
Youngsters in India were recently smitten by Priya Prakash Varrier. Her beautiful wink melted millions of hearts online and she was soon was declared the National Crush of India.
Vadodara Police has now used Priya's wink to send out an important safety-related message to the youngsters of the city. In the recent campaign they used the viral "wink" picture of Priya and wrote a caption that was quite witty.
They wrote-
"Accidents happen in the wink of an eye. Drive carefully, without distraction."
Take a look at the creative below-
You can also check the pic below-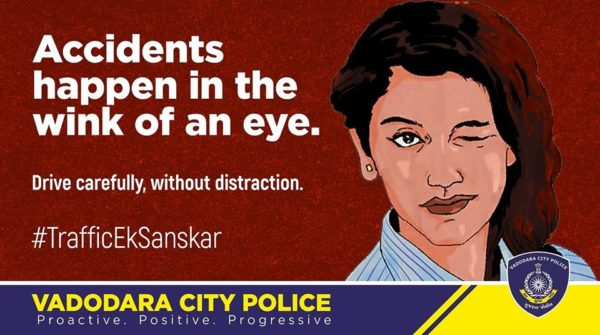 Now that's a message loud and clear in a way that everyone will adore.
What are your thoughts on it?
Share Your Views In Comments Below