On Friday, rain in Bristol abandoned the first match of ICC World Cup 2019 against Pakistan and Srilanka. The rain didn't let the bowlers bowl even a single ball and the batsman couldn't hit a single ball.
It is the first match in England and Wales to have been abandoned without a result. Both the teams were awarded one point each. In a press conference Sarfaraz the Pakistani captain said 'Every team is scared of Pakistan. As like other teams in the tournament Pakistan is also a tough opponent. Also, we have won the first two matches in the tournament.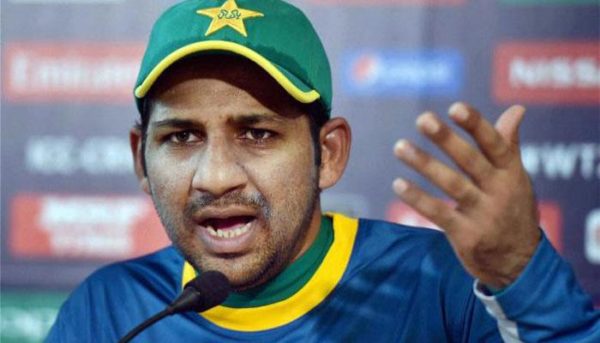 However, on Monday Pakistan lost to West Indies by 7 wickets at Trent Bridge. Well, the Pakistani skipper is confident about the Pakistani team and warned the other teams in ICC World Cup 2019.
"Every team is scared about Pakistan." – #SarfarazAhmed #PAKvSL #CWC19

— Cricbuzz (@cricbuzz) June 7, 2019

Sarfarz was brutally trolled by the netizen creating a laughing riot in Twitter:
#1
Han kya pata kab kaun phat jaye😹😹

— Mask 🎭 (@Mr_LoLwa) June 7, 2019
#2
~ India pic.twitter.com/MamJ3r3FeW

— CricBeat (@Cric_beat) June 8, 2019
#3
Pakistan country or Pakistan team?

— Laxman Anishetty (@laxman_219) June 7, 2019
#4
https://twitter.com/SirChahal/status/1137029373410758656/photo/1
#5
Virat to SA🤣🤣🤣 pic.twitter.com/twn4LpOblB

— Pranjul Sharma (@pranjultweet) June 7, 2019
#6
itna english Sarfaraz bola 😳

— 🌶️🌶️ (@urs_krishh99) June 7, 2019
#7
https://twitter.com/hitath_joshi/status/1137046850005946368/photo/1
#8
— S (@kohlifangurl) June 7, 2019
#9
After saying that statement,

He Himself Can't Control:

😂😂 #PAKvSL 😂😂 pic.twitter.com/FrQ77OJKdE

— ɯlse (@pitchinginline) June 7, 2019
#10
Read the above statement from cricbuzz broo…

He said, "Every team is scared about Pakistan" 😂

— ɯlse (@pitchinginline) June 8, 2019