News
Everyone Is Asking Why Not Death Penalty For All Rapists. This Twitter User Gives A Sensible Answer
There is no denying the fact that India needs tougher laws to tackle crimes such as rape and the trials should also take place in fast track manner.
It seems that central government has made up mind to make some amendments in the law as they have approved an ordinance that provides for death penalty for the accused if found guilty of raping a minor up to 12 yrs of age.
Now the minimum punishment for rape of females above 18 will be life imprisonment while earlier it was 7-10 years of severe imprisonment. The minimum punishment for raping a girl under the age of 16 is 20 years and it can extend to life imprisonment while the minimum punishment for raping a girl up to 12 yrs of age is now 20 years and it can change to life imprisonment or death penalty.
Twitter is happy with this ordinance and here's how people reacted:
Kudos to PM @narendramodi for approving the Ordinance to amend the POCSO Act which will result in #DeathForChildRapists.

— C.T.Ravi (@CTRavi_BJP) April 21, 2018
Death For Child Rapists
ordinance passed by central gov
Great job appreciated 👌🏻👏🏻🙏… Slaughtering them like chicken with an option of jhatka or halal would be more remarkable but.. Democracy….🇮🇳#BJP4Nation #DeathForChildRapists #DeathForRapists

— Virendra Sehwag (@Virupaajii) April 21, 2018
However, some people are raising questions as to why there is difference in punishments for raping a minor and an adult while the pain and agony are the same in both the cases.
Check out some tweets:
#DeathForChildRapists
Sorry!! Still not satisfied
Rape is rape,,
Hence every rapist deserves the same punishment irrespective of the victims age…

— Jyoti Chaudhary (@Modern_Devasena) April 21, 2018
It's a start nt the end..what about girls nd women above age of 12??..what about young women being raped?? How can punishment be distinguished by age or no? The voices wont stop ✋️ demand for death penalty for rapists #DeathForChildRapists

— Niilam Paanchal (@niilampaanchal) April 21, 2018
I support #DeathForChildRapists

Not only Child for every rapist!

No matter he is a celebrity or a common man!

No matter he is a Hindu or a Muslim!

No matter he is a teenage or an adult!

Rapists are rapists!

So, punishment should be equal for all!

— Anit Ghosh (@Indianit07) April 21, 2018
Who came out with this random number? What about a child who is a month older than 12? Trauma is the same for any child. The law should cover all children whose age will be under and equal to one in school system(+2), at the least. @PMOIndia @narendramodi #DeathForChildRapists

— Abhinaw R. (@abhinaw_r) April 21, 2018
#DeathForChildRapists approved but still #बेटी_मांगे_इंसाफ !
This rule is required against all the Rapists, bcz Justice is the right of every women in India including girls below 12 years.
We want #DeathForAllRapists.

Like and retweet if u support this. pic.twitter.com/99yxmTgIpA

— Ekta Chaurasia (@EktaChaurasia3) April 21, 2018
A Twitter user tried to answer these questions in a pretty good manner. Here's what he tweeted,
"I respect govt's ordinance of death penalty for girls below 12. But I saw many people asking why there's death penalty for only girls below 12 years of age and why not for all. I would just like to keep my point in this case.

There are chances that adult girls might tell a lie out of one-sided love or infatuation but a girl of 12 would rarely lie about her rape.

I would definitely say that rapists of adult girls should also be given death penalty but only if their crime is proved otherwise few people can misuse this law and it will be injustice to some innocent people."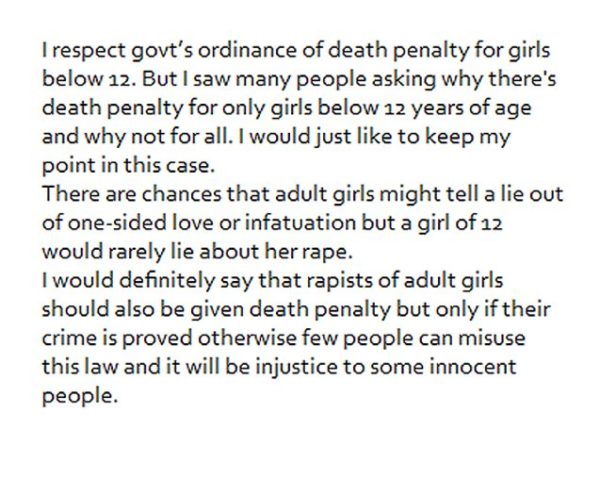 Check out his tweet:
#Deathforchildrapists #Modi #rapistsdeservesdeath pic.twitter.com/rVYn8PJJmL

— PIYUSH DWIVEDI (@FoodiePandit) April 21, 2018
What is your take in this regard? Let us know.
Share Your Views In Comments Below