News
Everything You Need To Know About The Rajsamand Murder Before Deciding Who Is To Be Blamed
The heinous murder of a labourer in Rajasthan's Rajsamand, which was nothing less than an animal slaughter, has left almost every person from every fraternity of the Indian society shell shocked. While some are busy blaming the media for telecasting such insanity, majority is still concerned with justice for the victim. As has become a trend now, this case too has had its roots connected with religious politics spread across the nation. Who is to be blamed? What is wrong with the media? What should be done with the culprit? What are we supposed to do to end this streak of human killings on the name of hate? These and many other questions have hit the minds of almost every Indian.
Before we start off with the answers, here is what exactly happened in Rajsamand!

Image Source
Afrazul Khan (47), hailing from Malda, West Bengal, was working as a labourer in Rajasthan since the last 12 years now. He had three daughters and the youngest of them was about to get married later this month. Afrazul used to visit his family once every two months and was supposed to visit again for his youngest daughter's marriage.
Shambhulal Regar, the main accused, asked Afrazul to come to the woods on the pretext of giving him some work. Regar roped in his 14-year-old nephew to record what he was about to do. He slaughtered Afrazul and burnt him alive just because he thought Afrazul was having an affair with a Hindu woman. The entire video was continuously shot by the 14-year-old nephew of Regar and was circulated online immediately. This triggered a massive dissent from almost everyone who saw it online. Internet was suspended in Rajsamand where the incident took place. The killer constantly kept shouting about "love jihad" and also threatened to kill more people, Bollywood celebs too, if possible.
Unsurprisingly, the victim had connections with BJP and even got appreciated in a WhatsApp group including BJP MP & MLA!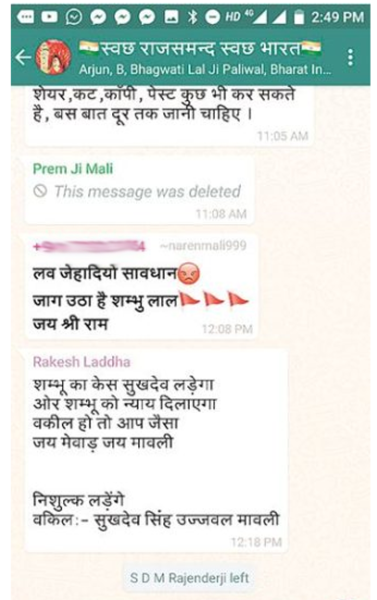 Image Source
Shambhulal Regar, the psycho who committed this risqué crime, is hailed as a hero in some WhatsApp group that has BJP MP from Rajsamand, Hariom Singh Rathore, and MLA Kiran Maheshwari. The group titled 'Swachh Rajsamand, Swachh Bharat' was created by Prem Mali who claims to be a BJP booth level worker.
On questioning, the MP & MLA denied using WhatsApp and following any such group. Prem Mali, when questioned, said, "It's the personal opinion of the people who shared these messages. Everyone has different beliefs." Sukhdev Singh Ujjwal, the lawyer mentioned in the messages also denies taking up Regar's case and was himself surprised to read the post.
Media from all over the globe came up to cover the entire incident. From The New York Times to Al Jazeera, there has been a mention of this horrific crime incident in top media house of almost every nation.
This is what The New York Times had to say!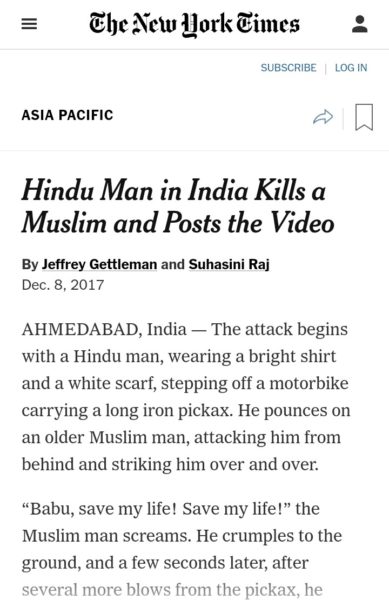 Image Source
Metro UK outrightly termed it as an incidence of "religious attack"!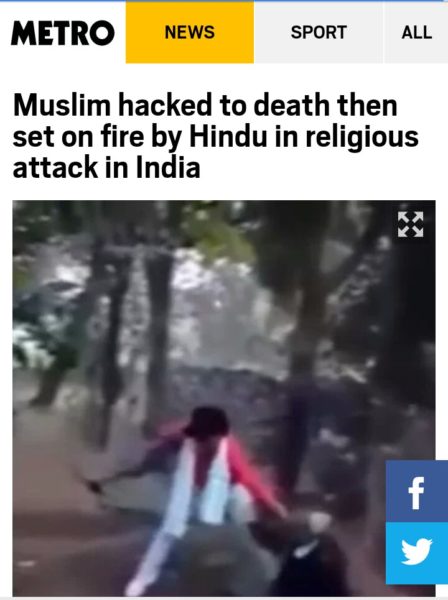 Image Source
Al Jazeera too had the incident covered!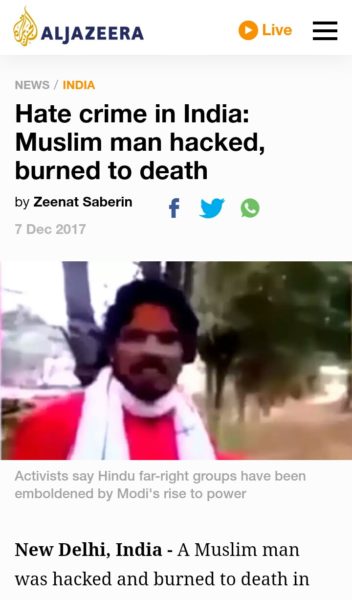 Image Source
As has now been a trend, the Indian media was busy with something else during their prime time. While India Today and NDTV covered the complete story, Republic TV and Times Now were busy with Mani Shankar Aiyar's Neech remark for PM Modi. Republic TV didn't even bother to take it up as a news and only had a tweet at around 11:00 am the next day to address it.
Here is what Republic TV considered more important than the insane killing of a man!
#CongNeechPolitics | Will 'Neech' insult backfire like Chaiwala did in 2014?

— Republic (@republic) December 7, 2017
Times Now too remained on the same page!
Will #RahulNeechPolitics hurt Congress party in Gujarat elections?

— TIMES NOW (@TimesNow) December 7, 2017
The case was very much similar with the newspapers as well. While most of the newspapers managed to eke out some small space in the corner for Afrazul, DNA did not mention about the story on its front page at all. The Hindu and Indian Express however did cover it entirely and preferred it over Aiyar's remarks for PM Modi.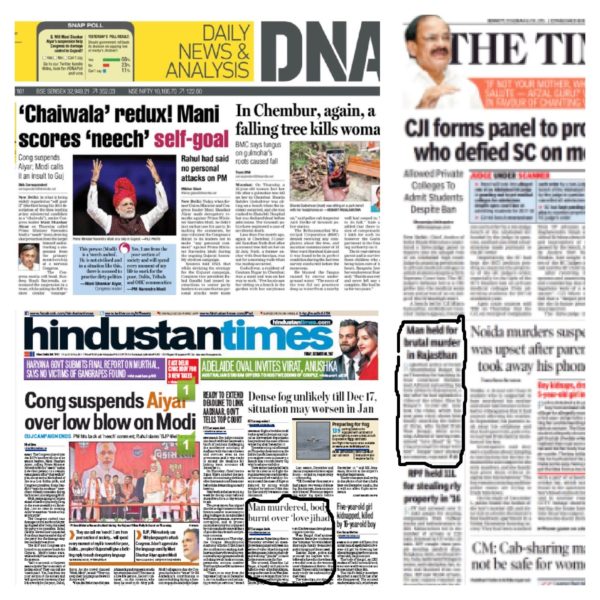 Image Source
The news was so depressing that even the most soft spoken celebs of India could not refrain themselves from expressing their grief. While Anand Mahindra expressed his grief and opposed the wrong doings, Harsha Bhogle pointed out the new low to which Indian media has now reached.
This is what Anand Mahindra tweeted after watching disgusting video!
Turning cold-blooded murder into a televised drama shows a diseased mind of unimaginable magnitude. If we are to lay any claim to being a civilised society, then justice for this act must be delivered decisively & swiftly.. https://t.co/53FjUz6p4w

— anand mahindra (@anandmahindra) December 8, 2017
When advised to ignore the incident, Anand Mahindra had a reply that left all the trolls answerless!
I'm sorry, I disagree. I first turned my eyes away from the video and was about to scroll away from it. And then I realised that by not acknowledging the reality of the video, I would share the collective guilt of a society that does not battle its own demons… https://t.co/EsLMxYkG4x

— anand mahindra (@anandmahindra) December 8, 2017
Harsha Bhogle rather insisted the media to maintain their dignity and requested them not to use this video to earn a few more clicks! He insisted them to handle the incident in the way it is meant to be handled.
For the sake of the profession, I hope all the news channels get together and realise what they have unleashed and what a dangerous path they are on. We are on the brink and tipping over.

— Harsha Bhogle (@bhogleharsha) December 8, 2017
He did an extended post on his Facebook page.
Have done a longer post herehttps://t.co/LU1hjyYAW9 https://t.co/tnQxaZWWU4

— Harsha Bhogle (@bhogleharsha) December 8, 2017
What action has been taken so far?
The culprit was arrested the same day and was sent in to a police custody of 3 days on Friday. Two more people involved in spreading the video online have also been arrested. Rajashthan's DGP, Om Prakash Galhotra, termed the case amongst the rarest of rare cases and said will demand death for the sinner. He said,"It is definitely cold-blooded and definitely premeditated and perhaps one of the rarest of rare cases where at the end of trial we will also seek death by hanging." The 14-year-old nephew of Regar has also been arrested. The family of the victim are also demanding a death penalty for the murderer.
Who is to be blamed?
Image Source
Two other questions are pretty much enough to answer this question; Why is everyone who indulges in cases of religious hatred associated with BJP? Why have these cases spiked up ever since BJP came to power in 2014? The sunshine of India's development has been overshadowed by the ugly clouds of religious hatred. People are used to hide the failures of the government. Whenever the government's failure is about to get exposed, someone from amongst the anti-romeo squad, Gau Rakshaks, or some anti-love Jihadi comes up with an insane act of their own to overshadow government's answer.
Media stands helpless! One of the ultimate power of a democracy doesn't have enough power to even save themselves. The ones who speak the truth get bashed. The ones who sugar coat the truth and present it are leading the race.
Beyond all this, it is not the media, it is not even the government who is to be blamed, it is we, the people of India, who are to be credited with the murder of all the people who've got killed on the pretext of religious hatred. It is we who have created the drift amongst ourselves. The ones whom we've elected, including our beloved PM Narendra Modi, have not spoken a word on this yet and are busy campaigning for their party in Gujarat. It is high time we realise our mistake and correct it at the earliest before we end up being home to some terror organisations openly operating on the name of religion. To cap it off, we request everyone to complaint about anyone and everyone you find spreading communal hatred on social media or in real life. Let us all stand up together and protect the unified India that we are proud of.
Share Your Views In Comments Below