Sports
Faf Talks About His Affection With Virat Kohli, "Better To Play With Him Than Against Him"
The Indian cricketer Virat Kohli is in superb form nowadays and the century that he scored in the last match against Sunrisers Hyderabad will be remembered for a long time as this hundred came after a big gap of 4 years and with this ton, he also equaled the record of Chris Gayle of maximum centuries (6) in the IPL.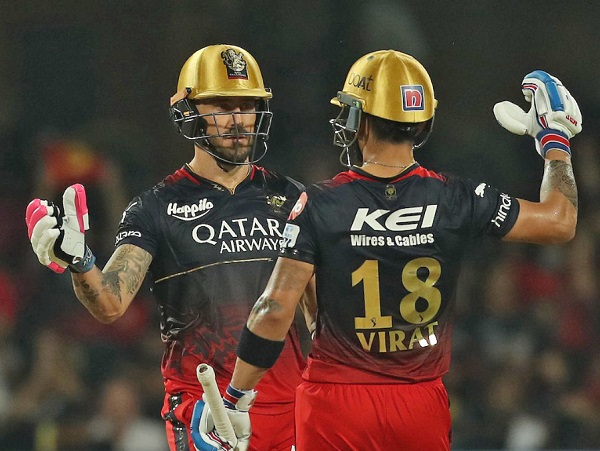 The manner in which Virat Kohli is playing, it is giving a hope to fans of Royal Challengers Bangalore that this time, it will surely win its first ever IPL title. What has increased the chances of RCB winning the IPL 2023 is the superb form of skipper Faf du Plessis and Glenn Maxwell.
Virat Kohli and Faf du Plessis can easily be called the two pillars of RCB and after the last match against SRH, Virat asserted that he enjoyed batting with Faf du Plessis as much as he enjoyed batting with AB de Villiers.
Recently, the current skipper of RCB had a chat with mediaperson during the event which was organized for the release of his book Faf Through Fire in which he talked on various issues including his affection for King Kohli, both as a player and as a person.
Faf du Plessis stated that he always liked playing against Virat Kohli and the biggest thing about him is his passion. He added that sometimes he wondered as to how someone can be so passionate, he is always passionate even if the number 11 batter gets dismissed, he celebrates with energy and passion. Faf further says that now after playing for the same team, he can say that it is better to play with him rather than playing against him.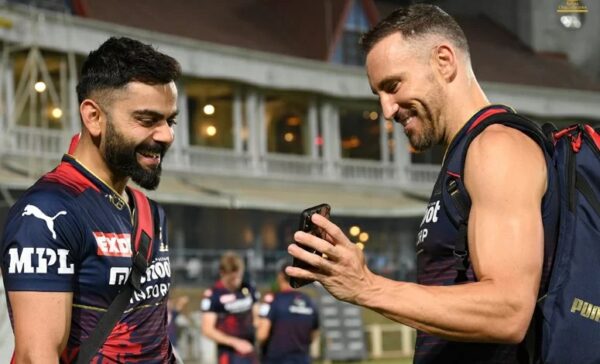 Faf du Plessis adds that when a player plays against Virat Kohli, then his passion can fuel him as well but it is really a great thing when you play with him because you feel that passion while batting with him as it is contagious. Faf goes on to say that playing with Virat has an effect that a player wants to give his best all the time.
Faf du Plessis is also happy knowing the cricketer and the person behind the player that Virat is. He calls Virat a very kind-hearted and family oriented person and says that there are some similar interests which are shared by them, for example, they both are family driven, passionate, tattoos, etc. and now they have become really good friends.
Faf du Plessis is currently the top scorer of the IPL 2023 as he has scored 631 runs in 12 matches till now.
Will RCB win the IPL 2023? What do you think? Share your views with us.
Share Your Views In Comments Below