Bollywood & TV
Fan Asked Ekta, "Who Do You Like More, Tulsi Or Parvati". She Gave A Smart Reply
Ekta Kapoor is extremely famous for her "K" serials, the best ones being "Kahaani Ghar Ghar Ki" and "Kyunki Saas Bhi Kabhi Bahu Thi".
More than the soaps, we loved the characters Tulsi and Parvati. Both the bahus became the favorites of all households, thanks to their amazing acting and simplicity towards the family.
Even Ekta Kapoor shares a great rapport with Sakshi Tanwar and Smriti Irani; the other day, Ekta and Smriti Irani shared memories of Kyunki Saas Bhi Kabhi Bahu Thi as it had successfully completed 18 years. However, this doesn't reduce her closeness with Sakshi.
On Sunday, Ekta Kapoor shared a pic with Sakshi Tanwar and captioned it as, "A pout and a smile with glee …. a little me and a little we…. a happy Sunday with Sakshi". Fans loved the picture as they saw Sakshi and Ekta together after a long time.
Here's the pic;
Fans went crazy after seeing the pic; one of them even tried to put Ekta in a fix by asking, "Who do you like more? Tulsi or Parvati?". Here's that comment;

However, Ekta didn't even think twice before answering. This is what she replied;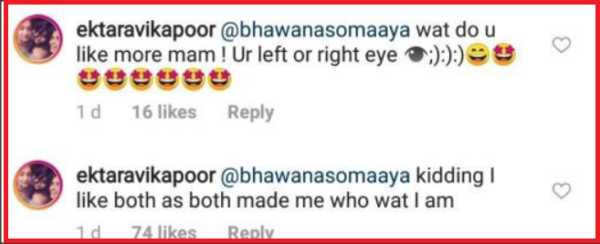 "What do you like more mam? Ur left or right eye?"
After giving her an answer in her style, Ekta also said, "Kidding, I like both, as both made me who wat I am"
Ekta definitely knows to give perfect answers, isn't it?
Share Your Views In Comments Below