Sports
Fan Blames AB de Villiers' Wife Danielle For His Retirement, Danielle Shuts Down The Troll
AB de Villiers made a shocking revelation just a year before the mega cricketing event ICC World Cup. He retired from the International cricket last year in May 2018.
The news of AB de Villiers retirement shook the entire cricketing world. As the ace cricketer said he was suffering from injuries and he wasn't able to take to much pressure moreover he wanted to spend some time with his family.

Recently, Danielle wife of AB de Villiers shared a picture on her Instagram handle with her beloved husband. She wrote, "I hope you don't mind that I put down in words… How wonderful life is now you're in the world." Much needed afternoon off with my one and only, confidant and bestie.
South Africa is currently in the worst shape in ICC World Cup 2019. This is recorded as the worst series of South Africa in the eight campaign World Cup. After their early elimination from the World Cup, a furious fan posted a comment on Danielle's picture which irked Danielle and she gave a befitting reply to the fan.

Here's how Danielle reacted to the fan.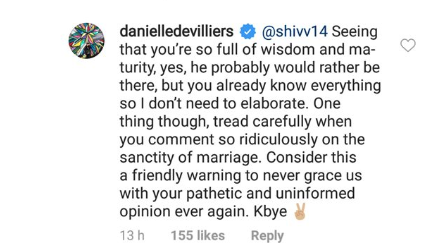 Trolls better watch out!
Share Your Views In Comments Below