Entertainment
Fan Missed His Date To See Dhoni Playing Cricket. CSK Made A Funny Tweet & Twitter Cracked Up
Cricket is not merely a sport but religion in India and devotees worship their favourite cricketers as Gods. There has been an ever-increasing craze for cricket among fans and they express their love in different ways.
Not many days ago, a video of a fan was going viral who came on the field to touch Dhoni's feet as he came to bat while in another video, a fan who was supporting Mumbai Indians removed his jersey as Dhoni came for batting and wore jersey of Chennai Super Kings (CSK) just to show his support and love for the cricketer.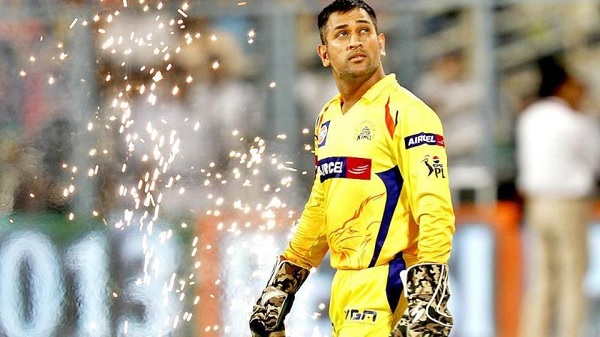 Such is the aura of Dhoni and his team CSK that has returned in IPL after a ban of 2 years. The team's condition is pretty good and it's on the 2nd spot in IPL standings as the team has won 8 out of 13 matches that it played in the tournament.
Fans are extending their support to CSK and especially MS Dhoni and his try their best not to miss watching Dhoni play. While many head to the stadium for the wonderful experience, numerous others stick to their TV screens so that they never miss a great shot by Dhoni.
CSK faced Delhi Daredevils (DD) yesterday at Feroz Shah Kotla stadium and the latter won the match by 34 runs.
However, what a fan did to see Dhoni play at the stadium proves that he's among the biggest fans of Dhoni as he didn't mind missing his date just to see his mate.
CSK captured the true fan moment and shared it on the micro-blogging site Twitter with caption, "Whattey! Hope your date doesn't spot you on the TV tonight…or perhaps this tweet! #whistlepodu #yellove #DDvCSK 🦁💛"
Whattey! Hope your date doesn't spot you on the TV tonight…or perhaps this tweet! #whistlepodu #yellove #DDvCSK 🦁💛 pic.twitter.com/GzViUPn7wz

— Chennai Super Kings (@ChennaiIPL) May 18, 2018
Dhoni must have been quite happy for being blessed with such ardent fans. This is how Twitter reacted to it:
Watching Dhoni is better then going on a date:
Don't worry…..In my opinion Watching msd play is far better than a date….

— sravya (@sravya_k14) May 18, 2018
LOL 😀
😂😂😂 #Bromance

— Mona Moodley (@MonaMoodley) May 18, 2018
Of course!
You should've brought her to the stadium.. That would be a better idea.. 💜💜

— ⚫мα∂нυ ⚫ (@_Madhu__) May 18, 2018
And then comes this person:
Send her number I'll go for the date ! 🤗❤️🔥

— Joseph Vijay (@vivek_oberois) May 18, 2018
We also hope that his date doesn't get to see this pic or CSK's tweet! LOL 😀 Can you also do any such sacrifice to see your favourite cricketer playing live?
Share Your Views In Comments Below