Sports
Fan Tried Kissing British Journalist On Live TV. She Made Him Apologise
The FIFA World Cup 2018 is on and fans are crazily enjoying it. Some incidents that happened were truly disappointing and we wish they are never repeated again.
Not only on-field, but things went out of control even off-field. Few days back, we saw how a man groped a Columbian journalist live on TV and she couldn't do anything.
She wasn't alone; one more incident has come to light in which a football fan tries kissing Brazilian journalist Julia Guimaraes while reporting.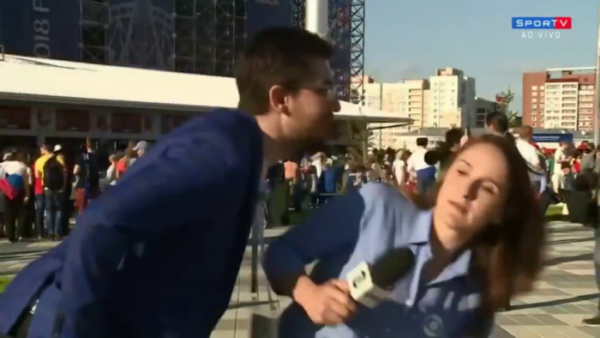 A video is being widely circulated online in which the fan is seen kissing the journalist. However, she didn't keep quiet like the Columbian journalist. She slammed him on live TV and made him apologize.
This incident happened on Sunday outside the Yekaterinburg stadium. Rather than tolerating his shit, she gave it back to him and asked him to respect women. After being insulted, the man went off-camera and said sorry to her.
Here's the video of the incident;
Great response from Brazilian TV journalist Julia Guimaraes of Sportv to unacceptable behaviour. Not easy to show such restraint in the face of harassment. pic.twitter.com/eFVZz6gdMA

— Colin Millar (@Millar_Colin) June 24, 2018
Click here to watch the video directly on Twitter.
We are glad that she raised her voice against him. Such people deserve this treatment, don't you think so?
Share Your Views In Comments Below