Sports
Fan Tried To Chase Dhoni & He Started Running Away From Fan. Twitter Is Loving MSD's Style
MS Dhoni is one of the most loved cricketers of India and we have already witnessed so many incidents of fans breaching the ground security to meet their favourite cricketer during an ongoing match that now we have become habitual of it.
Once again a fan breached the security to meet Dhoni but this time, it was during an IPL practice session at MA Chidambaram Stadium, Chennai. Dhoni is the captain of the IPL team Chennai Super Kings (CSK) and under his leadership, CSK has managed to win the trophy two times.
On Sunday when the fan ran to meet Dhoni, the CSK skipper made sure that the fan has to work hard to catch him. Dhoni started running away from the fan while the security persons also realised that they too have to run to catch the fan.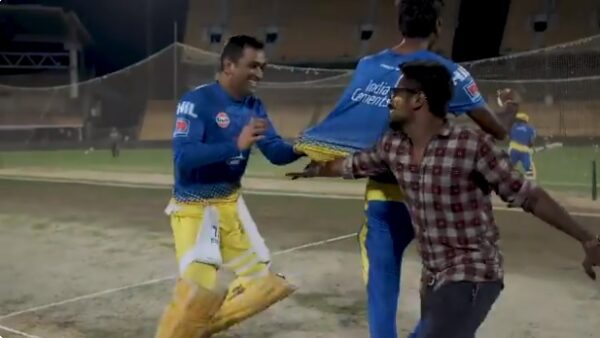 The fan kept on chasing Dhoni but Thala was playing "Catch me if you can" with him and the fan was caught by the security persons. However, Dhoni didn't let the fan go out of the ground without shaking hands with him. 
The incident was recorded and posted by the official Twitter account of CSK with caption, "Catch Me If You Fan #AnbuDen Version! #SuperPricelessThala @msdhoni and the smiling assassin @Lbalaji55! #WhistlePodu 🦁💛"
Here is the video:
Catch Me If You Fan #AnbuDen Version! #SuperPricelessThala @msdhoni and the smiling assassin @Lbalaji55! #WhistlePodu 🦁💛 pic.twitter.com/xvqaRKp9kB

— Chennai Super Kings (@ChennaiIPL) March 17, 2019
Click here to watch this video directly on Twitter
Lakshmipathy Balaji is also included in the tweet as Dhoni tried to save himself by hiding behind him before running away. This shows why Dhoni is called Captain Cool as he can handle any situation in a cool manner; in fact, he can give us something to watch repeatedly and laugh loudly.
Twitterati loved Dhoni's style and this is how they reacted:
#1
Watched this video for 50 times but it feels like to watch again and again🤗

— Arun kumar (@KuralAr94366856) March 17, 2019
#2
He has started this new game of running away from the intruders 😂😂😂, too cool for the fans

— Fahad khan (@fahad97khan) March 17, 2019
#3
Unperturbed by all the pressure around him.. Ever calm, composed n relaxed!! Take life as it comes, with a smiling face n a happy heart: Life lessons! Truly inspiring. #Whistlepodu for #Thala #Yellove💛😊

— Swetha Harini (@Swez_S) March 17, 2019
#4
It's adorable video. The fans love is unadulterated and one can understand it. But fans need to understand this has to stop. It might end in serious injury to MS or the fan himself. Hope people take it in positively. Commen sense should prevail. 🙏🏻🙏🏻

— Rahul D / राहुल / راحول (@rdalwale) March 18, 2019
#5
I aspire to have that level of confidence the fan had while chasing Dhoni and thinking he could catch him

— Maheshmello (@cheeku_243) March 17, 2019
#6
#Thala be like "even if u can fly, you can't catch me.. Minnnnnd It"

— Abhilash Dixit (@Abhilash4254) March 17, 2019
#7
I wish I can break the barricade and reach him once and he don't escape 😭

— 🍁RV 🍁 (@Fictionally_RV) March 17, 2019
#8
Hahahahahhaah you must put a wax statue of Dhoni in the stadium so people can take clicks with n Iam serious 😂

— Dr.Nandita Pokhriyal Aswin (@Drnpokhriyal) March 17, 2019
#9
The magnetic power of Dhoni attracts everyone towards him. It's not fault ,it's a affection 😍… Such a Great human being @msdhoni

— TRILOCHAN NAYAK (@tnayak21) March 18, 2019
#10
I'm also there when this thing happen
Feels like I'm the one who did that.., goosebumps for everyone#Loveyouthala@msdhoni

— Imsuresh58 (@tysuresh) March 17, 2019
We are sure that this is not the last time that a fan has dodged the security for meeting Dhoni and many more such incidents will take place in future!
Share Your Views In Comments Below