Sports
Fans Gave Dhoni A Standing Ovation After India's Victory, The Video Will Melt Your Heart
In the last match against Australia, India won by 6 wickets, and it can safely be said that Dhoni carried the team to victory.
Dhoni made 55 from 54 balls, and the final sixer is what gave the team the boost it needed and helped the team to emerge victorious in the last match.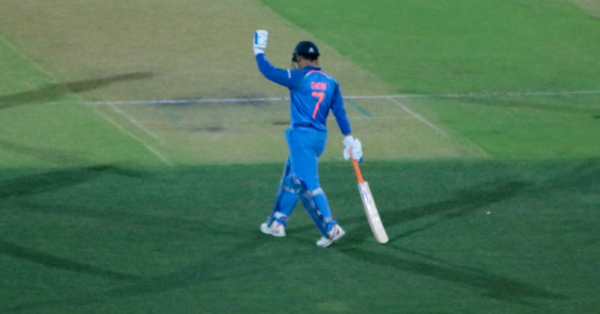 After the match, Dhoni received a standing ovation from a crowd of fans, because this is possibly the last match he'll be playing at the venue.
Touched by the move, Dhoni obliged and waved at his fans. Watch the video here:
🤲 Magnificent WicketKeeping,
🏏 Bats under pressure,
🚁 Finishes Off In Style,
💙 Calmly heads back to the dressing room.

😇 Only MS Dhoni things!

Video Courtesy : Krutarth Suthar #AUSvIND #Dhoni #MSDhoni pic.twitter.com/0a7ssrdy7O

— MS Dhoni Fans Official (@msdfansofficial) January 15, 2019
This is what people are saying:
1.
We are Lucky you born in India…. Thank God… 😚😚 pic.twitter.com/7Ldpn74Gqq

— Sivasankaran M (@SivaSankaranM6) January 15, 2019
2.
My Hero MS Dhoni

— karthikeyan (@KARTHIKEYANDMKS) January 16, 2019
3.
Down with dehydration, too sick to run properly, but he chose to give his 200% to ensure India wins.
Dear #Dhoni, you never fail to inspire us, to strive for the better, to work hars for the best! #DareToBeDhoni pic.twitter.com/22kC5niYVl

— MS Dhoni.Net (@MSDhoniNet) January 15, 2019
4.
Well played India
Dan Dana Dan #Dhoni

— Shakeel Ahmed (@Shakeel38639134) January 15, 2019
5.
#Dhoni back him when chips down, he will not let us down especially in big matches. Problem with most media and fans is a typical knee-jerk reaction.

— Ravi Shankar (@patforyouus) January 16, 2019
Way to shut down haters, Dhoni.
Share Your Views In Comments Below