Sports
Fans Lash Out At SRH Management As David Warner Cheers From Stands, "He Deserves Better Franchise"
The IPL 2021 has been like a nightmare for Sunrisers Hyderabad and its former skipper David Warner as the team is at the bottom of the points table with only 2 wins in the 12 matches that it has played in the tournament. David Warner was the skipper of SRH when the league started but because of his poor form and the team's disastrous performance, he not only lost his captaincy but also lost his place in the playing eleven. In the second leg of the IPL 2021, David Warner once again featured in the playing eleven but his poor batting in a couple of matches once again made the management take the decision of dropping him.
Some time ago, David Warner posted a video in which he was seen watching a match of SRH on television in his hotel room which made many of his fans angry as they were annoyed with the fact that he was not taken to the ground with the team. At that time, the SRH coach clarified that as they would not be making it to the play-offs, the team management decided to give new players a chance to play the matches and David Warner was not the only senior player who had been left in the hotel.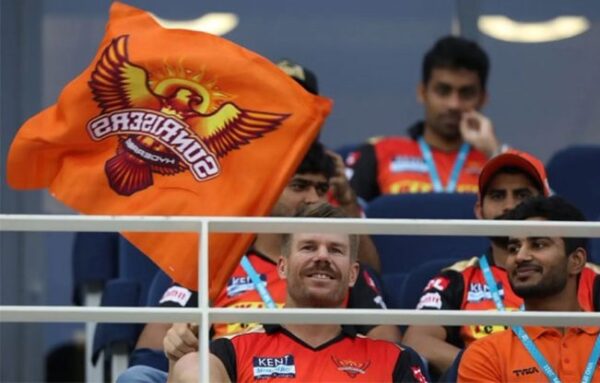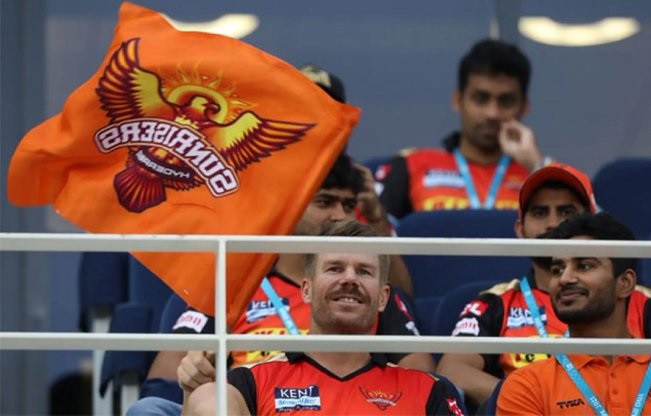 However, fans now have one more reason to be angry as David Warner was seen cheering his team from the stands in the match against Kolkata Knight Riders. Warner posted a selfie with fellow spectators and what made fans angry was that he was not given even a place in the dug-out. Fans of David Warner slammed the SRH management and some were of the opinion that David Warner deserved a better franchise while on the other hand, few people believe that SRH and David Warner have an inseparable bond and the cricketer should be back with a bang in the next season of the IPL.
Here are some of the selected reactions:
#1
@davidwarner31 is still one the best players in the world. Who haven't had rough patches in their career. Rooting for you to get back to form and beserk the field soon again.

— Aravindh Stanley (@AravindhStanley) October 3, 2021
#2
Just go home and relax @davidwarner31 There is no point supporting SRH now. You would be picked up by better team next year. Too much bollywood/Tollywood isnt helping as well. This looks like a scene from a movie.

— Shailesh Nar 🇮🇳 (@nar11s) October 3, 2021
#3
What srh has done to their senoir player shame on them just 1 bad season and he was thrown out…hoping that he wil go to Delhi or Chennai and smash 100 against srh

— Anand (@varun70919811) October 4, 2021
#4
@SunRisers management should be ashamed of themselves in the manner they are treating @davidwarner31
He has given everything for this franchise..The least he deserves is a gracious exit..

— Apoorve Agarwal (@apoorve2189) October 3, 2021
#5
Most disheartening thing this season…. Shame on @SunRisers management for sidelining him…. He deserves better team and bit more respect

— Nishanth (@Nish_7781) October 3, 2021
#6
David Warner Still Came to Support SRH while SRH Management was treating him so bad.
SRH lost a gem. Warner will be back with a new team. But SRH what will they do 😑#SRHvKKR pic.twitter.com/QnyOzYnZLa

— Samar Pratap (@Samarpratap1207) October 3, 2021
#7
Sad to see him being treated like this. Yes he has been struggling for runs this season but has been their most successful batsmen till date hence deserves to be treated better by the franchise

— Nikhil Ram (@Nikhil_Rams) October 3, 2021
#8
Warner deserves better franchise

— Rahul (@_Rahul_one_8) October 3, 2021
#9
I can't believe that franchise mentoring how a top class batsman sitting like that only because of lack in touch for few games, a good player can bounce back anytime but what is that… how they forget only this man single handedly fight as always but look at this point… 🤔🤔

— Saju Rahaman (@saju_rahaman) October 3, 2021
#10
I want him to go to some other team in mega auction and smash SRH in both games. This is humiliating.

— Jack (@Cricket_Insect) October 3, 2021
#11
@davidwarner31 future !!!, never valued for his efforts, he should be in action…. not sitting, franchise should treat his players well learn from @ChennaiIPL
Would love see Warner in CSK pic.twitter.com/VV3AW2pa3k

— Ashvini Singh Dikshit (@ashdikky) October 3, 2021
#12
@davidwarner31 💔💔💔💔 shame on you ipl and SRH

— shahood hussain (@shahoodhussain3) October 3, 2021
#13
Even Kane Williamson and Jason Roy have been inconsistent with the bat. So how do they justify dropping David Warner who has been a pillar of strength for sunrisers Hyderabad over the years

— Youniverseom 🇮🇳 (@youniverseom) October 3, 2021
#14
Every player goes through bad patch once in a life time. David is one of them. Hopefully he will recover his long lost form in #Ashes2021

— Cricket 365 (@ymr_ctg) October 4, 2021
#15
Loyalty definition….
Messi for Barcelona,
Warner for SRH ♥️

I have a strong feeling, Warner will be back in SRH squad next year, this is all plan to hold 3 major players in SRH team for next year.#WARNER KING, #KANE MAMA, #RASHID MAGICIAN ♥️

— Reddy (@ReddyTherapper) October 3, 2021
David Warner has been associated with SRH since 2014 and it was under his captaincy that SRH has won the IPL title in 2016.
As far as the match between SRH and KKR is concerned, the Kolkata franchise won it by 6 wickets. SRH batted first after winning the toss in the match which was played at Dubai International Stadium and put up a total of 115/8 in their 20 overs. KKR successfully chased the target with 6 wickets in hand and 2 balls still remaining in their innings.
Do you also feel that David Warner deserves a better franchise? Let us know your views in this regard.