Bollywood & TV
Fans Of Priyank & Benafsha Slammed Divya & Varun For Faking Their Heartbreak With Ex-Partners
Varun Sood and Divya Aggarwal, the ex partners of Bigg Boss 11 contestants Benafsha Soonawalla and Priyank Sharma respectively, need no introduction as ample controversy was created some time ago when rumours of an affair between Priyank and Ben went viral.
The premier of Vikas Gupta's Ace Of Space took place this Saturday and Varun and Divya were seen on the show lately. They are very good friends now and the market of gossip is abuzz with the rumour that they are a couple at present.
They were having a discussion about their ex partners Priyank and Benafsha and Varun got very emotional when he said that he spent much energy and time for Ben. Not only this, he also left projects in which he was required to give intimate scenes with other actresses. His love and closeness with Ben can be understood with his statement when he said that he used to breathe her, cried outside her home and could not sleep for two long months.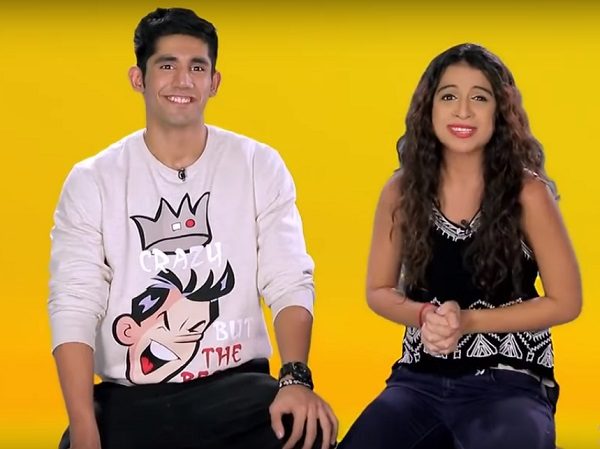 As per Divya, she was shocked to see Priyank getting close to Ben in BB11 and she went inside the home just because she wished to see him for the last time. She thought that breaking up with Priyank was a mistake on her part after seeing him crying on TV but when he flipped, she didn't regret her decision. Nevertheless, Ben and Priyank's fans slammed both Varun and Divya as they believe that the duo faked their heartbreak on national TV.
Here are some selected tweets:
#1
Just saw a clip of #varunsood and #divyaaggarwal of the new show of #vikasgupta…dude they always need #PriyankSharma 's name to get limelight…so desperate ppl 😏😶
Its so uncalled for, vikas to defame priyank…he is doing it again what he did in bb house👎👎

— Rashi (@rashisinghal08) October 20, 2018
#2
#varunsood
Oh man stop this drama…@VSood12 #divyakitweet kitni bar same cheezo se footage lenge aap dono….#moveon
Not interested in this episode#AceofSpace 😑😂

— priya🦋🏏 (@khojJaarihai) October 20, 2018
#3
According to varun: priyank can't handle him. But the nation knows that he can handle 100 like him at same time😂😂. Both the footage seeker are trying hard to be loved by audience but ''''''IT_IS_NOT_POSSIBLE'''.#priyanksharma#divyaagarwal#IStandByPriyank#ISupportPriyank

— Priyank Sharma (@Priyank64186686) October 21, 2018
#4
Some people don't wanna be FIXED because being broken gets them attention…
Aaj bhi pehchan wohi hai jo 1 saal pehle thi🤦‍♀️🔥😂

Idea- @Alishajalota1
Caption- @_brandedkamina_
SS – @kadamba09224210 @AliaGulati #Priyanksharma #DivyaAgarwal pic.twitter.com/UMyAb94btQ

— Devanshi🦋 (@PSwanderer) October 21, 2018
#5
So this #DivyaAgarwal indirectly confessed she did breakup with #PriyankSharma on national TV only for publicity, just to get in limelight.
Once a bish, always a bish! #AceOfSpace

— K A D E E R 💫 (@AnsKadir) October 21, 2018
#6
This #divyaagarwal nd his frnd whoever he is total attention seeker. Your whole career depends on #priyanksharma. How long will she create controversy?Nd #VikasGupta!!! #ShilpaShinde was always right I guess.

— Urmi Banerjee (@urmi_banerjee) October 21, 2018
#7
Yaar kitna publicity loge Dusron ke Naam pe
Life me kuch r krne ko hai v yaa nahi .
Yaar dono ki dukaan ek hi cheez pe chlti h..
Divya toh hai hi 👎
Varun u also??
Yaar kuch toh productive krlo..
Move on kro life me
🙏

— Sneha..ē ❤ (@SnehaS2516) October 20, 2018
#8
I used to like #Varunsood
Never bad feeling for #DivyaAgarwal

But in #AceOfSpace They are literally faking hard
Like seriously bringing ur ex partner and at the same time looking for sympathy

I wanted to over it from these names
😐#VikasGupta #Voot

— (🏏Sree+Srish🦋)Kamal (@kamalcute127) October 21, 2018
#9
Frankly pathetic show nd so that d contestants varun sood nt xpectd frm u @Divyakitweet pe ye ab suit krta hai cheap drama nd all let her do that nd sbse disappointing to @lostboy54 se hu #khelgayi tm hi the na ab kya hua jo isko show me le aye shame on u #standbypriyank

— Anuradha Pandey (@anu_p2207) October 21, 2018
#10
Bitch @Divyakitweet stay away from varun. Varun is great person. We didn't want any negetivity fr varun for u cheap attention seeker. Priyank already kicked u out of his life
Now stay away from varun
Varun is a GEM. He deserves someone classy like Martina.

— Rini Sen🌸 (@Rajita_Sen) October 20, 2018
#11
farzi ladki in another show farzipana krne aayi #divyaagarwal fakness overload 👎👎

— Nick (@Nic2smart) October 21, 2018
#12
Bhai @Dsk_Talks
Tell me one thing if you've any idea

Post #BB11@ipriyanksharmaa & @VSood12 just exchanged their girlfriends #Or@BenafshaSoona & @Divyakitweet exchanged their boyfriends#VarunSood looks most Innocent among these Four, who're playing #Ajnabee#BB12 #BiggBoss12

— Sunny ⭐🇮🇳 (@i_Sunny92) October 21, 2018
What is your take in this connection? Let us know your views.
Share Your Views In Comments Below