Sports
Fans Storm Twitter With Rishabh Pant's Memes Over Toss Loss, Call Him Unluckier Than Virat Kohli
The Indian team was led by Rishabh Pant in the recently concluded 5-match T20I series which was played against South Africa at home because KL Rahul got injured at the last moment. As the senior players including the skipper Rohit Sharma were rested before they flew for England for the test assignment, KL Rahul was appointed as the skipper of the team but just one day before the start of Ind vs SA series, he got injured and was ruled out of the series.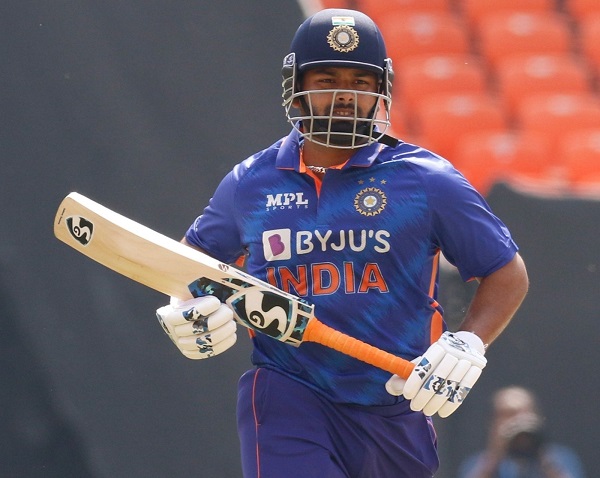 Well, captaincy is not new for Rishabh Pant as he is already leading his IPL team Delhi Capitals for the last two seasons but in the IPL 2022, he was not able to make any impact either with the bat or with his captaincy. In the series against South Africa, Rishabh Pant once again failed with bat and some decisions taken by him were also criticized but he was trolled for one more reason. In fact, this time cricket fans feel that he is giving tough competition to one of the greatest of all times Virat Kohli.
Well, this is nothing serious but somehow Rishabh Pant lost all the five tosses in the series. While South Africa was led by Temba Bavuma in the first four matches, in the fifth and last T20I, Keshav Maharaj was the skipper of the Proteas but Pant lost the toss against him as well.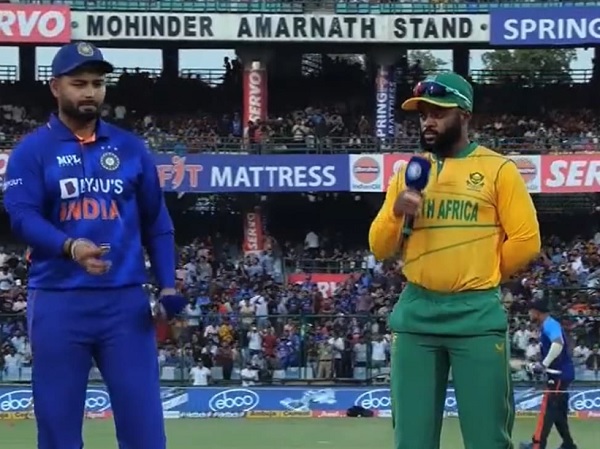 After Rishabh Pant lost the fifth toss, netizens started having fun at his expense and expressed themselves with memes and jokes. Many compare him with Virat Kohli who has a reputation of losing tosses and cite that Pant is even more unlucky than King Kohli when it comes to toss.
Here are few selected reactions:
if virat kohli & rishabh pant go for a toss🙏#indvsa pic.twitter.com/wvWY4AZ70I

— ɐslɐɯ (@pitchinginline) June 19, 2022
*5th consecutive loss of toss for Rishabh Pant*
Virat Kohli:#INDvsSA pic.twitter.com/R6PnyD56bG

— D Jay (@djaywalebabu) June 19, 2022
Players to Rahul Dravid when Rishabh Pant goes in the ground for toss #INDvSA #INDvsSA pic.twitter.com/tPGSFB3Kn4

— Rishabh shah (@Pun_Intended___) June 19, 2022
Rishabh Pant is carrying forward the legacy of Virat Kohli … Continuous toss loss in international cricket… 🙂💔#INDvSA #INDvsSA

— Jatin (@ImJatinV) June 12, 2022
Rishabh Pant is giving tough competition to Kohli on losing the toss.#INDvsSAT20

— ಮಹೇಶ್ (@mhshn) June 19, 2022
#INDvsSA
Virat Kohli :- I didn't have a good toss winning record as a captain.

Meanwhile Rishabh Pant :- pic.twitter.com/lHKHqh40MS

— Anuraag Kumar (@AnuragK1718) June 19, 2022
Kohli :- I Barely Won The Toss

Rishabh Pant :- pic.twitter.com/pkyRthnB18

— Ganesh (@iGaneshK) June 19, 2022
#RishabhPant Back to back 5 toss loss
Be like #ViratKohli𓃵 Re koi na tere te pehle bhi ek captain roj toss harta tha 🤣😀🤣#INDvSA pic.twitter.com/sXXn5NpmQJ

— M.abulkhair02 (@MAbulkhair02) June 19, 2022
Rishabh Pant after losing every toss in the series.#INDvSA pic.twitter.com/0sl1xQmyWf

— Akhilesh (@im25akhil) June 19, 2022
Virat Kohli after seeing pant loosing toss#RishabhPant #INDvsSA pic.twitter.com/5evaEyPgSc

— Shivam (@shivam_6964) June 14, 2022
Luck to Rishabh Pant after he loses 5 back to back toss in #INDvSA series….. pic.twitter.com/zmlr4TrhOo

— memes_hallabol (@memes_hallabol) June 19, 2022
@RishabhPant17 lost 3rd toss in a row.
Indians be like – Real i'd se aao @imVkohli #INDvsSA #BelieveInBlue #RishabhPant #ViratKohli𓃵 #TeamIndia

— RUDRA PRATAP SINGH (@Rudra_1706) June 14, 2022
Rishabh Pant – Dhire Dhire Apun Ko Bhi Guru Ji Ka Ashirwaad Mila (5-0 Toss)#INDvSA pic.twitter.com/PHHigaLN8I

— Kaptan Veerot Popa🇮🇳 (@CaptainVK18) June 19, 2022
I used to think virat kohli was the most unluckiest captain during toss but no Rishabh Pant got more powers 😭😭#INDvSA

— AAYUSHHH 🇮🇳 (@bebaslachara_) June 19, 2022
Dear @RishabhPant17 if you get a chance to captain again in future then ask the captain of the opposing team what would you like to choose first please don't toss a coin@cricketaakash

— Sevin Shaikh (@sevinshaikhINC) June 19, 2022
@imVkohli be like:@RishabhPant17 toh mere se b jada unlucky nikla in terms of toss😂🇮🇳❤️#INDvSA #FathersDay #BCCI pic.twitter.com/iUvyEUiCpY

— Abhishek (@Abhi_Goswami_) June 19, 2022
Toss… toss.. toss..

I like it .. but toss don't like me

RT : @RishabhPant17 #INDvSA pic.twitter.com/VGvYBSVsMj

— Anbuselvan™🔥 (@Raj_twetz) June 19, 2022
Rishabh pant lost 3 consecutive Toss
Meanwhile Virat Kohli: 👀 #INDvSA pic.twitter.com/fWPcwzTi2u

— VK☁ (@Suprvirat) June 14, 2022
Ye #RishabhPant har bar Virat kohli ke pair chuke jata hai kya toss par#SAvsIND #Starsports

— Amit (@Amit09502696) June 12, 2022
Ye delhi wale log the most toss Harte h , pehle Virat kohli now Rishabh pant

— Nazma Khan (@khnazma77) June 12, 2022
As far as the series is concerned, it got tied at 2-2 as the fifth T20I got abandoned due to rain and the trophy was shared by both the teams.
While the selectors may have shown faith in Rishabh Pant and given him the chance to lead the team, many former cricketers are slamming the wicketkeeper-batsman for his poor form.
There is no denying the fact that Rishabh Pant is the number one choice for wicketkeeper-batsman for team India in the present times but if his poor form continues, it may create problems for him as Ishan Kishan, Sanju Samson and now Dinesh Karthik are also knocking the doors for making an entry in the squad for the T20 World Cup which is going to take place in Australia.
Share Your Views In Comments Below