Sports
Former Cricketers, Celebs & Fans Slam 3rd Umpire For Blunder In Suryakumar Yadav's Dismissal
The fifth and final match of the ongoing T20 series between India and England will be an important one as the winner of this match will be the winner of the series as well. The series stands leveled at 2-2 after India won the fourth T20I match which was played yesterday at the Narendra Modi Stadium, Ahmedabad.
The toss was won by the visitors and they decided to bowl first; though the Indian openers Rohit Sharma (12) and KL Rahul (14) got dismissed early, it was Suryakumar Yadav who grabbed everybody's attention by playing a beautiful knock of 57 for which he faced only 31 deliveries and his innings included 6 fours and 3 sixes. Though this was the second match of Suryakumar Yadav at the international level, it was the first time he got the chance to bat and he used this opportunity to the maximum. Suryakumar Yadav is a famous name in the domestic circuit and in the IPL too as he has played some really good innings. With a wonderful track record, he had been knocking on the doors of the national selectors for a long time now.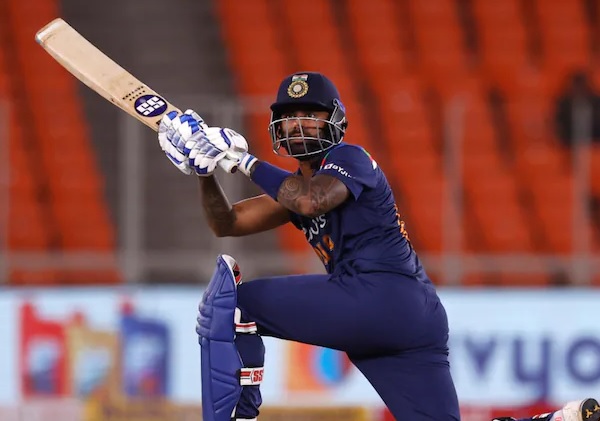 Suryakumar Yadav and Ishan Kishan made their debut together in the series but in that match, the former was not able to bat and then he was dropped for the next match in order to make space for Hitman Rohit Sharma. However, luck was in the favour of Suryakumar Yadav as he was once again included in the playing eleven as Ishan Kishan got injured and SKY ensured that he didn't let go this opportunity.
Suryakumar Yadav was adjudged as the player of the match for his beautiful innings but his dismissal created a controversy. Suryakumar Yadav took aerial route on the bowling of Sam Curran and he was declared caught out by Dawid Malan but in the replays, it can be seen easily that the ball was touching the ground and this mistake happened despite the fact that the decision went to the third umpire.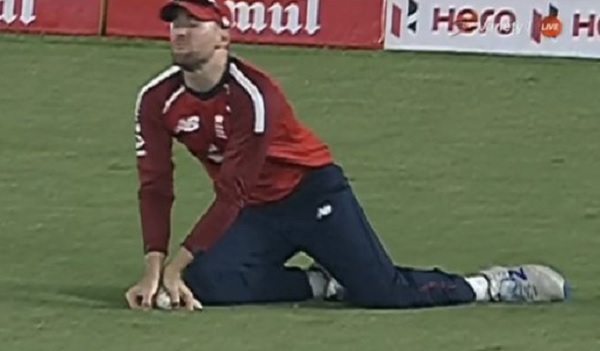 Many former cricketers and cricket fans took to the micro-blogging site Twitter and slammed the third umpire for the mistake. Here are some of the selected reactions:
#1
Violets are blue, so is Sky
Dear @icc 'soft signal' why?
#IndvEng #suryakumar #NotOut pic.twitter.com/cCDYXjpMVt

— Wasim Jaffer (@WasimJaffer14) March 18, 2021
#2
Third umpire while making that decision. #INDvENGt20 #suryakumar pic.twitter.com/JJp2NldcI8

— Virender Sehwag (@virendersehwag) March 18, 2021
#3
How can this be out. When you are not sure whether the ball was taken cleanly after watching so many replays using top class technology and still go by the soft signal given by the on-field umpire. I think this rule needs to be revisited and changed. #INDvsENG pic.twitter.com/b5XMdH8qEz

— VVS Laxman (@VVSLaxman281) March 18, 2021
#4
Always a good idea to give 3rd umpire real time replay of low catches along with the slow motions and zoomed-in replays. Just another perspective on the tricky low catches. #INDvENGt20

— Sanjay Manjrekar (@sanjaymanjrekar) March 18, 2021
#5
It's the "soft signal" which is odd. Hard for off field umpire to overturn. 'Let's go upstairs cause I don't have a clue but I'm guessing (soft signal) it's out.'
Malan's Twitter feed will be ugly- but he wouldn't have known the ball hit the ground diving forward at pace https://t.co/hCwlFQKpIf

— Stuart Broad (@StuartBroad8) March 18, 2021
#6
Sorry but Dawid Malan totally dropped that for me…the ball was grounded ! I mean , come on 💁🏾‍♂️ #INDvENG 🏏

— Ranveer Singh (@RanveerOfficial) March 18, 2021
#7
That umpire must be a really different guy, his perspective is so different from everybody else's. He saw something different from what all of us saw. He's a Lone Ranger. Respect sir. Respect.

— Danish Sait (@DanishSait) March 18, 2021
#8
No conclusive evidence ☹️

— Mumbai Indians (@mipaltan) March 18, 2021
#9
The third umpire is confirming if more than 50% of the ball is touching the ground?

— Nikhil 🏏 (@CricCrazyNIKS) March 18, 2021
#10
Sack the Umpire. If this is OUT then you need to change all the rules of cricket. Unpardonable. #IndvEng @surya_14kumar

— Vikrant Gupta (@vikrantgupta73) March 18, 2021
#11
LOL. THIS is the footage for next Lenskart Ad. What was inconclusive for the third umpire there? Fingers clearly moved away from the ball and it was seen in all angles. I get the soft signal but replays were conclusive enough! #IndvEng

— Ajith Ramamurthy (@Ajith_tweets) March 18, 2021
#12
It was clearly not-out, feel for Suryakumar or anyone who was going in that form in his first innings in International career.

— Johns. (@CricCrazyJohns) March 18, 2021
#13
A soft signal for catches like this is just pointless. How is the umpire supposed to see from that far away? Just leave it to the TV umpire. #INDvENG

— Rob Johnston (@RobJ_Cricket) March 18, 2021
#14
Really bad call by the 3rd umpire, this angle clearly shows the ball was grounded. pic.twitter.com/igl5sIApkt

— Mufaddal Vohra (@mufaddal_vohra) March 18, 2021
#15
Unacceptable shithousery. Absolutely pathetic. After a point, it's less about evidence and more about common sense. When the hands are so far apart, irrelevant of how big your fingers are, they can't be under it.

A fact that it's SKY hurts more. #SuryaKumarYadav pic.twitter.com/KPZssYjljY

— anuraagpeesara15 (@anuraagpeesara1) March 18, 2021
What is your take in this regard? Let us know.
Share Your Views In Comments Below