Sports
From Anil Kumble To Sangakkara, Everyone Is Appreciating Mayanti Langer. Here's Why
IPL 2018 got over yesterday and we are going to miss it a lot. This time, it was Star Sports who got the media rights. The channel added a lot of newness to IPL and audience thoroughly enjoyed it.
The newest addition to IPL was Star Sports Select Dugout; the show had experts to analyze the game and take care of the commentary. We saw many experts like Graeme Smith, Scott Styris and Kumar Sangakkara.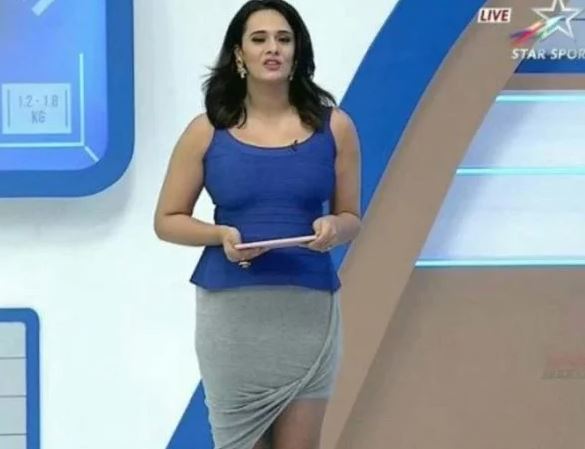 Mayanti Langer hosted these shows during the matches & was appreciated by one and all. She has an in-depth knowledge of cricket and hosts in the most perfect manner.
Since IPL got over yesterday, many big cricketers are praising Mayanti Langer on Twitter. Since she hosted IPL 2018 really well, big cricketers are in awe of Mayanti's skills. They took to Twitter to appreciate her & leave some good words for her.
Kumar Sangakkara
@MayantiLanger_B you are outstanding. Thoroughly professional and brilliant at what you do. Learnt a lot working with you and it was a pleasure. Thank you and hope to work with you again soon. @StarSportsIndia #SelectDugout

— Kumar Sangakkara (@KumarSanga2) May 27, 2018
Anil Kumble
You've been great hosts @MayantiLanger_B @suhailchandhok enjoyed working with you @StarSportsIndia #selectdugout

— Anil Kumble (@anilkumble1074) May 27, 2018
Daren Sammy
Definitely agreeing with you @ProfDeano another great call by you again @MayantiLanger_B is just pure quality in her field. Its been an absolute pleasure https://t.co/XEUDs3lNwo

— Daren Sammy (@darensammy88) May 26, 2018
Dean Jones
As much as I have loved working with many of the greats on this @IPL. Our BEST and BIGGEST STAR is @MayantiLanger_B !!!
She is soooo good at her job. And all of us at @StarSportsIndia #kentcricketlive & #SelectDugout are in awe of how good she is! Great job Mayanti 👏🏻👏🏻👏🏻 pic.twitter.com/8Z5ukO6vUW

— Dean Jones (@ProfDeano) May 26, 2018
Shashank Kishore
As the IPL dust starts to settle, there's only appreciation and respect for @MayantiLanger_B. To work tirelessly for two months without a day's break is an example of commitment and thorough professionalism.

— Shashank Kishore (@captainshanky) May 28, 2018
So this is the reason everyone is praising her. She truly deserves it, doesn't she?
Share Your Views In Comments Below