Humour
From Ladkewale To Ladkiwale To Receptionwale, People Post Funny Masks Pics On Wedding Season
The coronavirus pandemic is still far from over and there is no doubt about the fact that we have to follow the safety guidelines in a proper manner if we want to remain safe. Wearing masks, maintaining social distancing, washing hands regularly and using sanitizer are some of the norms that people are required to practice whether we like it or not as it's not an option but necessity.
However, we Indians have an expertise in finding humour and happiness even in the most difficult times and now some people have shown their creativity as they have come up with hilarious masks which are suitable for marriage functions.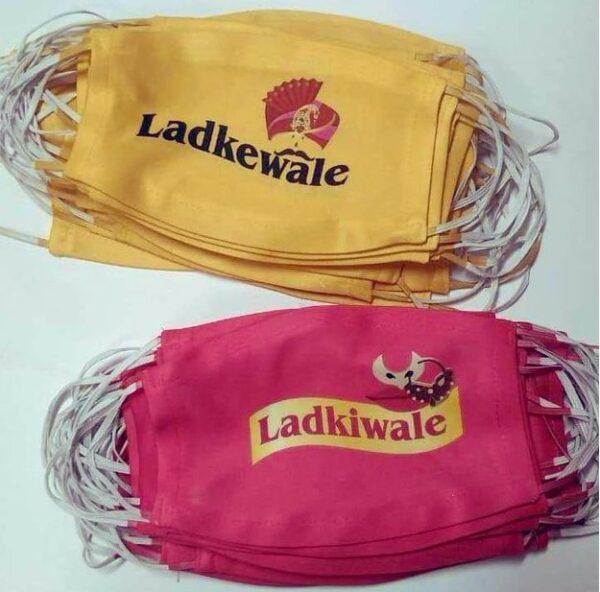 A Twitter user shared the image of two masks, one was for the relatives of the groom while the other was for the relatives of the bride. The Twitter user captioned it with, "बस यही एक कमी रह गयी थी अब" (Now this was only left to happen).
बस यही एक कमी रह गयी थी अब 🙏🤳 pic.twitter.com/ymiEQIF1Bl

— Neelkant Bakshi (@neelkantbakshi) November 25, 2020
Twitterati soon got in action and the micro-blogging site was flooded with memes and jokes. Some people even shared masks for bandwale as well as for people invited in reception.
Check out some of the selected tweets:
#1
Band Bajanewale…. pic.twitter.com/QlTvfkZynP

— Raj (@Raj57898067) November 26, 2020
#2
Who knows, reception ka bhi aa sakta hai pic.twitter.com/r2vXIkZBlT

— KD 🕉 (@Sarojlenka) November 26, 2020
#3
— Bharat Sanghvi (Jain) #JaiJinendra (@rajamaka) November 25, 2020
#4
Indians are Best in marketing ideas even in #COVID19

— Dr. Vijay Gurjar (@docvjg) November 25, 2020
#5
2020 बहुत कुछ करा कर जाएगा जो अभी तक नहीं हुआ

— sajid AAP (@sajidkhan1686) November 26, 2020
#6
Business karne wale apna market bana hi lete hain

— राष्ट्र प्रथम (@hopetopower) November 26, 2020
#7
— Vipin Singh (@bksinghofficial) November 26, 2020
#8
आपदा को अवसर में बदल दिया गया

— अनिष्टदेव (@vipakhilsharma) November 26, 2020
#9
bas yahee bakki tha

— Rasesh Tandon (@TandonRasesh) November 26, 2020
#10
🤣🤣🤣🤣it happens only in India🙏

— Shikhar singh¯_(ツ)_/¯ (@Shikhar60021114) November 25, 2020
#11
हे भगवान… क्या जमाना आ गया है, अब इस तरह से पहचाने जाएंगे कि कौन लड़की वाले औऱ कौन लड़के वाले🙈

— प्रेम चौधरी (@premchoudhary__) November 25, 2020
If you remember, a jeweler also came up with diamond studded masks some time ago, especially for marriage purposes and they were priced around Rs. 4 lakh. People are also very interested in masks which match with their dresses and some firms are coming up with masks having cartoon images on them in order to attract kids.
Masks are very instrumental in saving us from the lethal COVID-19 virus so we request our readers to wear masks and follow all the precautionary measures and guidelines whenever they go out of the houses.
Share Your Views In Comments Below