Humour
From Tinde Ki Sabji To Aadhaar Card's Photo, Fans Share Funny Memes On Virat Kohli's Viral Pic
The Indian cricket team made a great comeback in the ongoing four match test series against England by winning the second test match by 317 runs and leveled the series by 1-1. The England team won the first test match but in the second match, the Indian side was far superior to the visitors whether it was batting or bowling.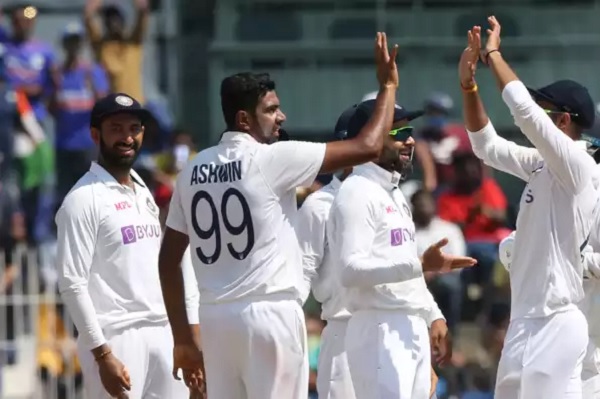 India started the second test match by winning the toss and chose to bat. In the first innings, the hosts scored 329 runs with the help of Rohit Sharma's magnificent 161 and half-centuries of Ajinkya Rahane and Rishabh Pant. In response, England was all out for 134 as the Indian bowlers bowled beautifully and Ravichandran Ashwin took a five wicket haul which resulted in the Indian team getting a massive lead of 195 runs. In the second innings also, India batted in a good manner and scored 286 runs with the help of Ashwin's century and half-century of Indian skipper Virat Kohli. In the second innings, England cricketers managed only 164 runs and India won the match on the fourth day of the test match itself. R Ashwin was adjudged as the Player of the Match for his century and eight wickets that he took in both the innings.
Some former England cricketers also criticised the pitch as it was turning from the day one and was very helpful for the spinners but Indian fans and some former cricketers rebuked them for practicing double standards. While the first two test matches were played in Chennai, the last two matches will be played in Ahmedabad and it will be interesting to see what changes both the teams will make for the third test match.
The Indian skipper Virat Kohli is known as an entertaining cricketer and during the match also, he got involved with the crowd by making an action of whistle podu and the crowd responded in a pretty effective manner. Virat Kohli was trending once again on the social media networks but this time for his weird expression that he gave while sitting in the dressing room.
Take a look: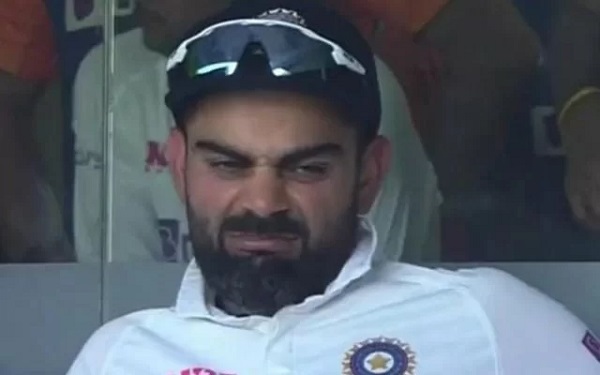 The expression soon went viral and it gave enough fodder to the creative meme makers. Soon Twitter was flooded with the funniest reactions and here are some of the selected tweets:
#1
Thinking about all the life decision I made: pic.twitter.com/PzVhHAnsPd

— رومانا (@RomanaRaza) February 16, 2021
#2
Tinde ki sabji pic.twitter.com/ZcIX0tKbrq

— Sir Yuzvendra (parody) (@SirYuzvendra) February 15, 2021
#3
When you realize your future depends on you pic.twitter.com/kxauhCXe7C

— rozgar_CA (@Memeswalaladka) February 16, 2021
#4
Me reading my old conversation with my ex pic.twitter.com/CdPhfVoSSQ

— Sohel Rs 🇮🇳 (@KaDwE___BoL) February 16, 2021
#5
Desi dads when they find you sleeping till 11 pic.twitter.com/dYo99EZOUp

— SwatKat💃 (@swatic12) February 16, 2021
#6
Boys when their parents force them to go school on "Rakshabandhan" – pic.twitter.com/s5tNhkgyWX

— The he-who-must-not-be-named (@dankstinger) February 16, 2021
#7
When you see Facebook memories…. pic.twitter.com/5arEfyyezP

— sarthyasm.. (@sarthyasm) February 15, 2021
#8
Gujarati people Jab khane me sugar nah ho- pic.twitter.com/0dnanWF92Y

— AaYuu (@A_BrahminGirlll) February 16, 2021
#9
आधार कार्ड की फोटो देखने के बाद 😑 pic.twitter.com/1cmvbbPrS3

— Babu Rao Aapte 🤓 (@highbgnewsvale) February 16, 2021
#10
Me reading my own answers after writing them in the exam. pic.twitter.com/MxNdFyZVF2

— Pakchikpak Raja Babu (@HaramiParindey) February 15, 2021
#11
Mobile front camera after seeing my face- pic.twitter.com/7aSlan6ntN

— नादान परिंदे 🇮🇳 (@Gauri_doonite) February 16, 2021
#12
Rancho or farhan, Raju ki maa ka belan dekhne ke baad: pic.twitter.com/VaAXdm7Nq3

— Mojo (@Singhlicious) February 16, 2021
#13
When you listen your recorded voice: pic.twitter.com/nwjxfXzvFf

— Mr.Sarcastic (@MrKavi_dev) February 16, 2021
#14
When you say 'bas aadha cup chai dena' and they actually give you aadha cup chai pic.twitter.com/f5xdKE7hTr

— SwatKat💃 (@swatic12) February 16, 2021
#15
*Me after my own fart* pic.twitter.com/zPv2JzKIqU

— Vïkiñg…🗡️ (@Uselessburger) February 15, 2021
Do share with us your reaction on this weird expression of Virat Kohli.
Share Your Views In Comments Below